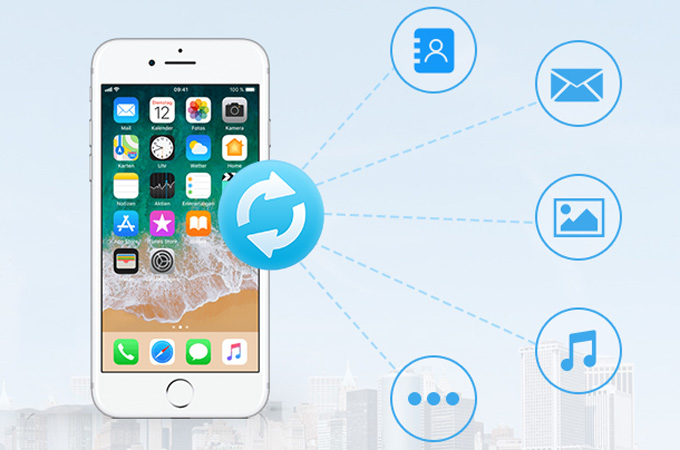 There are many kinds of iPhone versions ranging from the first generation to the latest iPhone. Some of them stop production, and some don't. iPhone keeps rolling out new models once or twice per year. If you get the latest iPhone, you have the chance to experience the functions brought by iOS 12. Although iPhone brings you great and friendly user experience, data loss may put you into a state of great panic. Technically speaking, if you have synced those files with iTunes or backed up via iCloud each time, you can recover them. But the backup will be overwritten by your latest sync and therefore the lately deleted data is gone forever. So to recover files from iPhone, you need to use some special tricks or advanced iPhone data recovery tools.
The Best iPhone File Recovery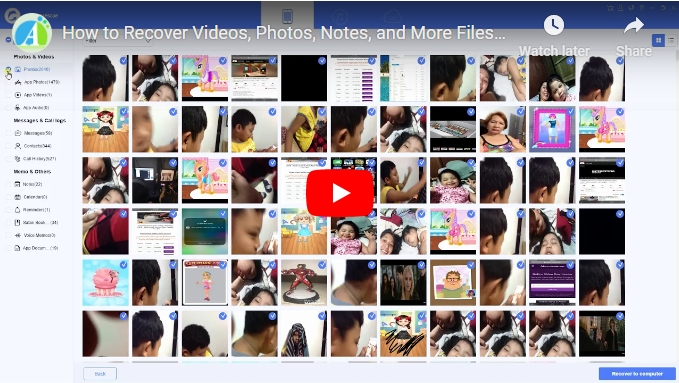 What Is the iPhone Data Recovery Tool
Is there an all-in-one solution to recover all deleted iPhone files including videos, notes, contacts, eBooks, messages, films, photos, voice memos, etc in a snap? Yeah, ApowerRescue is just designed for recovering lost data on iPhone with a few clicks. It supports all the current iPhone and iPad versions. So no matter which iOS device you use, you can recover deleted files on iPhone simply with this tool. The "Preview" option provided by this software allows you to preview all the files before starting recovery.
How to Recover Files from iPhone
If you are the first-time user and don't know how to recover files from iPhone, keep on reading the step-by-step process below.
Download, install and run ApowerRescue.
Conenct your iPhone to your PC via a USB cable.
Choose a kind of file to recover and click "Start Scan".
Check all the files on the left side or choose some files on the preivew area. Then click "Recover to computer" to save the files to your PC.
Why Recover Deleted Files on iPhone?
Different people may come across diverse scenarios of losing their files on iPhone devices. What about you? Let's see some specific cases together with solutions that may help you.
Today my friend's kid played her iPhone 5s and deleted a meeting that she recorded. She hasn't ever backed up the vital file via iTunes or iCloud. It is really a disaster to her due to the kid's play. Can someone suggest rescue software to retrieve deleted voice memos on iPhone?
I received a SMS from the advertiser and I wanted to delete it at once. So I tapped the Messages app on iPhone and got into the first entry in the texts folder, then hit delete. But I realized that I deleted the wrong one. Is there an effective way to retrieve deleted text messages from iPhone?
I have bought a new iPhone 5c which runs iOS 7.0.4. It performs well for taking photos, recording voice or playing games. But unfortunately, my friends deleted those important photos I took with my family. I really want to know how to undelete iPhone photos. Can anybody help me?
God! I couldn't find the 200 songs stored in my iPhone again. I love those songs very much and I am eager to figure out how to restore music from iPhone.
I received a phone call from a friend of mine who did not contact me for a long time, but I suddenly forgot to record his number after that. But I have cleared the call history on my iPhone. What should I do to restore iPhone call log? Any of your help will be highly appropriated.
I mistakenly deleted some crucial notes when using Note app. I am a business man and these notes are really significant to me. I have no backup. I could not get a solution that sounds reliable for me in searching internet to restore deleted notes on iPhone.
Today I upgraded my iPhone. But there is an unexpected issue – the voicemails which my father left to me before he passed over disappeared. This makes me mad, because it is the only and last recording from my dear father. I hope to cherish it for my whole lifetime. Please help me recover deleted voicemail on iPhone!
After pressing factory Settings button, I found all the videos from camera roll were gone. I tried to scan the lost files by using some freeware but none of them worked. I am not a tech-savvy person and couldn't solve the tough thing of how to recover deleted video on iPhone. Could you please provide me easy-to-use software or solutions?
I lost my contacts on iPhone due to some reasons that I could not recall my friends. It's probably because I gave it to my kid last night for playing games or I pressed some wrong buttons by myself. It is really a terrible thing. How can I recover iPhone deleted contacts which are saved from my business partners, friends and relatives?
My iPhone is out of memory storage and therefore I try to move the photos to my computer, but the problem is that only half of them have been saved eventually. Are the missing ones gone forever? Please give me good suggestions to recover deleted photos from iPhone.
I had a very important SMS on my iPhone but I deleted it mistakenly. Can anyone show me the simple way to recover deleted SMS from iPhone?
Conclusion
We have concluded most of the possible conditions related to recover lost files on iPhone. Of course, you might run into this problem, owing to iPhone crashed, broken, damaged and so on. It doesn't matter. Just go to download ApowerRescue and get back the lost data at once!