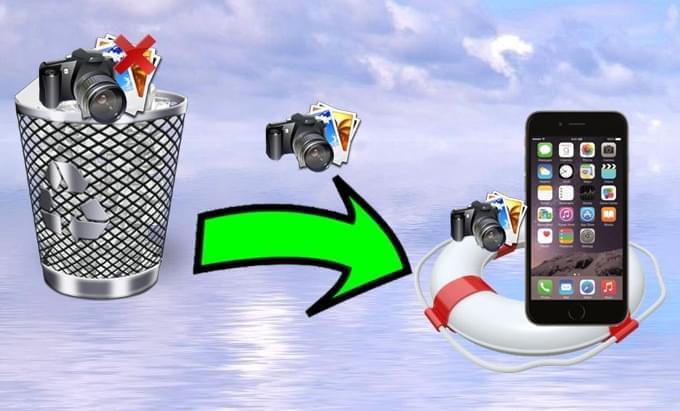 Do you often ask the questions 'How can I recover a photo from iPhone?', 'Can you help me recover my deleted photos from my iPhone?' and the favorite 'I accidentally deleted my photos on my iPhone, how can I recover them?' Are you having the same problem with everyone else? Well you're just in luck, we are here to help you with two easy ways to recover deleted photos from iPhone.
The two easy ways to recover iPhone lost photos:
iPhone Data Recovery to recover deleted photos from iPhone
Are you familiar with iPhone Data Recovery? If not, then you should. With iPhone Data Recovery, you will not only get to recover iPhone camera roll, but also important files like your contacts, text messages, notes, videos, safari bookmark, reminders and a lot more. But that's not all, besides iPhones, it also supports Apple iPad and iPod Touch.
The two solutions to recover iPhone deleted pictures with iPhone Photo Recovery:
Directly recover your photos from your iPhone 4/3GS
With a simple click on a button, you can recover photo from iPhone. This tool will scan your iPhone 4/3GS or even your Apple iPad and will later then show you a preview of your media contents when finished scanning to confirm if you really want to recover these lost photos.
Extract iTunes backup to recover photos from iPhone 6/6 plus/5s/5c/5/4S/4/3GS
If somehow directly recovering your deleted photos from you iPhone does not work, you may want to use iTunes backup on this one. This program will go through previous data from your iTunes library and by simply clicking on the required action, you'll be recovering your deleted photos from your iPhone in no time. Although, extracting files from you iTunes backup is an effective method, you still must have backed up your files from your iTunes directory.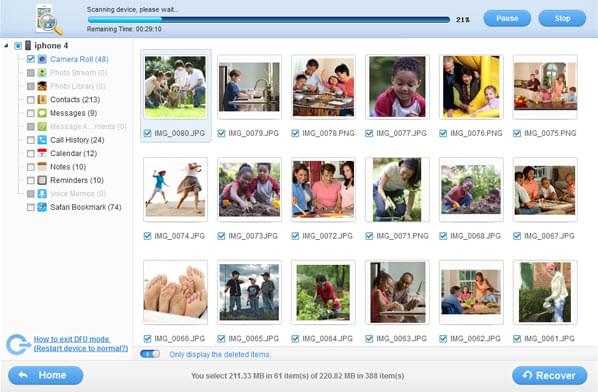 Tips: The best solution to recover lost media files and text files is prevention. You can do this with a simple organizing of your files, transferring files to a safer storage, or having multiple copies of your files. With Apowersoft Free Online iPhone/iPad/iPod Transfer App, you will have just that. Compatible with all iOS, you can easily organize your files by sorting them out the way it should be and transfer your media files to and from your iPhone, iPad, and iPod and even without iTunes. Not only will you be preparing yourself from unfortunate deletions or crashing of your device, you will also get to have neat and organized files for easy access.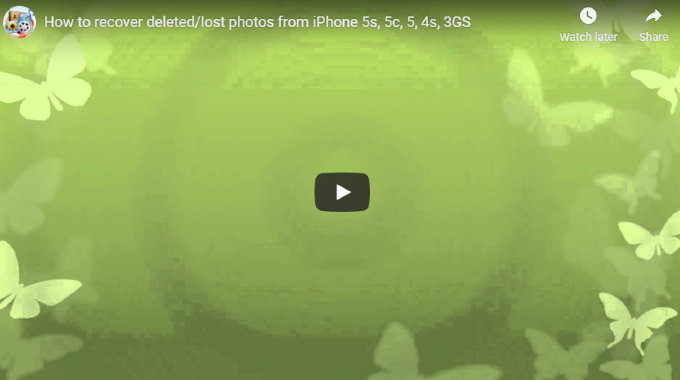 Recover deleted iPhone photos with iCloud backup, iTunes backup, PhotoStream
If you have iCloud, iTunes, or use PhotoStream, you may have a chance to recover iPhone lost photos. With few and simple steps, you can admire at your lost photos again.
Restore photos from your iCloud backup:
iCloud has a feature in which you can restore media files but you are supposedly to have activated the backup feature beforehand. Go to Settings > iCloud > Storage & Backup where you'll have to choose "Back up Now". Retrieving lost photos will then be an easy tap on Restore from iCloud Backup through the Setup Assistant.
Recover pictures from PhotoStream:
If you have enabled your PhotoStream, then your device will have sent all photos added to the camera roll on other storage. You can then restore these photos from the PhotoStream synced to your other devices.
Restore photos from iTunes backup:
Same with iCloud backup, you can recover lost media files by simply tapping on the recover button, but data should have been backed up from the start of your photo shooting. You can back up your files from the file menu and by selecting Devices > Back up and clicking on the "Back up Now" button.
Both, the iPhone Data Recovery and Recovery from iCloud, iTunes and PhotoStream are proven effective to recover iPhone deleted pictures. The only thing that separates them is the backup method. With iCloud, iTunes and PhotoStream, you will need to back up your data first or enable a feature before you can effectively recover your lost iPhone photos, while this iPhone photo recovery doesn't require you to do such a thing, it automatically scans and recovers your deleted or lost photos, making the iPhone Data Recovery a much more effective and user friendly recovery tool.