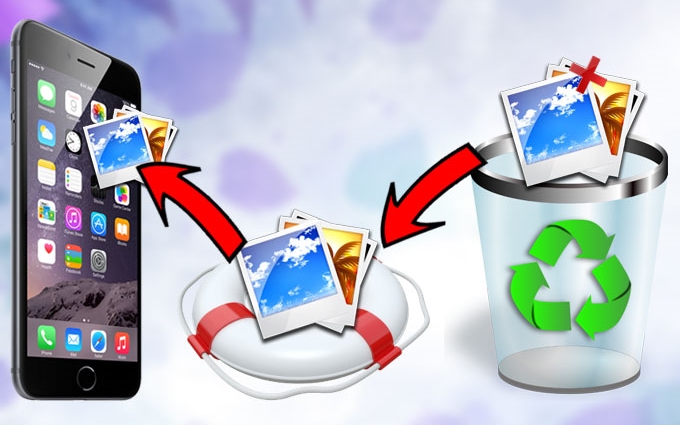 Did you recently go for a trip abroad with your spouse and save numerous photos on your iPhone 5s? Or have you saved pictures of your newborn baby on your iPhone? What would happen if you accidentally deleted all those photos? Imagine losing every image of your first baby taking his/her first steps or memorable pictures from your romantic honeymoon. That would be disastrous, wouldn't it? Well, just before you start panicking and fretting over the loss of those precious photos, just remember that they are not forever lost. All you need is a simple application tool to help you undelete photos from iPhone camera roll or photo library and you are good to go!
If you are looking for the best applications or services to help you undelete lost photos on iPhone 5s, here are a few to get you started.
2 recommended applications to undelete iPhone photos
1. iPhone Data Recovery (the pro way)
iPhone Data Recovery is great iPhone deleted photo recovery software that has the following features;
Using the program, you can recover lost data from your iPhone using two modes. First, you can recover the data directly from the iPhone and restore it effortlessly. Secondly, you can recover any lost data from iTunes backup and update it to your phone as fast as possible.
iPhone Data Recovery also allows you to preview any data to be updated before recovery. This gives you a chance to make sure that you recover and restore the correct data.
The program can be used for all iOS and OS devices which include iPhones, iPads, iPods and Windows and Mac devices.
How to undelete photos from iPhone with this Data Recovery tool
The program is simple and very easy to use. It has a very simple user interface. Once you download the program and install it on your device, you can use the interface to guide you in the whole procedure of downloading undeleting photos from your iPhone.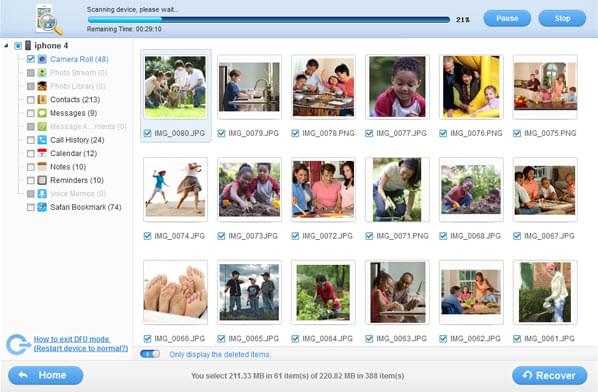 Steps on how to undelete photos on iPhone 3GS, 4, 4s, 5, 5c and 5s
1
Run this software after downloading and installing it on your computer. Click "Recover from iTunes Backup File" mode. After a while, all the iTunes back files will appear in the list along with the phone name, backup date and serial number. Select the one you want to extract files from and click "Start Scan".
2
You can choose to preview all the data files from the scan results. Click photos stream or camera roll to check the photos you want to undelete. Then mark them and undelete iPhone photos by tapping on "Recover".
2. EaseUS Mobi Saver (the simple method)
Being a free application, you can use also EaseUS MobiSaver to undelete a picture from iPhone free. Some of the features of the tool include the following.
Allows the user to recover at least 12 types of lost data from iPhone, iPad and iPod which includes call history, photos, messages, videos, reminders, calendars, notes etc.
You can preview and also check the contents of your backup such as those in your camera roll.
Allow you to scan and then extract any iTunes backup for all devices that use iOS.
It's a free application which is simple and easy to use. It's also compatible for Mac, Windows and iOS devices.
How to undelete photos on iPhone using EasaeUS MobiSaver
Start by making sure that your iPhone is not synced to iTunes so as to prevent automatic update from the backup which replaces the current content in your iPhone.
Download the application and save it on your computer.
Start recovering the lost photos from iTunes backup.
The program identifies all the lost photos and allows you to preview the content for certainty.
Choose the photos to recover and immediately start the process.
For the few iPhone 5s users who don't use iTunes backup for storage of their data, in the event of lost photos, you can also use EaseUS MobiSaver to recover any lost photos directly from your iPhone.
Compared to EaseUS MobiSaver, iPhone Data Recovery is safe and secure, therefore it's mostly recommended for restoration and recovery of any lost iPhone data.
Free iPhone Photo Editing Apps
If you find yourself in the market for iPhone photo editing apps that allow you to edit, crop, delete or resize the photo on your iPhone, below are some suggestions you should try out.
(a) Adobe Photoshop Express – Yet another product from Adobe, this app is easy to use, simple and efficient for all photo editing options. It provides similar functions to the version available for PCs.
(b) Picture Effect Magic – It provides numerous photo editing options such as changing the effects, backgrounds etc. It also comes with numerous photo sharing options such as Bluetooth.
(c) PhotoChop- Allows you to mix and match different photo by cutting pieces of one photo and adding them onto others effortlessly!