Spotify is a Swedish-based music streaming service launched in October 2008 by the then startup company Spotify AB. It provides various multimedia contents from popular singles, albums, podcasts and video services from well-known recording companies such as BBC, Sony, EMI, Warner as well as Universal. Dubbed as one of the best music streaming service, to date there are more than 75 million active users worldwide using Spotify.
The Spotify music service is indeed packed with many features. From online MP3 streaming to selling digitally protected contents, discover them all on this article.
All About Spotify
1. Main Features
Spotify comes with a rather playful interface with a hint of modernistic appeal. On the main interface itself, one will find a vast array of useful clickable links from music library entry to new playlists creation. Featured songs and popular singles with their respective album covers are equally presented in an organized manner so one can easily browse contents depending on their needs.
Some Spotify reviews point that the program's ability to create, follow or subscribe to others customized playlists is one of its biggest advantages. And indeed, this is true. Users can also bookmark an album for later playing while playlist queueing is likewise offered for a more convenient music listening.
With this music app, sharing tunes through social networking sites is very easy as well, just a simple click of a button is all it requires. The "Discover" section is equally helpful for providing music recommendations. Better still, it provides lots of radio stations for you can play music in different genres or top charts in USA, UK, France and other countries.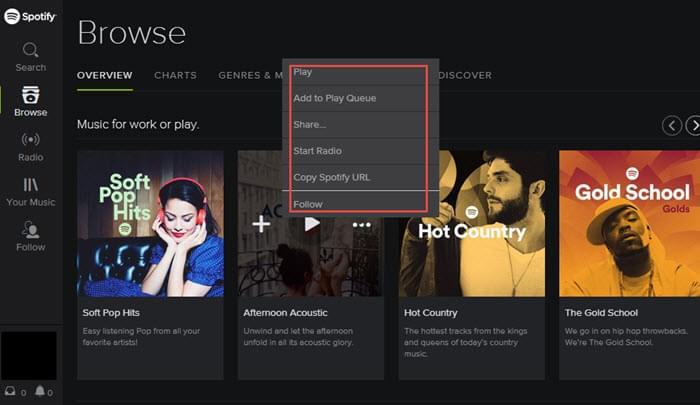 2.Subscription Plans
Currently, there are 5 subscription plans available on Spotify. Free, with no hidden cost or membership charges, premium at $9.99 a month, Family package which offers 50% discount for Premium membership, Student rate for $4.99 a month and the PlayStation Spotify for those who wants gaming as well as music combined in one bundle.
Amongst these plans, two of the most popular subscription types are the free and premium account. With Free Spotify, it will cost you $0 monthly fee and you are granted access for full-length tracks, ability to organize music library, use Spotify social networking service, and other basic features but with the addition of advertisements.
While on Spotify Premium, it will set you back at $9.99 a month but you can get to enjoy the following functionalities: shuffle play, ad free browsing, zero advertisement music listening, unlimited skips, ability to stream music offline. In addition, you have ability to enjoy high quality audios, exclusive contents and many more.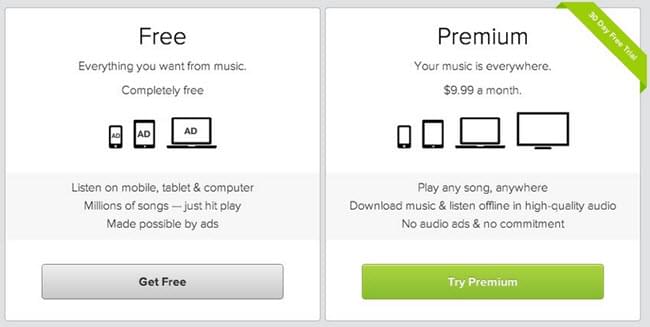 3.Users and Supported Countries
The Spotify music service is available in 58 countries all across the world with certain states and territories included. Majority of America, Asia, Australia, and Europe are granted full access to Spotify. But sadly, there are countries still not yet supported by Spotify. If on the event your country isn't "Spotified" yet, you can use a VPN application to access the website.
As of date, there are 75 million active Spotify users while 20 million of them are paid users which means that this online music community is really growing in numbers. Additionally, these numbers prove that Spotify has a larger user fan base compare to other providers offering the same kind of service.
4.Spotify on Devices
In this part, let's tackle the device availability and supported platforms of this popular digital music service. For desktop users, Spotify is available as a desktop program for both Windows and Mac operating systems. You could equally run the Spotify web player on the Internet with support to major browsers such as IE, Chrome, Firefox, Safari, Opera, etc. But you should note that the web version removed some functions from desktop app.
For mobile users, Spotify is available on almost all platforms. It comes fully compatible to iPhone 4 and above, iPad 2 and above as well as iPod Touch 5th gen above. For android handsets and tablets, you can install the app as long as your device runs Android 4.0.2 or above. Windows Phone 8 and above can equally download the program on the store.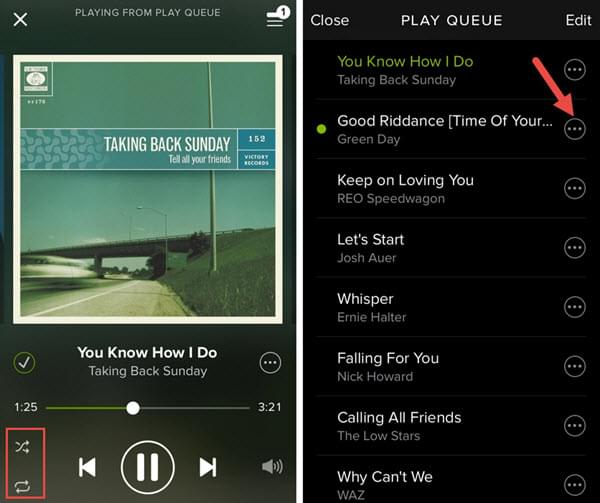 Spotify Versus Other Music Apps
We all know that Spotify has gained more popularity beyond other similar music apps, but what is reason? What are its highlights and where is falls behind? You can check the reviews and comparisons below.
i
Spotify vs Pandora – Unlike Spotify, Pandora doesn't have rewind and repeat functions. And probably the biggest disadvantage of Pandora is that it comes with a very limited collection of songs. Though, it offers a cheaper subscription plan.
ii
Spotify vs Apple Music – Apple Music has a bigger and more diverse music library than the any other music streaming applications. Content synchronization especially to iPhones and iPads is likewise more convenient than with Spotify. You can import playlist on Spotify to Apple Music for enjoying all the music in one place.
iii
Spotify vs SoundCloud – When it comes to the number of active users, Spotify is very far behind SoundCloud with its 250 million users that is still growing. Thus, community features and user-based functionalities are way better in SoundCloud than with Spotify.
iv
Spotify vs Google Play Music –On the other hand if you're an Android user, considering Google Play Music is a much more viable option. Why? Because it comes pre-installed on major handsets and you can upload your own music of up to 50,000 songs.
v
Spotify vs Rdio – Rdio offers a very affordable subscription rate starting at $3.99 per month and has a huge music library with over 32 million songs to choose from. Although, Rdio features a very limited search function.
Various Ways for Enjoying Spotify Music
i
Convert Spotify to MP3 – If you are a free Spotify user, converting the online streaming song into compatible MP3s will help you save not just pennies but time and effort. You can use free tools such as the Apowersoft Free Online Audio Recorder to make this process easily.
ii
Record Spotify Songs on Mac – Assuming that you want to record Spotify songs on your Mac, there's also convenient tool for this. Please check the guide and learn how to do this job, convert, edit, make ringtones and other related knowledge.
iii
Download Spotify Playlist – When it comes to the number of active users, Spotify is very far behind SoundCloud with its 250 million users that is still growing. Thus, community features and user-based functionalities are way better in SoundCloud than with Spotify.
iv
Burn Spotify to CD – Do you want to make your own Spotify CD collection? You can make this happen by using CD burning tools. Thus, it is possible to play Spotify offline on car or in the party with ease.
v
Transfer Spotify to iTunes – Many music fans love to manage music files with iTunes, but Spotify doesn't allow users to export Spotify songs to iTunes directly. In this case, you need to use some tricks to remove the obstacle, read the article to know about it.