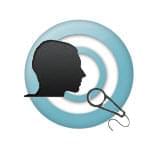 Voice recording is common. Record speaking is the way of a spoken language learner to self-checkout the faults and weakness to improves his or her intonation and pronunciation. Record singing and instrumental sound he or she playing is the way of a music lover to have fun in his or her original music world.
When comes to record voice from microphone on a computer, I personally introduce three free pragmatic tools to accomplish it with ease. They are Apowersoft Online Audio Recorder, Windows Sound Recorder and iScream.
Now, to record voice from Mic, you must firstly plug the microphone into the right jack (usually the pink one with microphone tag below) on the computer unless it has an internal microphone for your choice. As microphone works out, any of three tools I mentioned can help you free record audio from Mic. Follow the detailed guide below to find your appropriate sound recorder.
Apowersoft Online Audio Recorder
On Windows OS or on Mac OS, Apowersoft Online Audio Recorder, in user-friendly way, provides web-based services to every user who wants to record voice without costs and time-limitation. The tool frees you out of downloading or buying software to do the exact same job. Once java applet, the only thing needed for starting the tool have initialized, the tool would pop up for immediate using.
Before clicking "Record" button, you should go to "Audio Input" to make sure that you have set "Microphone" as your sound source, because the tool is able to record both system sound and sound from microphone. It is worth mentioned that with the tool, you are able to record voice with microphone while merging system sound at the same time. Taking an example, you can record your singing with song accompaniment or any background music from computer sound card.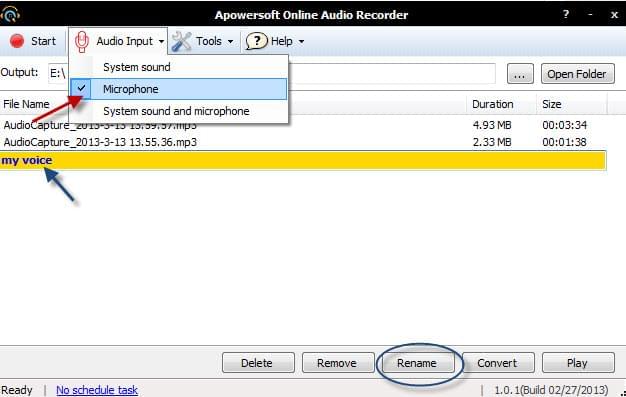 Basically, the tool records your voice and saves it as an audio file on MP3 format. That's to say, this is the way for you to directly record from Mic to MP3. Or if MP3, the default format is not exactly what you want, you can reset format before recording or convert it with built-in audio converter after recording. Famous audio formats, including MP3, OGG, WMA, WAV and ACC are supported by this free tool.
Windows Sound Recorder
For a windows user, Sound Recorder, the free application coming up with the operating system, deserves to be the first consideration to free record audio from Mic. Clicking "Start" button, typing Sound Recorder in the search box and clicking Sound Recorder in the list of results, you could open the application and start recording with it. Provided that you did a lot of recording, you were suggested to create a new folder on desktop for approachability.

The good thing is that the application has no one-minute limitation any more. But to some extent, it fails to guarantee the high quality of recorded voice, which sometimes sounds bad and noisy. And it only saves audio files as WMA format. Still, with its simplicity and convenience, it wins goodwill of users especially when they only want to get a basic recording, with no more requirements.
iScream
For Mac OS X users, iScream is another freeware to record audio from microphone. Before recording, you should download it, which takes up about 60mb of free hard drive space. By hitting on dock icon to start recording and again to stop recording, you could easily have your voice or voice notes recorded. It saves recorded audio file on three formats, which are MP3, ACC and WAV.
Among three free tools, any a Windows user or a Mac user could find the most suitable one to record voice from microphone. For external microphone users, it is good to use a headset with attached microphone to record voice and a stereo microphone instead to record instrumental music.