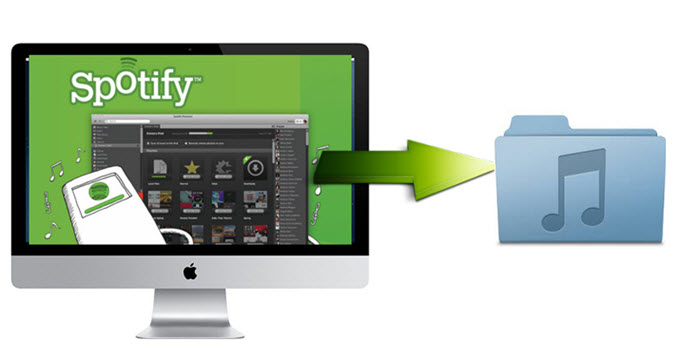 Spotify is a music streaming service that can be accessed from various platforms, including iOS, Android, Windows Phone, OS X, Windows and Playstation. It also features a web player for streaming music through your browser. The service comes with a free and paid subscription that would let you listen to more than 30 million songs online. If you don't want to pay anything for the service, you could get a free account, which allows unlimited streaming in some countries like the US, Australia, Singapore, New Zealand, Malaysia, and Hong Kong. Free subscriptions in other countries are only limited to 10 hours of streaming per month, with limited number of skips and replay with each track. If you're using Mac, you may wonder how to record Spotify on Mac for removing the limit of free account or collect the songs for listening offline. Even if you have paid subscription, you may still having problems with your Internet connection at times.
Two Feasible Mac Spotify Recorders
In this post, I'll share with you two ways on how to record from the top music streaming app on a Mac computer. These two programs come with varying features, which we will also discuss to help you know more about how to utilize them.
1. Apowersoft Audio Recorder for Mac
The first software which works well on recording Spotify songs is Apowersoft Audio Recorder for Mac. This tool can get the audio in origin quality as what you're listening on Spotify. This is a fantastic feature as you could enjoy listening to Spotify songs on your devices as if you're streaming from the site. It also offers other helpful functions, which we will further go through later on. Even much better, it can work on Mac OS X El Capitan flawlessly. For now, let me show you the steps on how you can record music from Spotify to your Mac.
Download and install Apowersoft Audio Recorder for Mac.
Launch the program and adjust the "Audio Source" at the bottom of the interface. In this situation, "System Sound" is the preferred option.
Play the music that you want to record on Spotify, and click the "Record" button. Click the "Pause" button if you want to temporarily stop recording and "Resume" to carry on recording.
Click the "Stop" button once done with the recording.
You'll see the recorded files in the middle part of the screen, just display like CD icons. You can play the file with the built-in player or you may also access it by right clicking on the file and selecting "Show in Finder".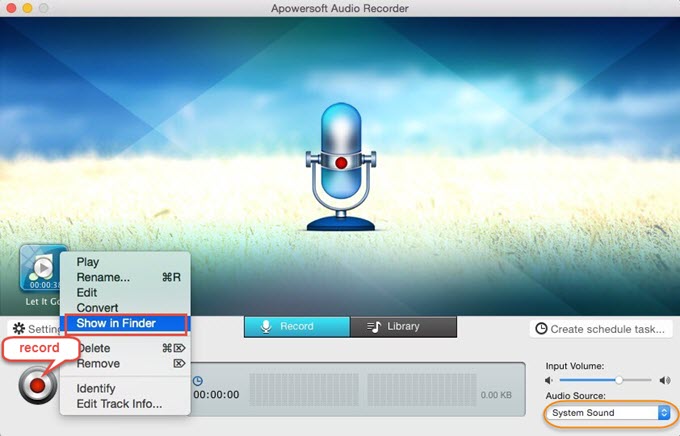 As mentioned, this Spotify recorder for Mac offers more than just manually recording streaming music on your computer. Some of the other functions that you would find helpful are as below:
1
Auto-split recording
You'll find this feature useful if you want to record an entire playlist, but would like the tracks to be saved separately. Click "Settings" on the bottom left side of interface, select "Record Settings", and click "Automatically split when the silence is more than XXXX (1000/2000) milliseconds".
2
ID3 information identifier
The audio recorder has a smart feature for automatically identifying music information like the artist name, genre, title, album and year. This is convenient as you can recognize each track simply with the given tags. You may also add cover art, as well as edit tag information.
3
Task scheduler
Even if you're busy with doing other things, you can use the task scheduler so that you wouldn't miss recording songs on Spotify radio. Click "Create schedule task", type in the "Task name" and set your duration. Select your audio source, click "Create" and then click "OK" to set up a task.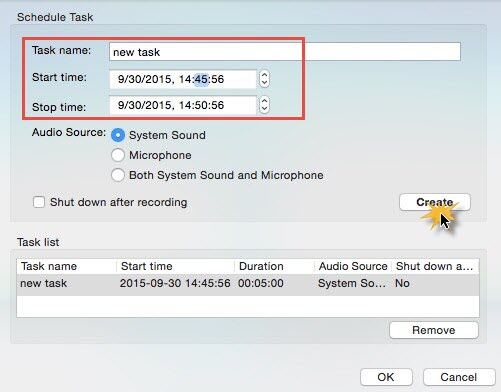 2. All Audio Recorder Pro
Our second tool which is available for recording Spotify on Mac is All Audio Recorder Pro. Its user interface is straightforward for recording streaming music with ease. Just play the track that you wish to record and click the "Record" button on the upper left side of the application. Like the first program, you can also pause the recording and resume whenever you're ready, or stop when done. You'll see the recorded audio files by clicking on "Newly recorded" or "All recorded" at the left side of the screen.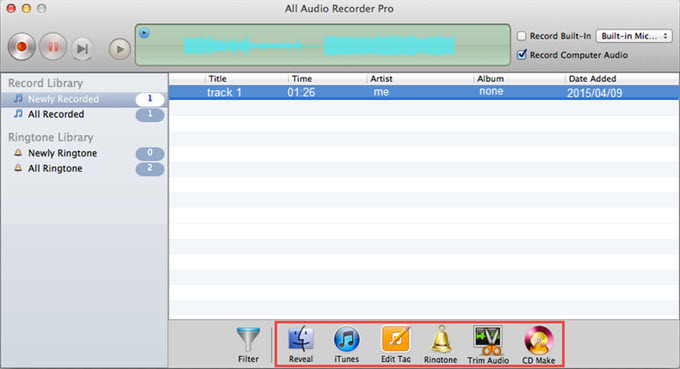 This software also has added features that you can use. It has a ringtone maker that allows you to choose from the songs that you recorded and turn them into ringtones. The "CD Make" option lets you add recorded tracks that you can burn to a CD. It is a pity that it doesn't automatically detect music information, but you may add and edit the tags yourself. All of these options can be accessed at the bottom of the screen.
Conclusion
Both Apowersoft Audio Recorder for Mac and All Audio Recorder Pro provide the basic function of recording Music on Spotify and give quality audio output. However, Apowersoft recorder is a better Mac Spotify recorder since it offers more additional features like automatically get music information, edit audio files, and schedule recording. Besides, it works more stable on the latest EL Capitan.