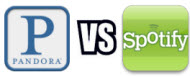 Gone are the days of playing music from CDs, cassettes and MP3 players. In this highly technological era, you can stream music by simply connecting to the Internet. Hundreds of dedicated music applications can be freely downloaded online and most of them require a little to no monthly subscription fee at all. However with tons of options readily available at hand, choosing which music streaming site available on Internet can be totally confusing.
Pandora and Spotify are two of the most popular music sites available right now. Both are easy to use, free and contain a wide variety of music from classical to popular RnBs. So which site provides the best service you need? Check out this Pandora Spotify comparison below.
Pandora and Spotify – A Quick History
Pandora was released in January of 2000 in Oakland California. It has a stable number of followers increasing every year as it continuously offers new features. On the other hand, Spotify came to the market as it was released in October of 2008. But this Swedish owned company is taking the music world by storm. Every day the number of avid Spotify fans grow bigger and better making it a big competitor to Pandora.
Both Pandora and Spotify offer free as well as paid type of subscription. Free users get to enjoy quality music without spending a dime yet with advertisements while paid uses can experience additional benefits aside from ad-free streaming.
Pandora vs. Spotify
Functions: 8.0:8.0
Pandora offers "pure" radio listening experience. You can browse over 500 stations and further personalize it according to your desires. With it, you'll get to enjoy several benefits such as ability to purchase songs directly from iTunes or Amazon, directly see full song lyrics, subscribe to music feed, follow your friends with their music, share songs on Facebook or twitter, find the artists as well as songs you love, discover artist biographies and many more.
If Pandora offers the best radio listening experience, Spotify on the other hand lets you enjoy music in a more personalized way. Depending on your current mood, users can explore different kinds of music. Other features of it include: create your own playlist, discover music based from what you're listening, share music to social networking sites, allow personalization of radio stations and all others. Yet, assuming that you wish to download music from it, the third-party Spotify music downloader is needed.

Music Database: 10.0:8.0
While music streaming is becoming more and more popular, not all of them offers a wide variety of selections. Aside from the cost factor (if there's any), checking out the app's music library is also important. Bear in mind that the music library determines the number of songs you are able to search and stream within the site's interface.
Another Spotify versus Pandora roundup is about music contents. So which one is better? The answer is Spotify because they offer access to over 20 million songs with tracks coming in from big label companies. Compare this with the one million song collection of Pandora, users looking for a more diverse music library should consider checking out Spotify first.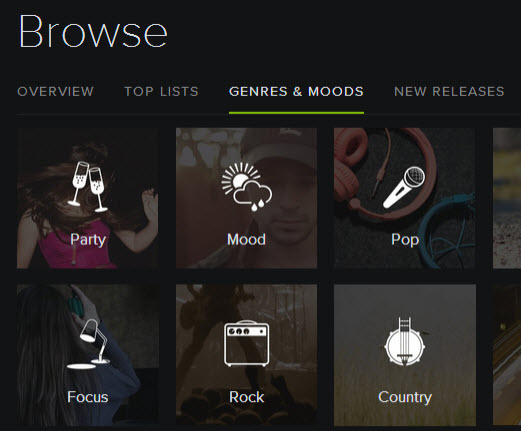 User Base and Price: 10.0:8.5
When it comes to user fan base, Pandora tops the chart with over 250 million registered users worldwide. However, do note than Pandora can only be accessed in 3 countries namely New Zealand, Australia and United States of America. Meanwhile, Spotify is more widely available. It can be streamed by users in over 50 countries and the list of territories supported is regularly updated. Spotify has 40 million users all across the globe.
With regards to subscription fee, there is a big brawl over Pandora vs. Spotify. You can subscribe to Pandora One at $3.99 per month and this gives you an ad-free streaming service, unlimited number of accessible songs, custom skins and fewer interruptions. Spotify on the other hand is a dollar higher at $4.99 subscription fee per month. With this type of service, you'll get to enjoy a higher sound quality, an ad-free streaming, unlimited listening and ability to access it in countries not yet supported.
Mobile Applications: 9.0:10.0
Pandora is available on Xbox live, Android, iOS, Blackberry and Windows mobile operating systems. There is no desktop version but you can access it by logging in to the site via web browser. Note that you need to keep that web browser always open on the background to be able to stream music contents as long as you want.
Spotify is more gadget and device friendly than Pandora. Whether you're using iOS, Android, Windows Phone, Blackberry and Symbian mobile platforms, rest assured that there's a Spotify application fully compatible with your device. Furthermore, there's a desktop version of Spotify available on Windows, Apple and Linux operating systems.Clear enough when it comes to this issue, Spotify takes the lead due to its widely compatible to most OS and gadgets.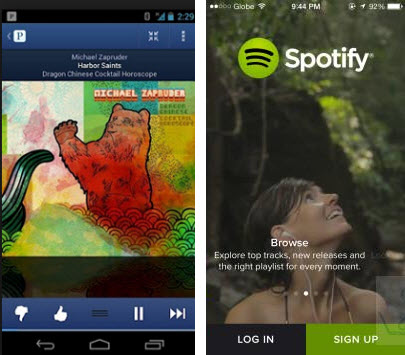 Conclusion
Both Pandora and Spotify offer a wonderful music listening experience because you don't need to download and play songs just like the old times. With these two services, listening music is more accessible as well as convenient.
As stated on the above Pandora Spotify comparison, Spotify houses more music than Pandora, not even half of what the latter can offer. Additionally, Spotify is available on many areas comparing with Pandora. However, Pandora has a cheaper subscription fee and provides versatile functions. Yet depending on your needs as well as wants, the decision to choose between Spotify and Pandora lies within your very hands.