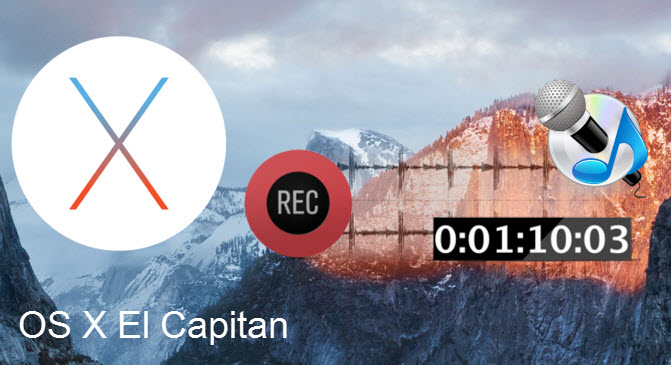 For various of reasons, people usually need to record audio on computer. For instance, you wish to record and save the music you like, get a copy of live audio course for studying later, save the important dialogues in voice conference, record your own sound from microphone in audio calls, etc. Unlike Windows platform on which users can adopt the default Sound Recorder, Mac users need to look for suitable third-party tool to make audio recordings. However, with the release of Mac's new operating system, many tools are not working anymore, so this article will recommend the effective Mac OS X El Capitan audio recorder.
Despite the enquiry of supporting audio recording, a satisfied audio recorder should also output lossless audio file, support mainstream formats, easy to operate, work stable, etc. To save your time and effort, this article picks the qualified programs for you can record any sound with ease.
Ideal Methods to Record Audio on Mac OS X El Capitan
1. Apowersoft Audio Recorder for Mac
This program is capable of recording streaming music, Internet radio shows, mic voice, voice conversations, web video dialogues in MP3, M4A, WAV and others formats. Besides, it is equipped with scheduler for recording sound at any fixed time automatically when you are busy with other things. According to you need, you are allowed to record audio in high or medium quality. Ok, let's get to know the steps to record audio using this tool on Mac OS X 10.11.
Download Mac audio recorder and install it.
Configure some settings before recording an audio. Click "Audio source", and then select "System sound", "Microphone" or "System Sound and Microphone" at your will. Then, click the "Settings" button on the left bottom of interface, and open "Record Settings" tab for customizing the output format.
Hit "Record" icon, then play the audio or speak through mic. It will then start recording audio properly.
To end the process, you can hit the "Record" button again, and the recorded file will display on the interface.
Right click on the file, more options include "Play", "Edit", "Rename" and "Identify" can be achieved.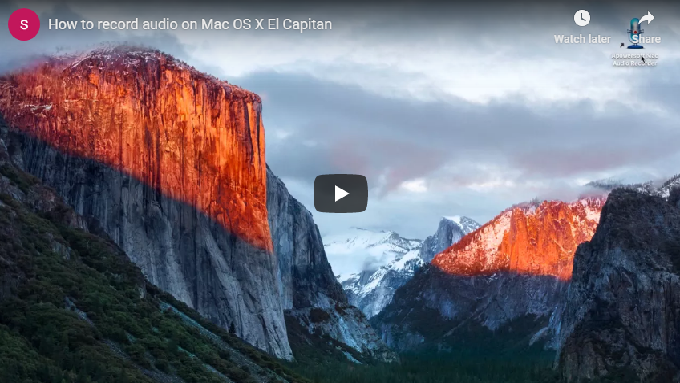 Though this Mac OS X El Capitan audio recorder is able to record audio in different formats, it also has an inlaid audio converter that allows to turn recorded audio to other formats for playing on any player and device smoothly. Choose "Tools" – "Audio Converter", and hit the plus icon to import files. After that, select the quality and target format and start to convert right away. When conversion completes, the notification will pop up for you to locate the converted audio.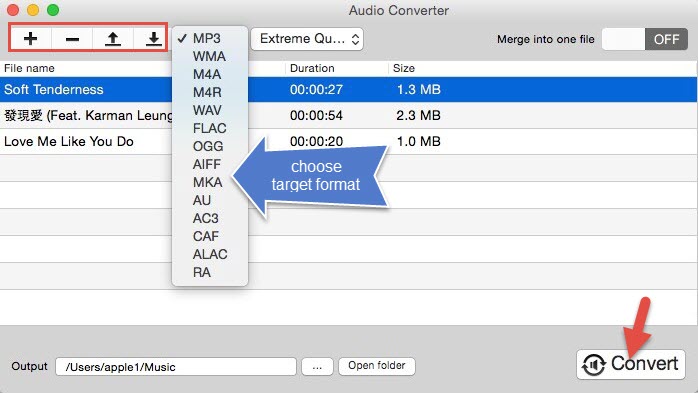 2. Leawo Music Recorder for Mac
Leawo Music Recorder is another software that lets you record voice on Mac OS X El Capitan efficiently. As its name reveals, it is mainly used for recording songs from music sites like Pandora, MySpace, Spotify, Apple Music, MTV and others. Since it has the advanced technology, anything you can hear will be recorded in 1:1 quality. After recording, you are supported to add songs to iTunes within a few of clicks. Then, it is convenient to transfer your loved songs to iPhone, iPad and iPod.
The operation of recording sound using the software is similar to the above mentioned software. The first thing is to choose mic icon on the interface for adjusting the audio source in setting menu. Then, you need to play the music and click red icon to record it. Later, click "Stop" icon once done. And if you wish to record audio at the specific time, it is suggested to take advantage of "Task Scheduler" function. Follow the steps below:
Click the mic icon on the screen, then a window will show up.
Tap "Scheduler", tick the box before "Task Scheduler" option.
Set the "Start time" and "Recording Duration", click "OK" to apply the settings.
When time is up, the recording will be started as you can see the music notes moving on the interface.
On the left panel, choose "Library" – "Recently recording" to check the recorded audio. To manage the files easily, you can create playlists as you desire.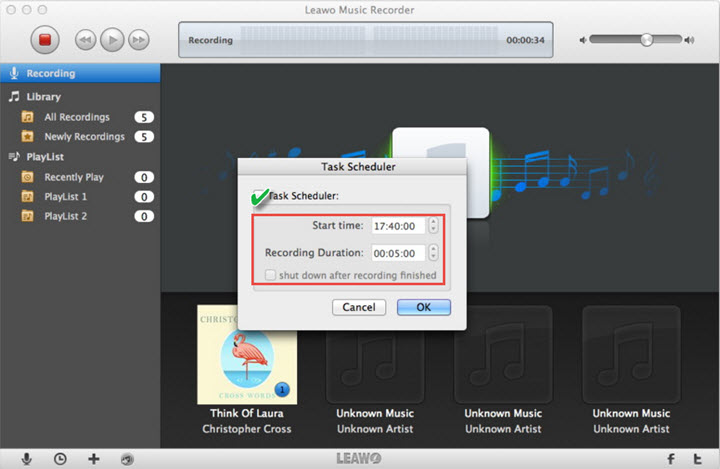 In order to play the music with your phone and portable player, just right-click on the file in the "Library", then choose "Add to iTunes". The iTunes app will open automatically, and the transferring begins at the same time. Next, plug your device into Mac to sync the music data. Afterwards, you can play music wherever you want.
Above are the two ways which helps to record audio on Mac OS X El Capitan by sparing no effort. Except audio recording, Apowersoft Audio Recorder for Mac offers more additional functions which let you create ringtone, edit audio files, and edit music information. Leawo Music Recorder for Mac provides less functions and its UI is so intuitive. To sum up, Apowersoft Audio Recorder for Mac would be the better choice.