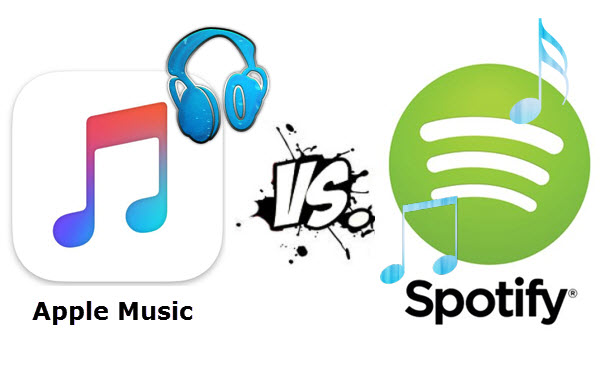 Founded in 2006, Spotify is a music streaming service which has been first launched in 2008. It offers a large music database, thousands of playlists, high quality music and complete share and download functions. Due to its powerful feature, it has been the top of music apps in the world for many years. Though Apple Music was founded later than Spotify on June 30, 2015 by Apple Inc, it has been regarded as the greatest rival of Spotify. It lets users play a wide selection of songs in its database and listen to live radio. You can also add music from your device, as well as access to songs saved on iCloud in one place. In this post, we'll tackle more about these two services. A detailed comparison and discussion will be given on them so you can determine that which is your preferred service.
Apple Music Versus Spotify
Next, we'll go through their various features one by one so we can see which of them is better on specific areas.
Music Library and Radio
Apple Music and Spotify both boast a huge selection of music library. With 30 million songs in their database, you'll enjoy listening to great music from various genres and artists. Besides, Apple Music is said to offer exclusive contents from artists, which is a fantastic deal for users. Songs that haven't been released yet or those that can't be found elsewhere would be available here. This service also has live radio that you can listen to 24/7. There's a DJ that would play songs, as well as discuss topics in the music scene. The radio on Spotify is not hosted by real DJs, they are created by users, which is more similar to a playlist of their favorite songs. Apple Music is clearly the winner when it comes to the wide selection of music and radio.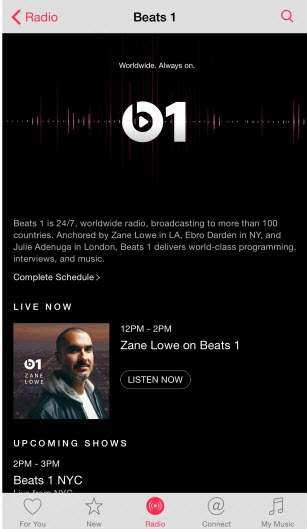 Functions
One of the functions that you may find useful from these two services is the option to play music offline. However, both require paid subscription in order to do this. If you have a paid account, you can take advantage of this feature so you can continue listening to music if the connection is unstable or just wish to save your data use.
Both of them also allow the creation of playlists. However, it's easier and more convenient to do this on Spotify compared to Apple Music. It's not possible to add songs to playlist on Apple Music while listening to a song, which is something that you wouldn't have problems doing on Spotify. So for this specific Apple Music vs Spotify round, we could safely say that this one goes to Spotify.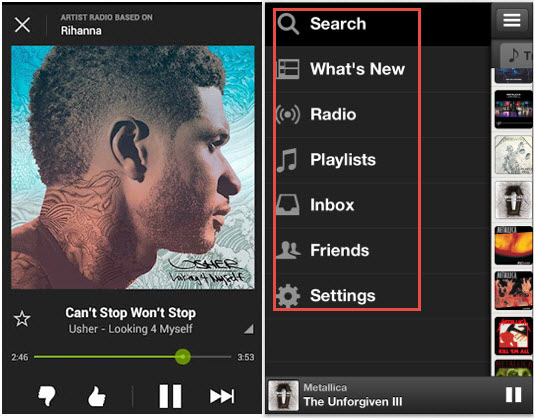 These services also recommend music based on your personal style. The recommendations are based on the artists, songs and genres that you usually listen to. Apple Music mostly endorses popular music or artists. Spotify on the other hand gives you more of less known but unique artists and songs. For this area, the best service would depend on your preference. If you want to explore popular music, then go for Apple Music. However, if you want to discover new music from artists that are not that popular or even unknown, then Spotify would be a better option.
Social and Share
Apple Music has a "Connect" section that lets you get updates from your favorite artists. You can also comment on their posts, although doing so is not that convenient because of its small space. Nevertheless, you'll still have a chance to communicate with them. Spotify may not have this, but it lets you connect your account with Facebook and other social media sites. You can also follow other users and exchange messages with each other.
When it comes to sharing, Spotify wins over Apple Music because it offers more options to do this. A track, playlist, album or an artist can be shared via message, text, email, Google Hangouts, WhatsApp and Facebook. However, Apple Music only lets you share music via AirDrop, Facebook, Twitter, email and text.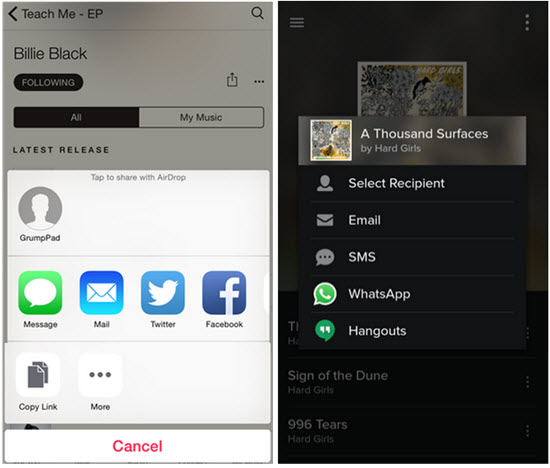 Price and Users
Apple Music's free subscription comes with limited features. You wouldn't be able to download music, except for those you uploaded on your device, ripped or bought. But you are able to use the "Connect" area, and listen to Beats 1 radio and other radio stations supported by advertisements. The free subscription gives you as much select of music as the premium on Spotify, except that comes with ads. And you have restrictions when skipping the songs when playing playlist or radio.
Individual paid subscriptions for the two are the same, which come at $9.99 per month. Family sharing is also offered, although Apple Music gives it at a lower price. At $14.99 per month, you can share the account to up to six users. Spotify requires $5 per month for each additional user.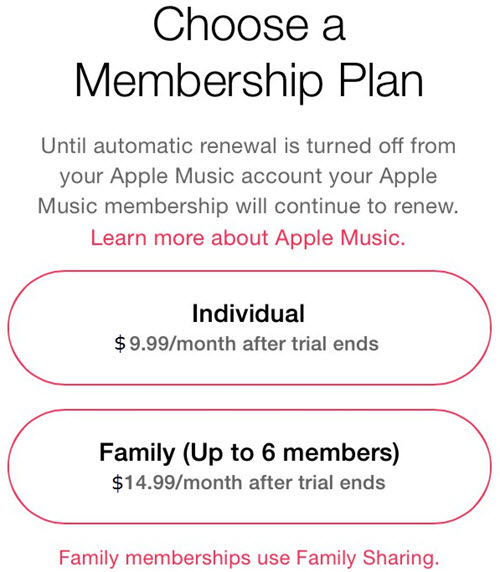 When talking about the subscribers, Spotify undoubtedly would be the winner. Up to June of this year, it has more than 20 million paid users and over 75 million active users. Apple Music is still in its three month trial period and currently impossible to tell the premium members. However, it claimed that it have 15 million users up to September.
Device Capability
As of this writing, Apple Music only supports a few device, including, Windows, Mac, and iOS. However, developers are working on it, hope to make it compatible with Android and Apple TV soon. But there is no good news for Windows phone users until now. Though Beats Music has already became a part of Apple Music, Apple currently has no clear plan to release the music service for Windows phone. Since Spotify has been providing music service for a long time, it has also well compatibility for more devices, such as iOS, Android, Windows Phone, PlayStation 3 and higher, Mac and Windows, etc.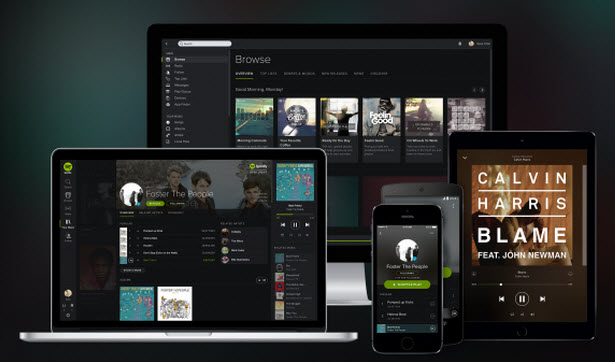 Bottom line
To wrap up our Apple Music versus Spotify discussion, we could say that both have their strengths and weaknesses. They both offer a big selection of music to play and their prices for individual use is the same. If you're looking for exclusive content and popular songs, Apple Music is the way to go. However, if you want a service that's compatible with more devices, easier to use and provides more stable functions, you should go for Spotify.
| | Apple Music | Spotify |
| --- | --- | --- |
| Music and Radio | 9.0 | 7.5 |
| Functions | 8.5 | 9.5 |
| Sharing | 8.0 | 10.0 |
| Price | 9.5 | 9.0 |
| Subscribers | 8.0 | 10.0 |
| Device Capability | 8.0 | 10.0 |