Live radio comes from stations which let users stream music in real time with no delay. Gone were the days that the only way you can listen to radio was through your radio device. Now the trend is changing, with the development of Internet and streaming media technology , you can listen to the Live radio programs from all around the world online. Live radios offer different genres of shows which cater to the taste of different listeners.
Listeners may want to record Live streaming radio for various reasons. If you love a specific talk show or episode in a program, you can have a copy of it and play it anytime, even offline. If you don't want to miss a certain program or song, but there is something that you need to do, you may record it so you can still listen to it during your convenient time. If you love the classical songs or new songs played by DJs, you can record your favorite music to add to collection.
Available Ways to Record Live Radio
In order to record a program or song streamed on live radio stations, various of online app and software can be your great helper. For your reference, here just pick and explain some of them so you can choose the best option.
1. Professional Desktop Radio Recorder
The first radio recorder that we can use to record Live radio stream offers lots of features. It has free music search, download and recommendations. A worth to mention function of this software is, it allows you to search, listen and record the radio in it directly. You can hit "Radio" tab and browser the stations in different genres in the list. There is no need to add the radio stations by yourself since it presets more than a thousand stations inside. Just choose your desired channel, hit the "Play" icon to play it. Or, press the small red icon to record Live radio online.
Here is the video about how to use the radio recording program.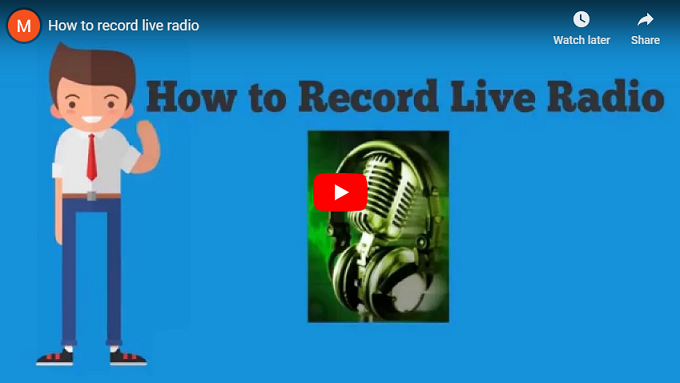 Besides, Streaming Audio Recorder allows two options for recording. One is the manual recording and the other one is by scheduling.
Scheduling task is also simple, please refer to the instructions below:
Open "Tools" menu and select "Schedule Task" from the dropdown list.
Enter the "Task name", set start time and stop time for determining the recording duration. Click "Create" and "OK" button, the timer will begin to countdown.
Play the radio online, then the software can record radio automatically when reaching the scheduled time.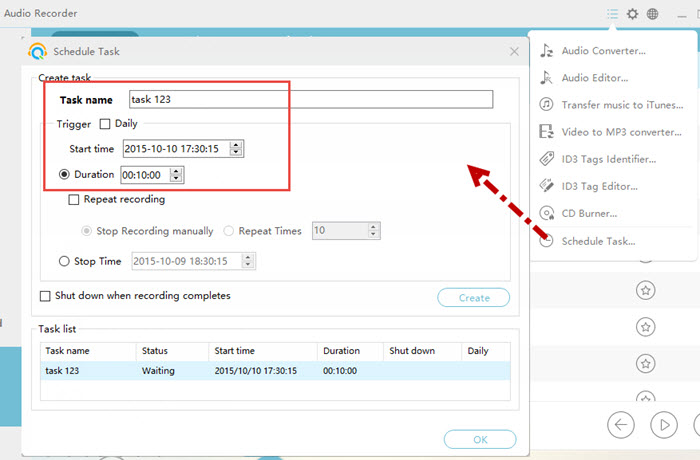 The recorded files will be saved in the local folder, just switch to "Library" and click "Open Folder" button to find it.
2. Easy Online Radio Recorder
Let's introduce an easy to use web based radio recorder called Apowersoft Free Online Audio Recorder. If you are looking for a cost free solution that does not require software installation, you may try this tool. Here are the steps on how to record Live radio on PC using this application.
1
Activate the audio recorder
Go to the website of Apowersoft Free Online Audio Recorder and click the orange "Start Recording" button. A window asking to run Java applet will appear, then all you have to do is to click "Run" to load the audio recorder window.

2
Specify settings according to need
On the interface, select input audio source by clicking on "Audio Input" – "System Sound". Then, specify the detailed settings by entering "Tools" – "Options". There, you can set recording hotkeys and preferred output format for saving the radio with this Live radio recorder. Click "OK" once done.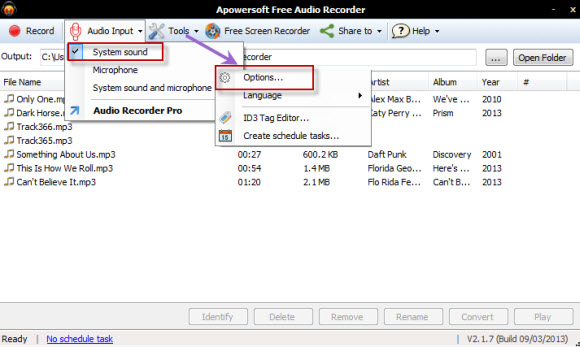 3
Record programs or songs from Live radio
Go to your favorite online radio streaming site and access your favorite program or music station. Click "Record" to start recording. You have the option to "Pause" the process, then "Resume" when you wish to. Click "Stop" when you need to end recording. The recorded audio will be stored to your computer, check the destination folder for finding it.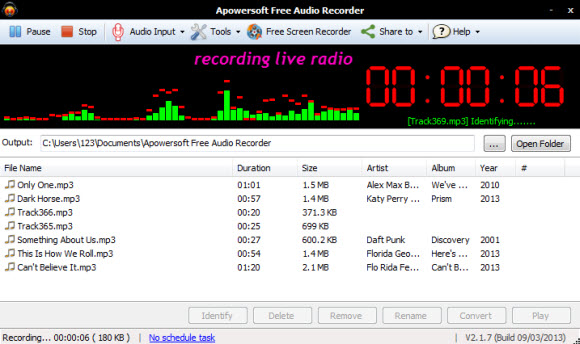 Feasible Way for Recording Live Radio on Mac
If you are using Mac, Snowtape is workable tool that you can give it a whirl. The software comes with lots of smart functions which support to record online radio perfectly. Once launching the app, you will see the "Online Directory" which contains over 3,000 radio stations. You can simply choose radio station from it or import other radio stations online by adding their URLs. Then, play the Live radio and record it with manually or scheduling mode. While recording, Snowtape is able to recognize the music from radio and add the ID3 tag to it. After recording, you can export the files to iTunes in a click.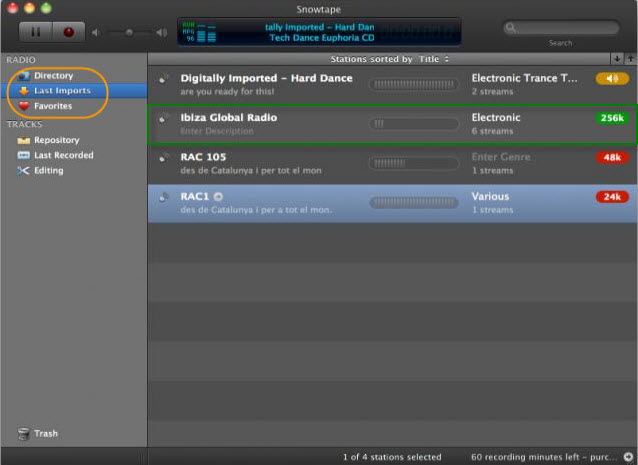 However, it only records streaming radio, which means that it does not support recording audio from your microphone. Since some people like to add some voice memo while recording radio, this tool may disappointed them. Furthermore, it only supports Mac, so you can't use it if you're a Windows user.
Cool Sites for Free Listening Live Radios
After you have chosen the best options to record Live radio, you can then follow my recommendations.
Spotify – Spotify is a commercial music streaming site that also comes with an app for you to search and listen to. The advantage of using this program is that it lets you create your own playlist. However, it does not let you record its radio, click the link to learn how to do so in other ways.
Pandora – Pandora is an online radio service that is also available on mobile devices. It lets you create your own station and customize them by liking those that you want to listen to. By clicking the thumbs down icon on the radios, you will filter them when hearing your station. For saving the radio programs for offline enjoying, you can refer to the detailed tutorial here.
Tune in – Tune In Radio lets you listen to over 70,000 Live AM and FM radio stations from all over the world. For conserving the radio stations, you can add them to your favorite list on the site or record them with a third-party Tunein recorder.
BBC iPlayer – Aside from radio stations, BBC iPlayer also lets you access clips fro TV shows aired on BBC. If you are a huge fan of the shows from this channel, you would love iPlayer. iPlayer offers more than ten special radio channels for news, sports, music, entertainment and other aspects. Except of downloading iPlayer radio with iPlayer software, you also have the options to do this job free.
Grooveshark – Grooveshark lets you search for your liked songs and add them to the queue. After doing so, you can choose to play the music in random, shuffle or other modes. It comes with a popular list so you can be updated with the famous songs. Check this related article if you wish to get the latest songs and playlists.
Jango – Jango is another online radio station that is often compared to Pandora. Select a song or artist and a music station will be automatically created. Similar songs will then be added to your station. However, it comes with advertisements before playing music. To get rid of the ads, it is suggested to record Jango music for listening later with your media player.