BBC iPlayer is an Internet multimedia portal which provides TV and radio service. The iPlayer radio has more than ten channels and contains vivid content like news reports, music, podcast, radio shows and many others. After years of development, it has become the top radio site in Britain or even around the globe. Listeners are free to listen to the recorded audio clips and live radio programs on the official site. Actually, nearly all the iPlayer radio fans have come across such a situation: they enjoy a great DJ song or nice talk show, and they wish to record and save the excellent resources forever. However, this is an impossible mission to some listeners for they don't know the way to record BBC iPlayer radio.
It's a sad and annoying thing indeed. Luckily, you have no need to rack your brain now! There are many helpful radio recorders on the net, just select the reliable product then you are able to record your favorite music and shows from radio. In the following article, I will share my experience and introduce you some efficient iPlayer radio recorders.
How to Record BBC iPlayer Radio
Shareware for Recording iPlayer Radio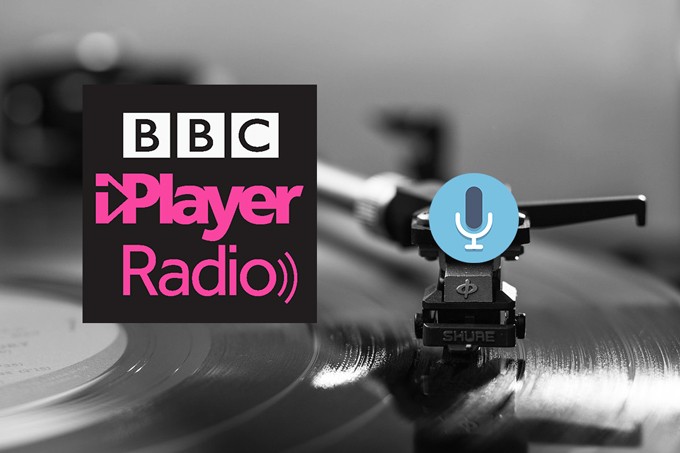 You may need to adjust some parameters like audio sources, format, etc. before recording iPlayer in normal way. Then you have to play the radio and start the recording. That really costs a lot of time. Suppose you want a more flexible way, Streaming Audio Recorder must be a better choice. It is special software designed for recording Internet radio program. Before using it, you should download and install it first. Though the preparations may cost you some time, the amazing functions embedded in it won't disappointed you. It presets a plenty of radio stations inside, you can listen and record radio with it directly. Here's how to:
Launch the software after installation.
Click "Radio" – "Search" tab for finding radio station.
Select language, genre, and country, or just enter "BBC" into the blank search bar.
Press "Search" button, the related BBC iPlayer radio channels will be loaded.
Double click the selected radio, then hit red record icon to record iPlayer and hit the same button to finish recording.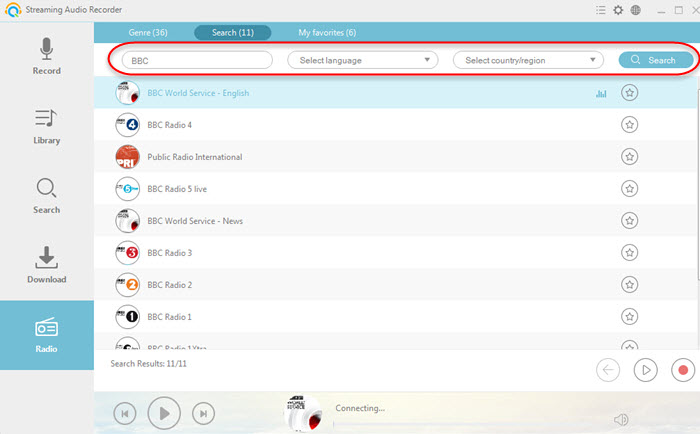 Later, you can listen to the recorded radio with inlaid player. It is also easy for you to add the recorded files to portable devices like iPhone, iPad and Android.
If you happen to deal with some other cases and cannot stay beside the computer while the show is going on, then how to record the radio? No worries, the alternative way will support you to record from iPlayer perfectly. Choose "Create schedule task" in the "Tools" menu, set the task name at will. Then, customize the start time, stop time and duration for the task. After that, hit "OK". The program will countdown for the recording task, and you just leave the radio playing and switch to other things. When the time is on, it will start to record iPlayer automatically.You don't have to worry about missing the excellent radio shows.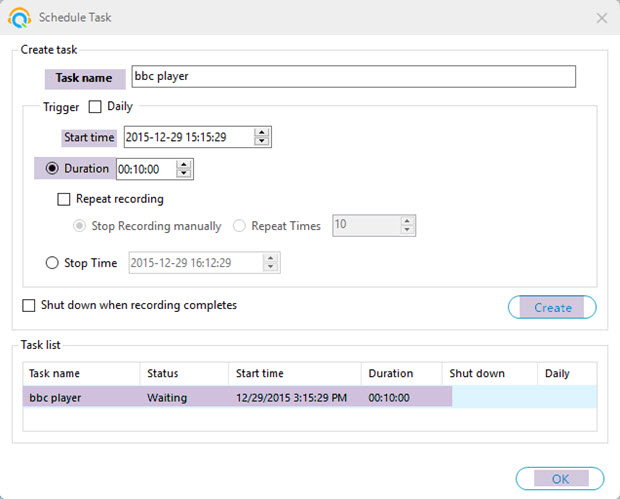 Online App to Record from iPlayer
If you are a person who stick to simplism, how about giving Apowersoft Free Online Audio Recorder a try? The tool is a browser-based recorder, so you don't have to download and install anything on PC before recording radio. Even much better, it is totally clean and free, you can utilize it with ease. Here are the concrete instructions to record iPlayer:
Access the product webpage and click "Start Recording" button. A window shows up and asks your permission to run the launcher. You need to choose "Run" option and then the audio recorder will be loaded.

Configure settings at will
On the "Audio Input" window, select input audio source as "System sound", "Microphone" or "System sound and Microphone". It is suggested to choose "System sound" when you download iPlayer radio.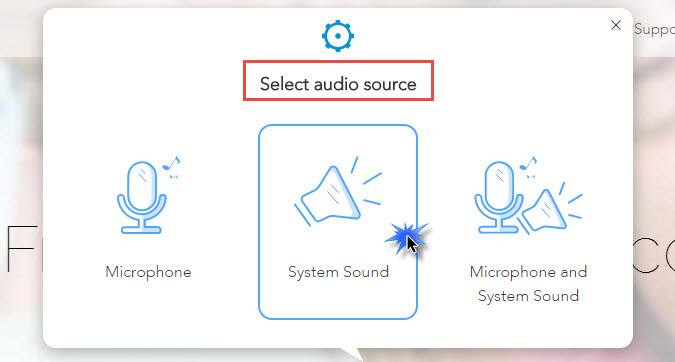 Navigate to iPlayer and play your favorite channel. Click "Start" button on the program to start radio recording and hit "Pause" if you wish to pause recording. And the recording will be ended by clicking "Stop".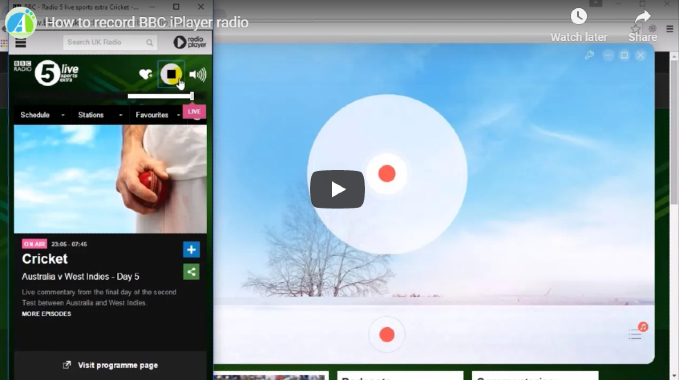 Then you can switch to the recording list and check the recorded file. Surely, the result won't let you down since the program records radio in high quality.
Mac Software to Record from iPlayer
For Mac users, you have a better option to conduct radio recording on iPlayer. The advanced software – Audio Recorder for Mac gives you the ultimate solution to record anything you can hear from computer. It means that you can record online live radio, streaming music, audiobooks, in-game sound, voice, etc. The operation is also very simple:
Download and install the program.
Launch it and adjust settings according to your need.
Play iPlayer radio, hit red "Record" button to record iPlayer radio and control radio recording by using hotkeys.
Forward to "Library" to find the recorded radio file.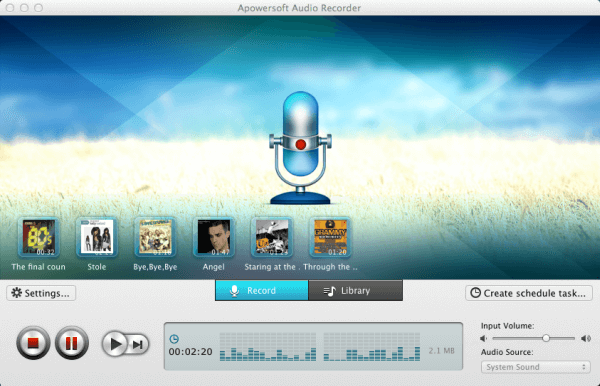 The software is very smart and able to identify ID3 infos as soon as you record songs or soundtracks. This function brings you convenience to organize the music library and saves you time on editing the songs manually. Also, you can schedule tasks to record audio with this software. The inlaid video converter endows you the capability to convert audio to different formats like MP3, M4A, OGG, AC3 and others.
Mobile App to Record Shows from iPlayer Radio
BBC designed the special BBC iPlayer Radio app for mobile device, it brings the great convenience for users to listen to the radio on the go. However, when the mobile cannot connect to Wi-Fi, the radio playing will be interrupted occasionally. In this case, the demand of recording iPlayer radio arises. The pitiful thing is that the app lacks the recording function.
Take it easy, a smart recorder called V Radio Recorder can be helpful. The app can be found in the App Store, you should install it on mobile firstly. Then, run it and search the radio station which you want to listen to. Next, you can enter the channel and play it. While playing, just click red record icon to start recording. To check the recorded radio shows, press "Record" tab and browse the list. Okay, now you can enjoy the iPlayer radio offline.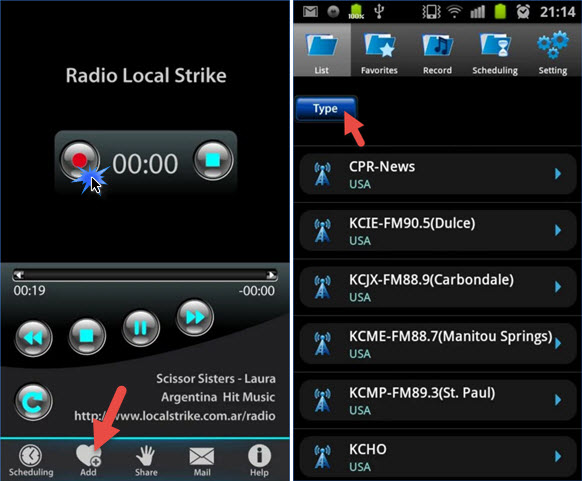 Now, both Windows, Mac and mobile users have the great chance to record radio from iPlayer. Don't hesitate to record radio shows your desired and send them to your mobile, tablets or portable devices for listening on the go.