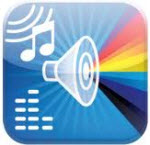 Internet radio has been in existence for decades now, but it now turns to new forms and gains popularity more than ever. A reason behind this popularity is because the best streaming radio stations allow for listening to different genres of music and programs without time limit.
The main advantage of using internet radio is that you have control of what you listen to. Among the abundant radio stations, you can choose what genre to listen to depending on your mood and tastes. In addition, since you are listening from the World Wide Web, you can access these stations wherever you are, regardless of time and date, for as long as you have internet. Finally, a lot of people have become loyal internet radio listeners because the audio playback comes with different levels of settings for flexible customization. With these options, a lot of internet users have become avid internet radio listeners as well.
Best Internet Radio Stations
With the dozens of radio stations available, choose one from them is in itself an adventure. There are various factors to consider in selecting the radio station that you want to listen to. Some of the internet radio sites allow for listening all day long free. Other internet radio stations give privileges for premium members to make further customizations, like endless skipping of tracks or multiple genre listening. Here is a list of some of the top Internet radio sites right now.
Spotify
Spotify is an online radio site which provides music from various multinational recording companies. By creating an account with Spotify, you will be able to listen to songs from various leading recording companies. Spotify works in all European countries, America and Australia. It also has mobile app which compatible with various portable devices allowing you to share the music you listen to, and providing you with further personalization. Procuring a premium account from Spotify will gain you ad-free interface to play music for endless hours. Comparing with free account, the premium one lets you access Spotify even when offline. However, even premium users cannot record Spotify to MP3 local files. Then if you wish to save Spotify radio, just learn more here····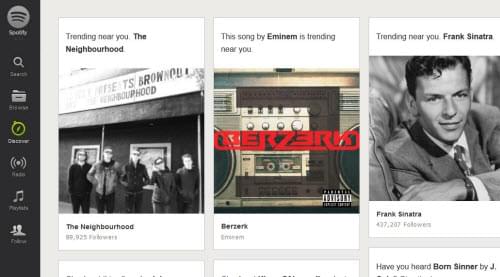 Grooveshark
Aside from providing streaming services, Grooveshark also allows its users to upload music that can be played and shared to other users. In addition, Grooveshark has a recommended application, allowing for users to explore new artists and discover new music. With the uploading feature of Grooveshark, users have the great chance to upload and share infinite music resources. Unlike other radio streaming sites, Grooveshark's catalog is user-oriented. For premium users, there are extreme features for you to choice, and you will also get additional playability on your mobile devices. Grooveshark has been listed countless of times as one of the best websites currently. To save fantastic Grooveshark radio shows, you can follow the guide····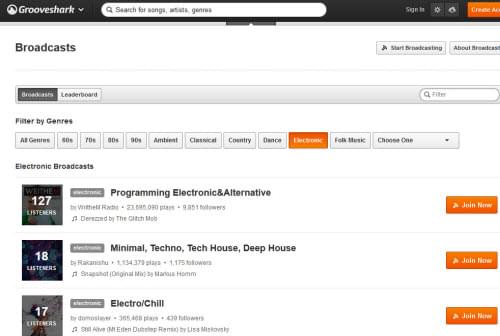 Last.FM
Last.FM is one of the best streaming radio stations and exists as a leading online music databases. It functions mostly through a unique music recommendation system called the Audioscrobbler. From the user's listening history, Last.FM builds a customized and personalized profile based on the listener's tastes and preferences. The Last.FM radio is available for free in the US, UK and Germany. Users in other countries are given limited plays while providing unlimited listening to premium users. The scrobbling or recording of the listening history from third-party application remains free in all countries.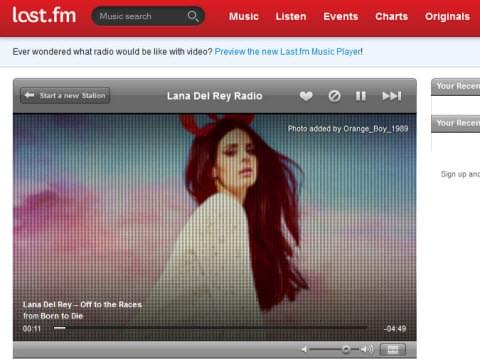 Live365
With Live365, users are able to create their own radio station, which they can listen to. Also, Live365 allows users to listen to other personally made music albums curated by thousands of other users. The unique thing about Live365 is that it allows users to utilize the AM and FM stations and telecast their radio streams via internet. Live365 offers more than 260 genres from which users can listen to. These genres include talk radios and the typical rock, classical, jazz and country radio stations. Users are able to enjoy these genres for free in an ad-supported interface. Live365 allows for users to add radio stations to their presets and personalized recommendations. It is important to note that Live365 is available for free through web streaming or through web streaming and the made-in-house applications.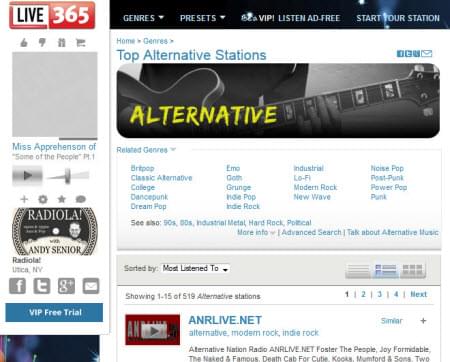 Pandora Radio
While Pandora is limited in geographical availability, it has been one of the leading and longest-established online radio stations. For users who are able to access Pandora, it is playable through various media streaming devices and mobile platforms. Pandora has an automated online recommendation service, allowing users to listen and discover new music. Pandora allows users to buy the music they are listening to from various online retailers such as Amazon and iTunes. Pandora's recommendation system is fully automated, depending on the factors of rhythm, tone and harmonies. Pandora is available through free and premium accounts, with premium accounts allowing for additional features. Assuming that you wish to record Pandora songs or burn them to CD, please find related information here····
Gaana
Gaana.com is an online streaming music service providing extensive collections of songs that sorted by various genres and different languages. Generally, it offers songs in as many as 21 languages including Hindi, English, Bollywood, Tamil, Kannada, etc. It is really simple to utilize. You can quickly find the music you preferred since you can search the music by entering keywords like the title, album, or artist in its browser. Within its popularity, there may come a time that you want to enjoy Gaana songs offline. If so, you can follow the detailed steps to download Gaana songs.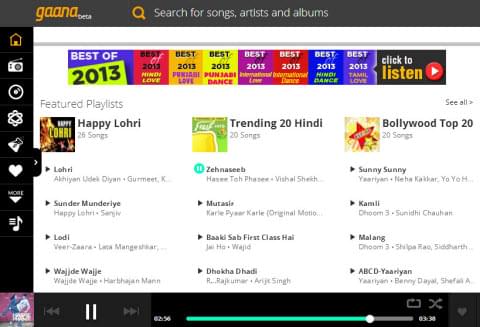 Tips for Recording Streaming Radio
Recording for streaming radio is especially useful when you have certain programs to follow. Having an equally well-functioning recording system is needed as you listen to some of the best internet radio sites. One of the best radio recording applications is the Apowersoft Free Online Audio Recorder. It's free and easy to operate. With this tool, you can easily record audio from any source, whether it be your sound card, microphone or a combination of the two systems.
This free online audio recorder allows to record Internet radio shows easily. Just take several clicks:
Click 1: Click "Start Recording" on Apowersoft recorder page.
Click 2: Click "System Sound" under the "Audio input" tab on the tool's interface.
Click 3: Click "Record" to start recording radio, choose "Stop" to end recording process.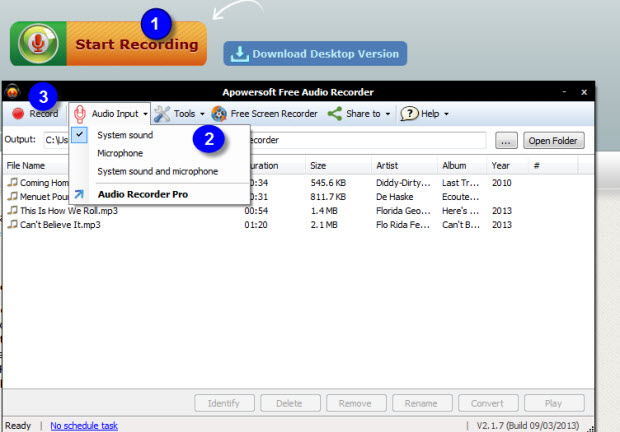 Very convenient, it's it? Try to record your favorite radio shows and music now.
Hope you can get some useful information about online radio stations in this article, leave a comment if you have other recommendations.