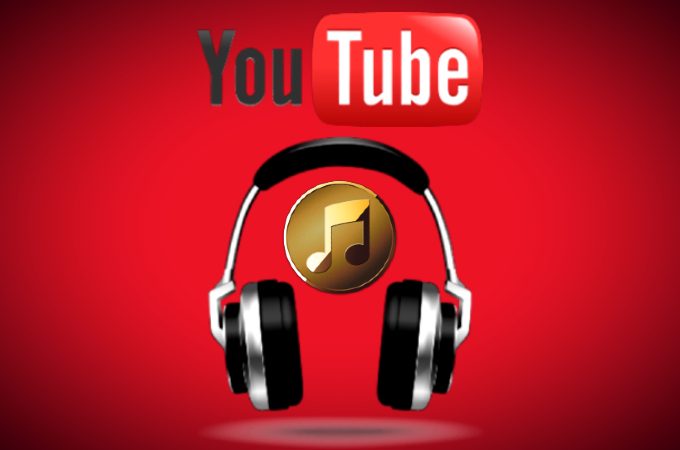 For many music lovers, they often go to YouTube for watching music videos, if they don't want to miss the latest album or be out of date. Sometimes, they directly downloaded the YouTube music videos on computer's hard disc, so that they can watch them offline, over and over again. After all, there are so many YouTube video download programs on the Internet.
In fact, all they want is only the audio track of a YouTube video, is it necessary to download a whole video, which is in larger size than audio? So, the real smart action is looking for a way to extract audio from YouTube video. Now, a lot of such online web-based service and desktop software can be searched from the web. Personally, I prefer to the following YouTube audio extractors.
Tools to help extracting audio from Youtube video
Apowesoft Free Online Audio Converter
If you have downloaded YouTube videos on your computer, Apwoersoft Free Online Audio Converter will be the most appropriate for you, because it's designed for extracting audio from downloaded video files for Windows and Mac. That is to say, it's an online YouTube audio extractor. Another feature is that it's totally free, so you can use it as you want.
You can watch the steps in this video: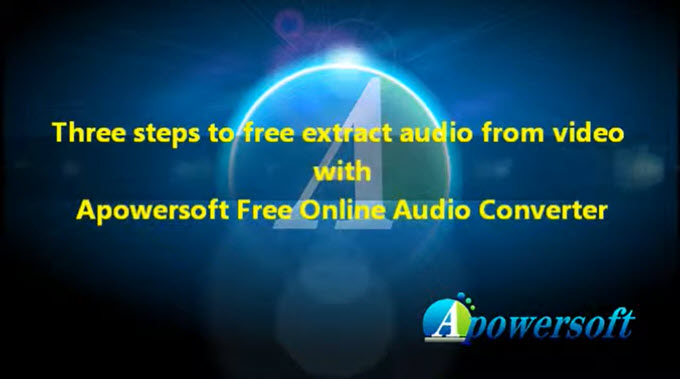 Even if you are not good at computer, you can still do that effortlessly, as this online tool will guide you on each step. Or more precisely, there are only three steps for you, just load video file in, customize output settings and click Convert button. Before it starts to extract sound from YouTube online, you should be alert at choosing the output audio format. It includes MP3, WMA, WAV, OGG, RA, AAC and FLAC.
Apowersoft YouTube to Mp3
The second tool I'd like to suggest is a program called Apowersoft YouTube to Mp3. Judging from its name, we may know that it is capable of extracting audio from YouTube videos. Indeed so, it supports to extract audio from both local and online YouTube videos, and works well on both Windows and Mac. Of course, except MP3, it can save YouTube audio into other formats, like .wma, .wav, .ogg, .aac, .flac, .m4a and .ac3.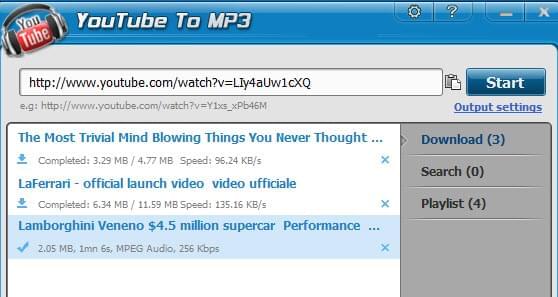 Using this YouTube audio extractor, you can rip audio from YouTube straightforwardly, instead of downloading video on computer first. Just copy and paste video URL into the link bar and click Start button, pretty easy. What if you have a bunch of YouTube videos to extract? Don't worry, it can process several tasks at one time. After that, you may transfer those audio files into portable devices, like MP3 media player, cell phone or else.
Alternatively Free YouTube Audio Extractor – Video to MP3
It can be said that Video to MP3 is a combination of the two tools mentioned above, as it is a free online web-app to extract audio from YouTube video and local video files on your Windows or Mac. Equipped with this advanced feature, it can also help users extract audio from other online videos, like Metacafe and Dailymotion, and save it into popular audio formats, such as MP3, WMA, WAV, OGG, AAC, RA and FLAC.

To extract audio from YouTube free, all you need to do is copy and paste valid video link address into the download bar, simple for all. Okay, I have presented both online and free YouTube audio extractor for you. Of course, there are many other options out there, so you can explore your way to rip audio off YouTube videos.