Not so long ago, it was indeed a huge challenge to view video files on our mobile phones. The slow internet connection and very huge file size make multimedia viewing on our smartphones really troublesome – and this is why the 3GP file was born.
What is 3GP?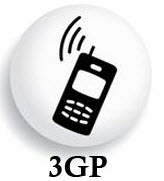 3GP or technically known as 3GPP file format is a multimedia-based format fully developed by Third Generation Partnership Project or 3GPP. Hence, the name 3GP was given to this hugely popular media file. The 3GP (Third Generation Partnership Project) is the result of cooperation between various telecommunication companies and associations all over the world. 3GP is also the best answer to the problems that people have in viewing multimedia files on their 3G-enabled smartphones.
Specifically designed for mobile phones, 3GP is a simplified version of MP4. Compared with the bulkier and PC-based format MP4, 3GP is smaller in size which makes it more convenient to view videos on mobile gadgets. There are two kinds of 3GP format, first is the 3GP with a file extension .3gp and the 3G2 bearing the extension .3g2.
Fun Facts about 3GP
3GP was made to decrease bandwidth usage and storage requirements of mobile phones.
Although this format is made for 3G phones, it doesn't require a 3G-enable gadget before you can view the file.
3GP files are made for GSM-based phones while 3G2 are used for CDMA-based mobiles.
A 3GP file includes a text which can be opened by using notepad or any other text editor.
Manually changing the file extension .3gp to any other format is not possible, an actual file format conversion is needed.
2G and 4G phones both support 3GP playback.
Pros:
The main advantage of 3GP format is that it is small in size. This is beneficial especially for users who frequently save and watch video files on their smartphones. And due to its small footprint, uploading or downloading a video in 3GP format will only take seconds to minutes depending on the file size.
Cons:
But since 3GPs highly compresses video and audio stream in a single file, the video resolution and quality likewise decreases. When compared to other formats, users might notice a huge difference in terms of audio quality, screen resolution, playback timing and all others.
Devices That Support 3GP
As said earlier, all 3G-capable mobile phones can support 3GP files. This is likewise applicable for both 2G and 4G enabled smartphones but with some limitations. The maximum file size for playback greatly depends on the gadget's existing memory. But on computers and laptops, all 3GP files are playable depending on the installed media player.
PlayStation 3 equally supports 3GP, which will play it as long as the audio imported from the CD is set to decode on MPEG-4 AAC. On the other hand, the Nintendo DSi likewise supports 3GP files saved on the SD card. When transferring 3GP files, it is advised to use removable storage devices such as USB sticks and memory cards.
How to Play 3GP Files?

Windows Media Player – this default Microsoft media player can technically play 3GP. Although, you need to install software such as the Haali Media Splitter and FFDShow.

Media Player Classic – another alternative would be the freeware Media Player Classic. It is a toned down version of the aforementioned software that can play 3GP files.

QuickTime – for Mac users, you can use QuickTime to open 3GP. Newer versions need not to install additional codecs but for older ones, supplementary codecs might be needed.

VLC Media Player – another freeware on the list that can play 3GP file is VLC player. This program supports 3GP with AAC audio but sadly it can't decode 3GP with AMR audio.
Top Solutions for 3GP Format
Convert any format to 3GP
Convert video to 3GP – if you have a video that is not 3GP and wishes to use this format to save space, this is very much possible. You can use either free or paid file converters to do the job.
Convert AVI to 3GP – since AVI is a much larger and heavier file format, those who wish to makes files smaller can convert them into 3GP. Just be warry about the difference in video quality.
Convert FLV to 3GP – FLV is a known internet format used primarily on blog spots and websites. If you have a FLV file that needs to be converted to 3GP, make sure that the converter supports both format.
Convert YouTube to 3GP –YouTube doesn't have a specific video file format and this can be quite tricky. Find a software that can directly download YouTube videos then saved it into 3GP.
Convert 3GP to Any Format You Like
3GP to AMV – although 3GP contains audio, converting it into AMV or Anime Music Video can be difficult. Not many software supports AMV so it is best to find a reliable and efficient file converter.
3GP to WMV – popular on almost all media players, you can convert 3GP to WMV. This task is easy and most converters supports this kind of file modification.
3GP to MP4 – if you play 3GP files and finds it too low in quality, you can convert it into the most used media format. MP4 is hailed as the king of all multimedia formats due to small size and great quality.
3GP to MOV – for Apple users, although QuickTime supports 3GP, sometimes it is best to play files in MOV format. For this, use a reliable Apple-compatible file converter to avoid corrupted files.