When the year of cellular phones completely revamped its most basic function of just calling and texting ends, manufacturers started to introduce amazing hardware features such as the ability to take photos and record videos. This is when 3GP made its way on our mobile devices. 3GP is a multimedia container format made by developers to answer the needs of streaming contents use 3G connectivity. These highly compressed file format supports playback depending on the maximum memory available on the phone. However, why do some people still need to convert 3gp file to WMV?
WMV or Windows Media Video on the other hand is more of a high end video compression file format. Developed by Microsoft, it gained popularity due to premium images such as those on HD DVD and Blu-ray Discs. Compare to 3gp files, WMV can produce outright clarity and better video stability. Hence, most users want to free convert 3gp to WMV as the former do have limitations such as:
WMV has the ability to produce richer and vibrant images unlike 3gp
Grainy images seen on 3gp can be avoided on HQ WMV
Windows Movie Maker and Windows Media Player don't support 3GP file
Most online streaming contents uses WMV format
With the above reasons, it is crystal clear why people want to convert 3gp file to WMV. Luckily, there are simple yet effective ways on how to do it. See these tips and tricks after the jump.
2. Shareware – Video Converter Studio
Three Freeware to Convert 3gp to WMV Online
Apowersoft Free Online Video Converter
With this very handy and practical tool, you can convert 3gp to WMV online with ease. Furthermore, unlike other online video converters, you don't need to register or install extra applications, right on top you can convert files seconds after clicking. The Apowersoft Free Online Video Converter is a 100% free online tool that lets you convert videos into different formats according to your likings. It supports various video formats (MP4, WMV, 3GP etc.) and audio formats (MP3, WAV, WMA etc.)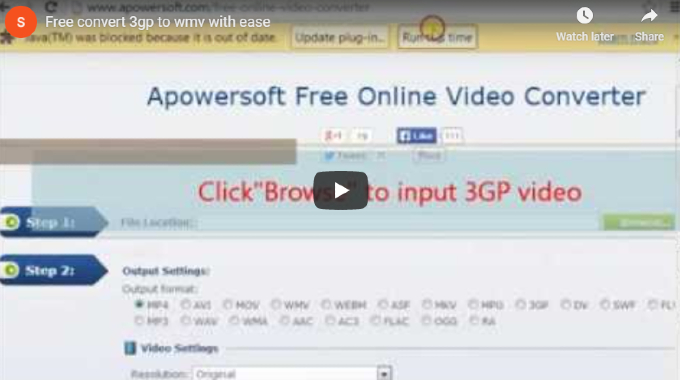 Using the Apowersoft Free Online Video Converter is extremely easy. All you need to do is to go to the website, upload the file you want to convert, customize settings and video output quality, click "convert" and then you're done! The main beauty of this service aside from being free is that it doesn't have limitations. You can convert video file formats as many as you want and as long as you desire.
Free 3GP to WMV Converter
Another freeware to convert 3gp files is the 3GP To WMV Converter. However bear in mind that unlike the first one, you need to install it on your desktop and it supports Windows OS only, Mac users are sadly left behind. With this file you can convert multiple videos by batch with an option to select the best quality available.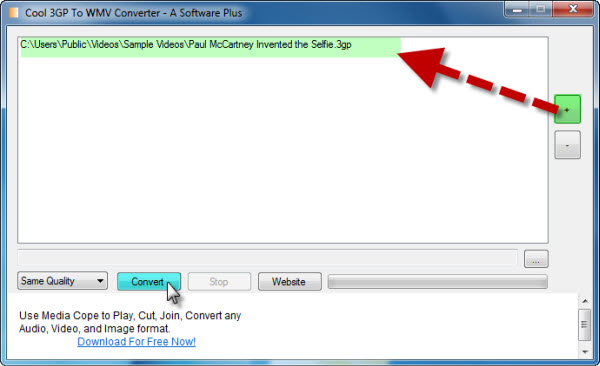 It is absolutely free so using it wouldn't cost you a dime. Though, note that 3GP to WMV Converter is not your all around video tool. It only converts 3gp to WMV and other file formats are not supported. Also, you need to master it to get a good grip on adjusting settings.
Convert.Files to Convert 3gp to WMV Online
You don't need to install this online resource tool on your PC just to use its free service. Convert.Files allows you to convert video files into different formats within your browser. Using it is pretty simple, choose the file, upload it, tweak the right output format, click "convert" button and that's it.

However, there are some loopholes with this online converting tool. The conversion process is slow which isn't appropriate for on-the-go users. Similarly it doesn't let you set video resolution so you won't be able to produce higher quality videos. Video output formats are likewise limited, only 11 types are available.
The Shareware to Convert 3gp File to WMV
For users looking for a premium video converting tool that can produce professional quality outputs, Apowersoft Video Converter Studio is the best way to go. Unlike the basic online 3gp to WMV converter, this powerful video instrument not only helps you convert files to different formats but also lets you edit and add external files. Latest formats are moreover supported such as HTML5, android video, iPad and iPhone 4s.
With Apowersoft Converter Studio you can convert HQ movies up to 720p and 1080p, add external subtitles as well as audio files, tweak subtitle setting, merge different videos, trim, crop and add different visual effects into your file. Indeed this exceptional converter is packed with features and fortunately there is a free trial available for undecided users.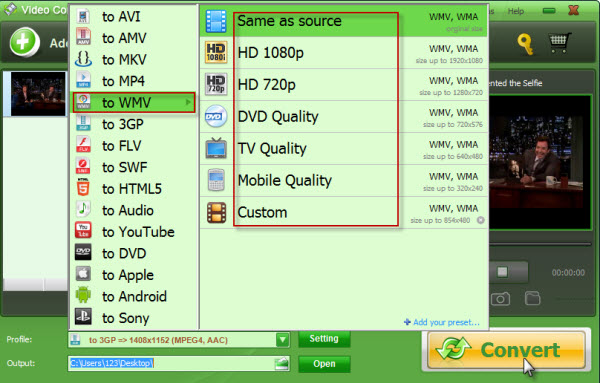 With the above methods, those wanting to free convert 3gp to WMV surely have oodles of option. If you are just a basic user who needs to convert 3gp files for personal consumption, it is best to go for free online converting tools that are fast, flexible, unrestricted and absolutely open. However for professionals, buying a premium video gizmo will give you tons of editing as well as converting preferences.