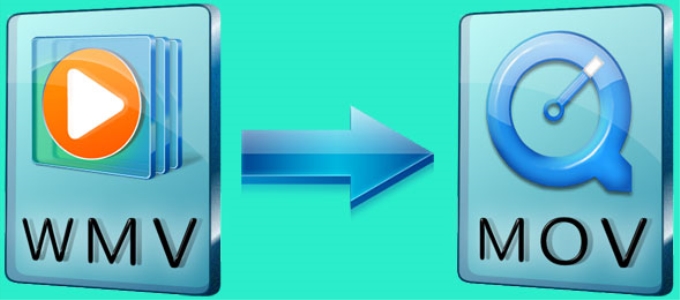 Windows Media Video or better known for its acronym WMV is a video file format originally developed by Microsoft for internet streaming applications. The public readily accepted WMV is later used on HD DVDs, Blu-Ray discs, internet movies, web streaming clips and many more. However, for Mac users, WMV is a hit and miss file format. WMVs are hard to play on QuickTime. And editing them using iMovie is such a challenging task to deal with. Importing WMV files to iTunes is similarly difficult. But Mac users are not the only enthusiasts having problems with WMV. A number of Windows users are also having troubles with this format.
So if you don't want incompatibilities issues with Mac, technical difficulties in Windows and problems with certain applications, the best thing to do is to convert WMV to MOV. MOV is a high quality video file format developed by Apple and known for high quality compression rate with greater versatility.
Easy Methods to Convert WMV to MOV
1
For Windows Users
i
Free Way – Apowersoft Free Online Video Converter
If you don't want to install additional software on your PC but needs a reliable file converter, you could try Apowersoft Free Online Video Converter. This web-based application is fully compatible with all versions of Windows. It can convert both audio and video files in MP4, MOV, AVI, WMV, MKV, ASF, FLV, 3GP, MPG, M4A, MP3, WAV, FLAC, AAC, RA, OGG and many more.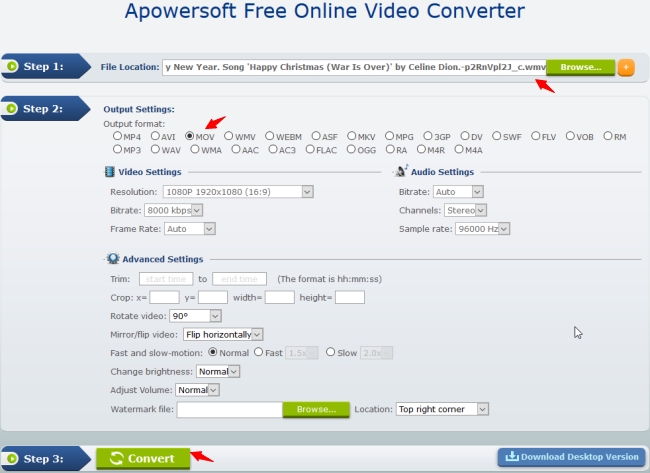 Unlike other free online converters, the program comes absolutely free with no file size restrictions or time limitations. Equally, you don't need to create an account or register on the website before you can convert WMV to QuickTime. This handy tool allows you to change video resolution and adjust settings if necessary without sacrificing quality. Even more, it is equipped with video editing functions like trimming parts, inlaying watermarks and so on.
ii
Professional Way – Video Converter Studio
On the other hand, if you want a more refined and feature-filled WMV to MOV converter, you can go to check out Video Converter Studio. This powerful program can convert any video formats with no loss in quality. Aside from WMV and MOV, it supports a wide variety of video and audio formats from commonly known container files to specialized ones. You can similarly use this software to preserve HD quality files.
It is packed with amazing features. It comes with an audio and video editor, built-in media player, subtitle support, embedding of watermarks, and many more. On top of these things, this all-in-one video converter is additionally equipped with video downloader and screen recorder so you can do more things besides file converting.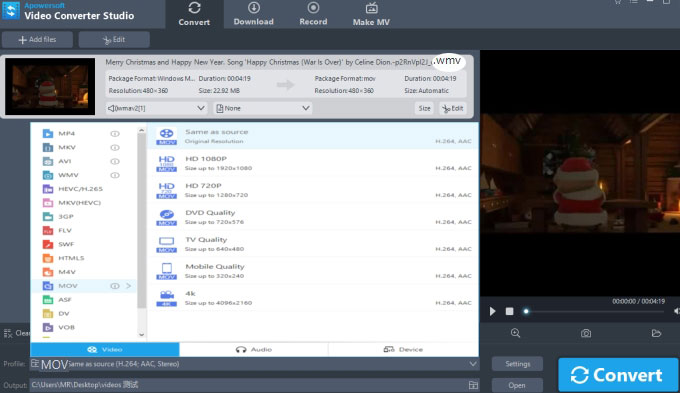 2
For Mac Users
i
Free Way – FlipForMac
For Apple fanboys, you can convert WMV to MOV on Mac for free by using the plugin called FlipForMac. It is not a program but rather a Windows Media Component made exclusively available for QuickTime. They have a FlipForMac Player available but all you need is free version of the plugin to be able to change WMV to MOV. Likewise, it is very easy to use. Just open QuickTime and load the WMV file you wish to convert. From the "file" menu select "save as", then select the file format as "Movie". Instantly you will notice that the file extension changes from .WMV to .MOV. Click "Save" and wait until the process completes.
While FlipForMac is very simple to use, it doesn't provide a direct solution to convert WMV to QuickTime. Many users are reporting that it can't even open the WMV file in the player while there are those having problems working with copyrighted videos. Also, it doesn't support conversion of other file formats. Worst is that there is a watermark embedded on the video after a successful file conversion.
ii
Professional Way – Video Converter for Mac
If you're not satisfied with the above mentioned method, you can still convert WMV to MOV on Mac by using Apowersoft Video Converter for Mac. This awesome video converter is compatible to all versions of Mac. Aside from blazing fast conversion speed, you can also use it to modify popular audio formats. The Video Converter for Mac offers a reliable file conversion with no loss in quality. It supports both standard and high definition video formats including MP4, MOV, QT, M4V, WMV, ASF, WEBM, HD MOV, HD AVI, HD FLV, MOD and many more.
Just like its Windows counterpart, the program is brimming with extra features. It has a built-in video downloader, flexible editor, audio extractor, batch file converter, media player, AVCHD support, specialized output sizes for specific devices, and easy to use interface.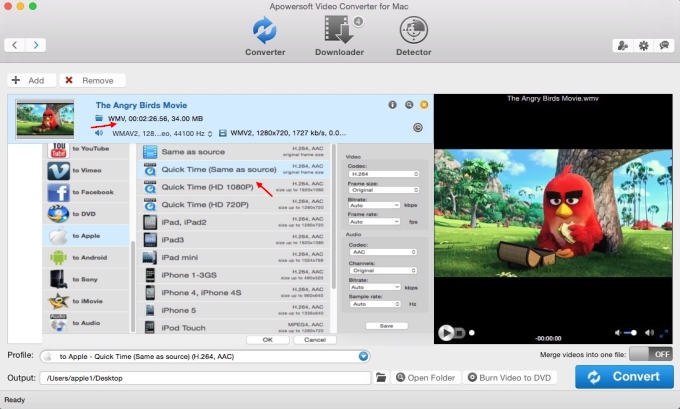 Conclusion
If you're thinking to convert WMV to MOV free no watermark, we would recommend you to try Apowersoft Free Online Video Converter. If you want to avoid this thing from happening and want to enjoy extra functionalities on top of file conversion, it is best to look for professional applications specifically designed to run smoothly on your system.