Not all of us are actually familiar with the file extension .dv. This was a rarely used media extension until the sudden outburst of many digital cameras. DV stands for digital video and is often the result of a recorded video made by digital cameras. In layman's term, if you record a video using your Sony, Nikon, Canon, HP or other handheld video recording devices, the resulted media files would be saved in dv format.
DV means raw files from camcorders which come with huge file size and incompatibility, there are many instances in which you will need to convert DV to MP4. First, there are many media players which cannot open DV files, only a few of them support DV format. Also, DV videos are very hard to upload in the internet. Popular streaming websites will most likely support MP4 files rather than DV. Also in the case of smartphones and tablets, all such portable players are incompatible with DV videos. To this end, you need to convert DV into a much more acceptable format such as MP4.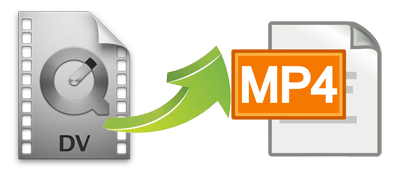 Two Freeware to Convert DV File to MP4
Solution 1: Apowersoft Free Online Video Converter
For those who don't want to install additional programs into their computer, Apowersoft Free Online Video Converter is what you need. It is a cloud based web application that does everything online. It supports a wide range of media formats such as MP4, MKV, MPEG, DV, WEBM, AVI, FLV, MOV, VOB and the likes. Even more, you don't need to pay a single cent in using the service – the Apowersoft Online Video Converter is 100% free. You also don't need to create accounts, register, sign-up or give valid email addresses.
This web application can convert digital videos including DV to MP4 online in fast and easy way. What makes Apowersoft Free Online Video Converter different from others is the fact that it offers adjustment settings such as changing resolution, sample rate and bitrate. Resolutions can also reach 1080p. Just visit the site and browse the file that you want to convert, select the right output format and video setting, hit "Convert" then you're done.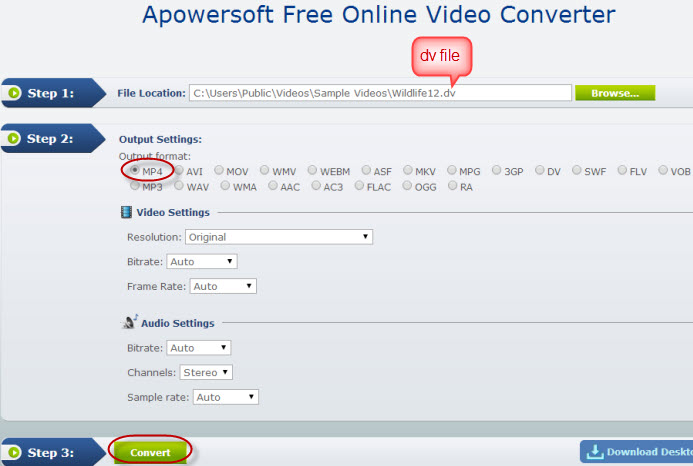 Nonetheless, this online tool is a great DV to MP4 converter that does the job without burning holes in your pockets. Furthermore, you can use it as long as you want and convert files as many as your heart desires. This web application doesn't have time or file size restrictions.
Solution 2: Handbrake
Another application that can convert DV file to MP4 free of charge is called Handbrake. You need to install it on your PC since Handbrake is not an online web application but rather a desktop software. With Handbrake, you can convert not just DV files to MP4 but a wide assortment of formats such as WMV, MOV, MPG and all others. Legal Blu-ray DVDs can also be converted but those with copyright protection cannot be altered.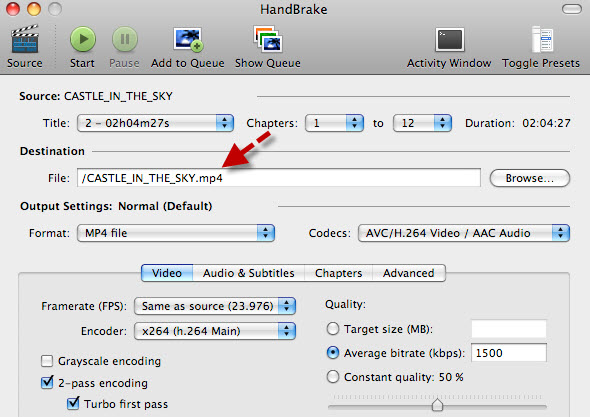 Converting your file to make it playable on portable devices is also possible because Handbrake supports iPhone, iPad, Apple TV and Android. The latest version of this desktop application is 0.9.9. And the Ubuntu, Windows and Mac installers are freely available on their website. Keep in mind that Handbrake is an open-source project meaning bugs and frequent crashes might occur from time to time.
The Shareware to Convert DV to MP4
If you want a premium desktop application that carries a blazing fast file conversion speed with tons of totally usable features, check out Apowersoft Video Converter Studio. It can convert DV and mini DV to MP4 while almost all video formats and audio file extensions are supported. Even HTML5, Sony, PSP, DVD, Apple and Android file extensions are available with this software.
Converting files with this PC program is extremely easy – all you need to do is to select the file, adjust settings, edit video scenes or add special effects, and then hit "Convert". Additionally, it allows you to retain 1:1 quality whereas true HD and high-resolution formats of up to 1080p are supported. You can equally add external subtitles, audio files and modify clips using its built-in smart editing software.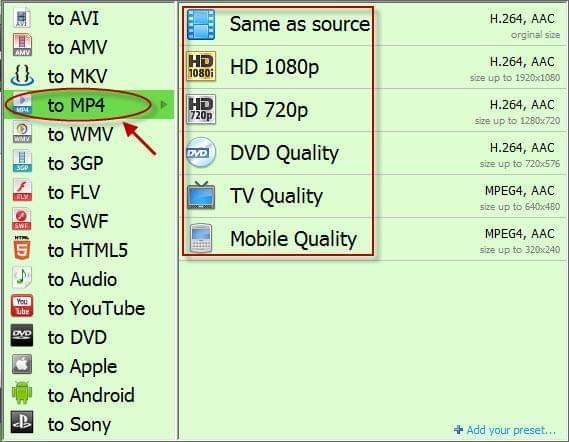 If you want to convert DV files, there are tons of free and paid DV to MP4 converters out there. However, you need to choose the right one based on your needs. Basic users can opt for free online converters because they are easy to use and need not to be installed while heavy users should select a professional software packed with premium features.