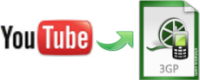 YouTube is the most popular video sharing website, where people upload and share their videos. When downloading videos from YouTube, they are usually saved in MPEG format because it's the most common video format supported by many players and devices. You may need to convert the video you downloaded from the site to 3GP unless you can save it on a phone that supports this format or you have a player that can play this type of videos.
Hassle-free Ways to Convert YouTube to 3GP
Part I: Downloading YouTube file on your PC
Part II: Converting YouTube video to 3GP format
How to Download YouTube video
In order to make YouTube to 3GP conversion effortlessly, the first thing you need to do is to download the video to your PC. A practical application you can utilize is Free Video Downloader. It is an online tool that can download videos from most websites, such as YouTube, Metacafe, Vimeo, etc. This application is easy to use:
First, copy the URL of the YouTube video you want to download. Then paste it into the address field.
Thereafter clicking "Download" button, it will automatically detect real video file for you.
Right-click "Download", for example in MP4 format and choose "save link/target as…", and the file will be saved on your PC.
After these preparatory works, the most important thing we need to do is to convert the YouTube video to 3GP. There are various ways on how to convert YouTube to 3GP, which I will share with you in this post. You can choose among the several online applications or professional solution that requires installation.
Online Solutions to Convert YouTube video to 3GP
i
Apowersoft Free Online Video Converter
This online tool offers a free and easy way to convert videos to 3GP and even other formats, such as WMV, MOV and AVI. It grants you change the output settings to what you prefer, including resolution, bitrate, frame rate, channels and sample rate. Its basic user interface would tell you instantly what to do, even if it's your first time using it. You'll have your video converted in 3 simple steps. First, browse on the YouTube video that you wish to convert. Then choose your preferred output settings and lastly, click the "Convert" button. Enter the file name and save it on your chosen path. You just need to wait for the conversion to finish and you'll have your 3GP video.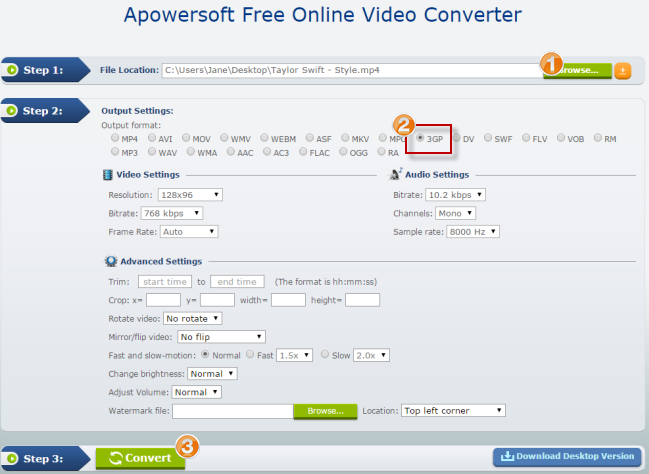 There are also other online tools like Apowersoft Free Online Video Converter that you can try including the following:
ii
Online Video Converter
This one also comes with three steps to convert YouTube to 3GP. However, it doesn't support as many video formats as the first option and it would only let you adjust the resolution. After selecting the video to convert, choosing 3GP as the output format and clicking convert, it takes so long for the conversion to even begin. If you want a faster solution, this may not be the best option for you. It's not stable so it may not even work at times. If it doesn't seem to work, you can try on the other converters though.
iii
Online-Convert
This next site doesn't just offer video conversion, but it also allows conversion of various files to other formats, including image and audio files. The site can be a little busy so you need to check out carefully the options you need to use. While it's faster to convert than Online Video Converter, it's not easy on the eyes. If you're the type who doesn't want to read several texts for the instructions, this site could be frustrating. The user interface is not that friendly for average users.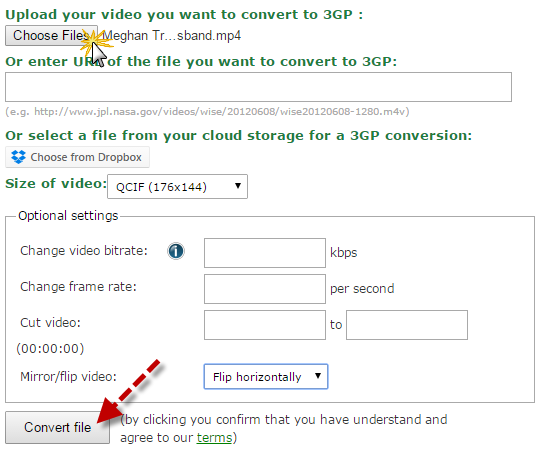 iv
Zamzar
The last of our online options has a 4 step conversion process and you would know what to do even on the first glance. However, since various formats are on the same drop down like the formats for images, audio and videos, you need to browse thoroughly to find the format that you need. Moreover, you will not get the file immediately. You will be asked for your email and the link for the download will be sent to you there. This is more inconvenient because of the extra steps that you need to do.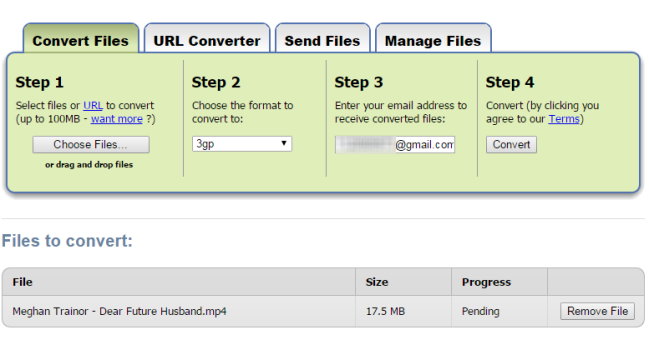 Let's now move on to the professional way to convert YouTube video to 3GP. It requires installation, but it offers several other great features that you would love.
Professional way to Convert YouTube video to 3GP
Apowersoft Video Converter Studio is a powerful tool, yet it's still not difficult to use. Aside from 3GP, it supports a wide selection of video and audio formats for conversion. Since it has been installed on your computer, you don't need to be online to do the conversion and there are also no stability issues. To convert, all you need to do is add the video, select the format and click "Convert" button. The conversion time is faster than the online tools.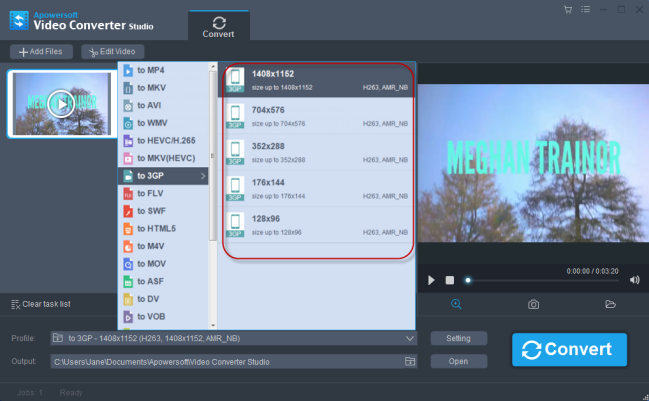 Aside from converting videos, it also allows video editing and adding subtitles. These features are fantastic since there's no need to use another tool in case you need to edit some videos. Some of the things that you can do are crop, trim and add effects. This application is for Windows users, but it also comes with a Mac version, which you can check out here.
Conclusion
That sums up our list of converters. The online tools are good options because they are free. However, if you want the best YouTube to 3GP converter, I recommend using Apowersoft Video Converter Studio. It's stable, fast to convert and it comes with editing features not available on the online tools. You can also convert multiple videos at the same time, which is a time saver.