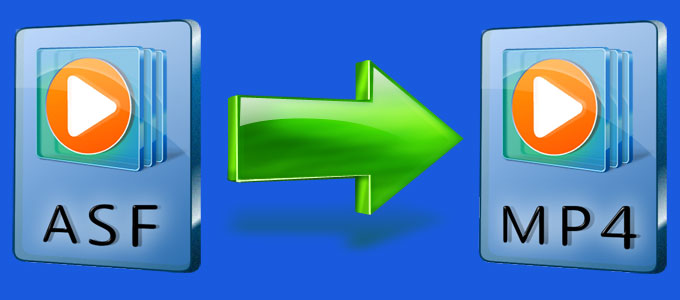 Advanced Streaming Format, or more commonly known as ASF is a digital audio and video container format developed by Microsoft. This specific file type usually contains WMA and WMV files which allow users to continuously stream both audio and video contents in just one file. Microsoft created ASF to support the growing numbers of digitally streamed media contents such as those on YouTube, DailyMotion, Vevo and many more.
Although ASF files are usable, this multimedia format has its own share of disadvantages. One is that the maximum supported resolution is very low. At 352 by 288, you can't expect ASF videos to be pixelated. It looks grainy even when played on small multimedia gadgets such as smartphones. Due to badly designed aspect, most people still prefer MP4 rather than ASF.
Luckily, how to convert ASF to MP4 is very easy. Hailed as the king of formats, MP4 is smaller in file size without sacrificing both audio and video quality. Additionally, MP4 is more flexible than ASF because it can be played on a wide variety of gadgets including smartphones, tablets, laptops, etc. without the need to install additional codecs.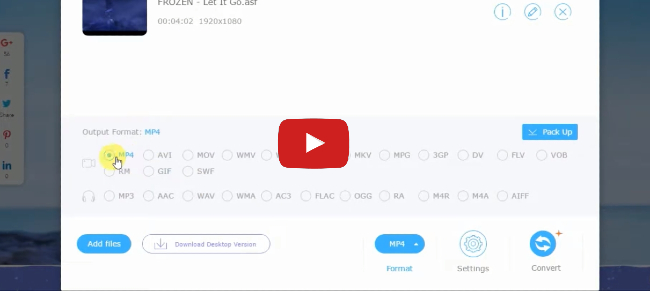 3 Easy-to-use and Free Online ASF to MP4 Converters
1
Apowersoft Free Online Video Converter
If you don't want to install additional programs on your computer, you can use a free ASF to MP4 converter – Apowersoft Free Online Video Converter. This web-based tool needs not to be installed on your PC and it can convert popular audio and video formats for free with no registrations required. What's great about the program is that it doesn't have file size or time limitations, you can use it to convert as many files as you want as long as your computer connected to internet.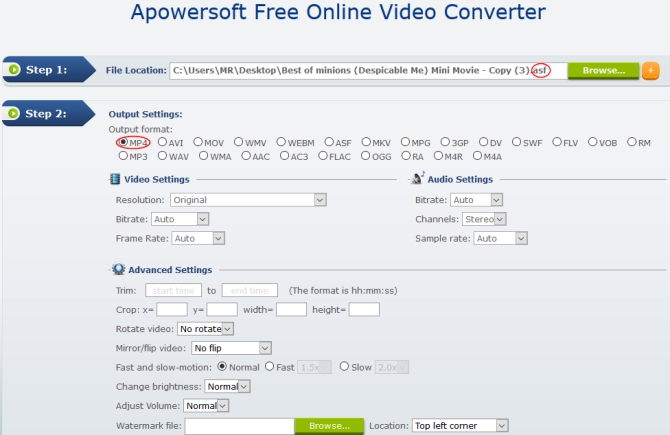 How to convert ASF files to MP4 using the program is very easy, just:
Note that the newer version of this online tool doesn't require Java any more, just click the "Start Converting" button and the launcher will load automatically.
Upload the ASF file that needs to be converted.
Select MP4 as the output format and adjust video output settings if needed. When everything is set, click the "Convert" button.
Choose where to save the file and wait until conversion process completes.
Pros:
Fast and speedy file conversion.
Has the ability to adjust video resolution and output quality.
Supports a wide variety of audio and video formats.
Needs no Java installed on PC.
No restrictions or limitations.
100% free to use with no memberships required.
Cons:
Conversion speed depends on the quality of internet connection.
If you want to convert video files with more advanced functions, just go to download Apowersoft Video Converter Studio. It is a professional video converter combined with video editing, video recording and video downloading functions.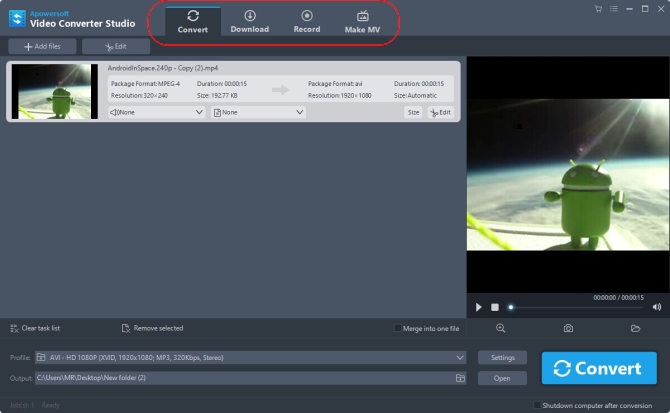 2
FreeEncoding
Another tool that you can use to convert .asf to .mp4 online is FreeEncoding. This web-based utility comes free and it can convert both audio as well as video files. FreeEncoding supports mov, wmv and other video formats while mp3, wav, other audio files can readily be converted as well. Aside from file conversion, FreeEncoding equally offer advanced options such as the ability to select the conversion quality, resolution, bitrate.
Using this free ASF to MP4 converter is simple, all you need to do is:
Upload the ASF file that needs to be modified by clicking the "Select file" button.
Choose MP4 as the output format and adjust settings as necessary.
Click the "Start Free Encoding Now" button and a link will be sent on your email when the newly converted file is now ready for download.
Pros:
Simple and easy to use.
Clean and virus free.
Cons:
Membership account is needed.
There is no option to directly save the converted file on PC.
There's a limit of 20GB per file.
Converted files will be deleted after two downloads or 24 hours.
3
FileZigZag
FileZigZag is yet another online based program that can convert ASF files to MP4 for free. Aside from the ability to convert both audio and video files, it can similarly convert a wide variety of files including documents, images and archives.

To convert ASF to MP4 using FileZigZag, just:
Click the "Select" button and upload the ASF file that needs to be converted.
Select output format as MP4.
Enter your email address on the blank provided for the downloadable link.
Click the "Convert" button.
Pros:
Attractive user interface.
There is a file sharing option available.
Cons:
No option to directly save the converted file on PC.
Needs to provide a valid email address.
Limited help and FAQs section.
It is laggy to use and frequent hangs can be experienced.
With these web-based utilities, how to convert .asf to .mp4 online now comes as easy as counting 1-2-3. However, do note that not all of them function the same. There are programs that will only give you downloadable links after file conversion whereas more efficient ones will provide an option to directly save the file on your computer. Equally, there are online converters with restrictions so always read the fine print before using them.