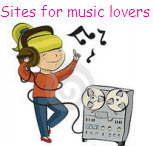 In this day and age, getting high quality audio files has never been easier. With the sudden outburst of portable media players, smartphones, tablet computers and handheld devices, downloading music can be as easy as counting 1-2-3. Other than spending your good earn cash and buying audio clips from online stores such as iTunes yet for smart people, looking for top music websites where you can get free MP3s is way more better.
Need to fill up your music library with gorgeous songs in computer? Having too limited songs in mobile and want to enjoy more on the way? Or even want to bring music to your lately acquired tablet? Check out these best music downloading sites after the jump.
Top 10 Music Sites You Should Know
1. Apowersoft Video to MP3
Apowersoft Video to MP3 tops the list by featuring online based MP3 converter, top list, latest downloads, hottest music files, popular audios and powerhouse music search engine. Using it to download songs is quite easy, just enter the keywords in the search bar, then you can get the related music results. After that, you can enjoy the music online or directly download it. Unlike other open-source music sites, it offers a 100% real free usage with no download restrictions. Additionally, using it doesn't require memberships, thus you can literally just search and grab your favorite songs with it. To know the operations more clearly, you could check the video below.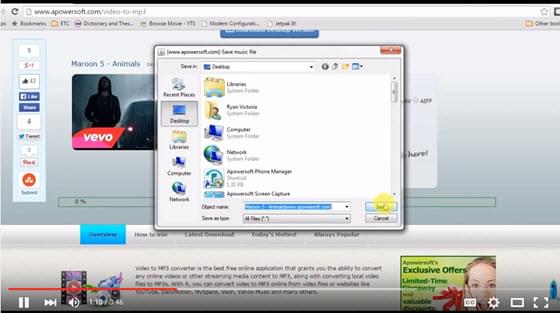 2. ListentoYouTube
Second on our top 10 music download sites is ListentoYouTube. Just like the previous site, it is 100% free to use with no registrations, memberships, fees required. Searching audio files from this site is very simple, just type in related keywords and hit the "Go" button. A list of matching songs will appear in the current page, you can choose the file you want from the results. Clicking the "Download" button will save your MP3.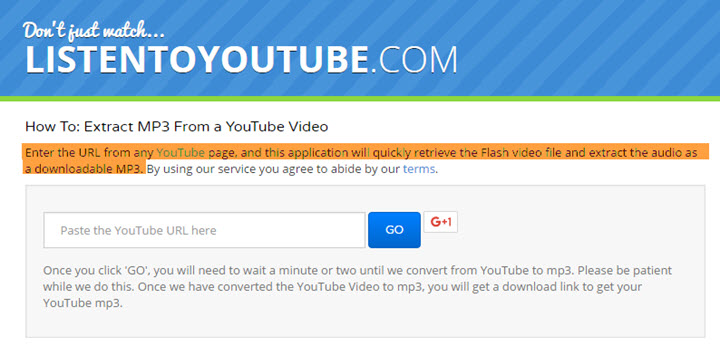 3. BeeMP3
Clean, simple and organized, these are the things you  will find with BeeMP3. You can search songs by typing keywords, browsing by artist, or searching through top searches. There are many sites like BeeMP3 which may be superior to this site in some aspects, but none of them can beat the polished look of the original. Beyond its meek interface, it resides thousands of audio files ranging from classical music to latest singles. Those who wish to download songs directly from smartphone or tablet can try the mobile version of this website which eliminates the need of file transfer.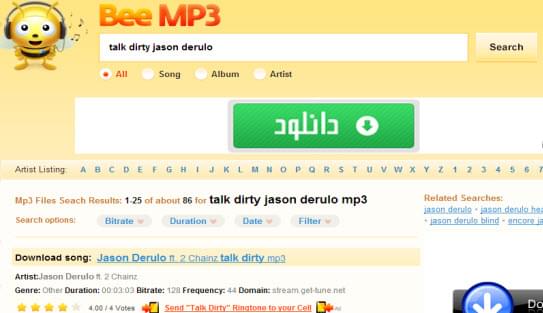 4. MP3skull
Sites like MP3skull are not new when it comes to online music search engines. In fact, MP3skull ranks 4th on our top 10 music websites. Its interface might not be gleamingly professional or glitzy attractive but it houses thousands of songs if not millions of free-to-download tracks. The inclusion of basic information such as file size and duration within each song further makes it even more popular for online users. This data helps to steer clear from hoax audios and spammy music contents.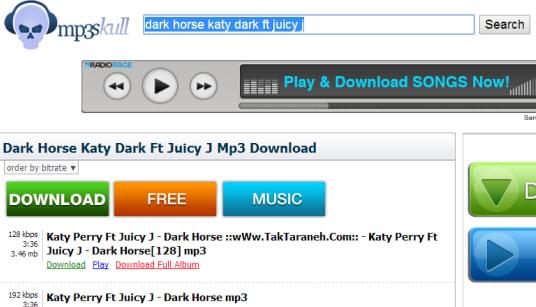 5. MP3boo
MP3boo might be an unheard site for some users but visiting it would instantly shock you. Its web interface is so pretty and eye-catching,  it might confuse you if it's a free search engine, because the content is rich and valuable. Free when it comes to downloading music contents and album collection is definitely great for users. This is due to the fact that instead of offering direct download links, it enables you to grab your files from hosting websites. If this is not your cup of tea, try to find sites like MP3boo.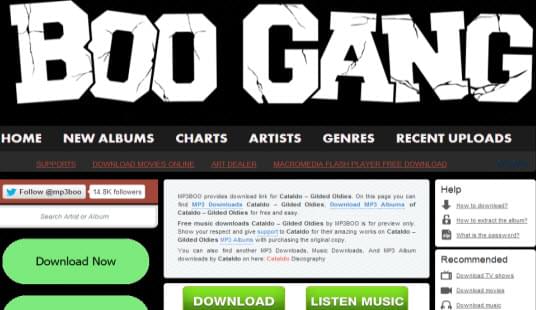 6. MP3juices
Continuing with our top music sites is MP3juices. Don't be surprised if you will be greeted with a big blank search button, there are sites like MP3 juices that feature the same interface. Yet when you type in music keywords, a nice fresh looking search result page will come out. It doesn't have tons of advertisements but be wary about the download manager being offered on top of the page.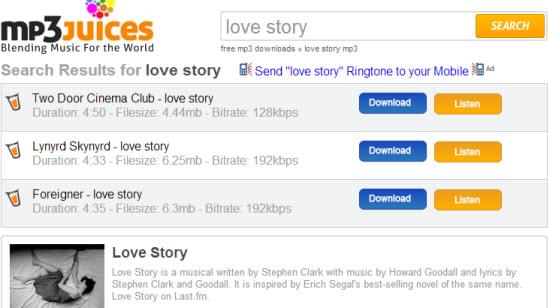 7. MP3raid
The 7th on the top free music sites is MP3raid. This website has been around for quite a while and they offer good quality music with popular songs and artist archives on the main page. What's good about it is that you can listen to the actual audio file right before downloading it. Source and file size is equally presented on every song to help you separate quality MP3s from hoax contents. Though, its interface is not that nice looking as with others.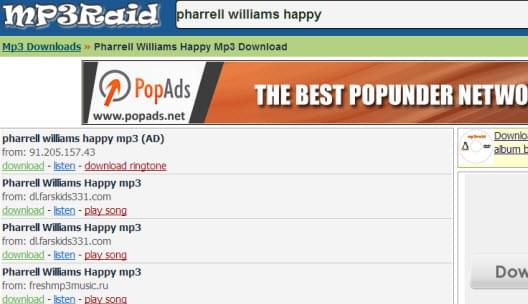 8. Jamendo
Probably one of the best looking MP3 search engines out there, Jamendo houses 425,000 tracks with 2.1 billion listeners worldwide. This site features a hip and cozy looking web design and searching audio tracks is easy via the search button or side loaded tabs. Bear in mind that grabbing contents from this site might be a bit different and it requires you to log in using your Google, Twitter or Facebook account. Lastly, it features radio stations as well as personalized "My Music" page.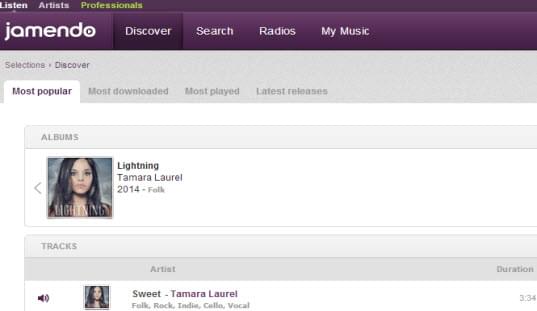 9. Free Music Archive
More than the other top music sites where grabbing and searching MP3s is the only thing they offer, Free Music Archive looks more of a blog rather than a dedicated music engine. You can read relevant news and articles pertaining to music, discover newest tracks, and even participate with your own entry. Though, the Free Music Archive contains fewer tracks and album collection amongst others mainly because they are still on beta phase.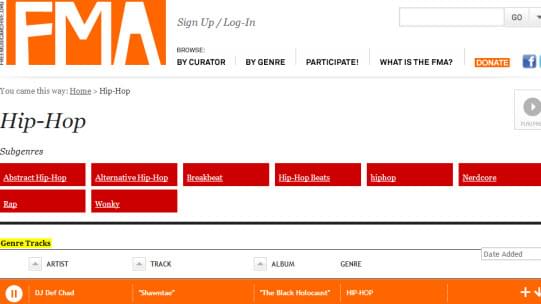 10. Bomb-MP3
Last on our list of top 10 music download is Bomb-MP3. Just like the others, you can search songs via latest downloads, recent searches, currently being listened and through related keywords. With it, you have an option to play the audio track, download it, add to playlist or grab the whole album. Be informed that adding to playlist and downloading album functionalities will redirect you to other MP3 search engines, however playing music and grabbing tracks remain on the site.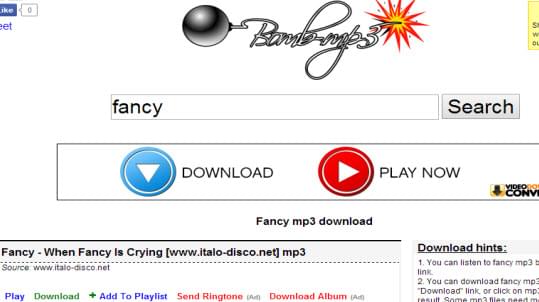 11. Loudtronix
Loudtronix.me is a free Mp3 downloader which lets you search, download, share and play songs. Except of finding your desired songs by searching keywords, you are also allowed to rip background music, soundtrack or other audio source from YouTube via URL. Better still, registered users can enjoy more benefits. It is easy to collect your favorite songs, hit plus-shaped icon to add them to the playlist for listening on the site directly. Yet, this app is not stable enough at times, then you can check other sites like Loudtronix.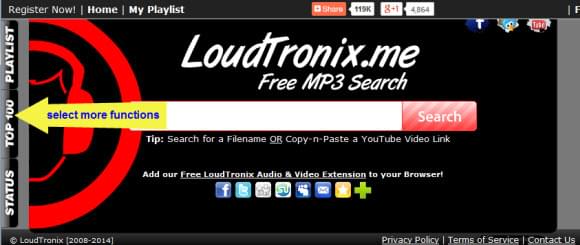 Desktop Alternative to the Above Music Websites
Now if you don't want to use the aforementioned top 10 music websites but instead you're in search for a powerful desktop audio software, consider the Apowersoft Streaming Audio Recorder. This is the ultimate tool for all music lovers because you can use it to directly search and grab MP3s. Additionally, the top ten songs and recommended albums side tabs of the Streaming Audio Recorder will guide you about the latest happenings when it comes to music.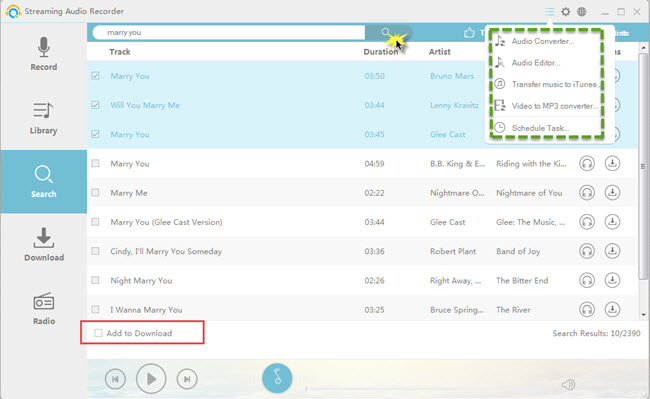 More than just a powerful MP3 search engine and grabbing tool, it is packed with other useful features such as audio recorder, MP3 editor, file converter, CD burner, and ID3 tagger. Anyway, give it a try!