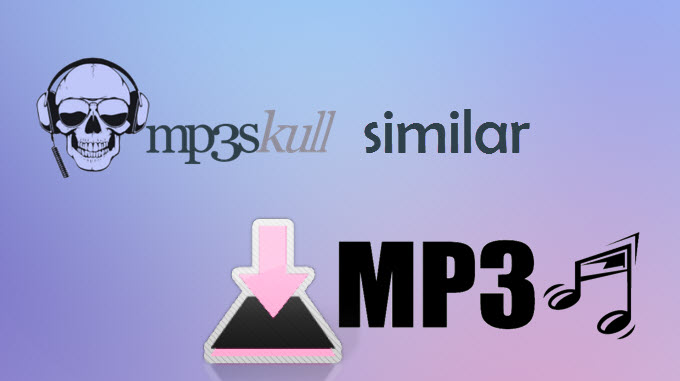 In our modern day and age, listening to music has been much easier and convenient. Unlike before that we need to buy audio CDs and cassette tapes just to hear our favorite songs, the birth of portable audio devices such as smartphones and MP3 players make wave for an efficient music listening experience. Downloading music from web had also become expedient. Sites like MP3skull offer a wide array of popular songs from jazz to country, top hits and famous audios which can be listend and downloaded on their website.
There are two ways to enjoy music at MP3skull, first you can stream it online or hit the download button to save it on your device. There are nearly multimillion songs available on the site while full artist albums are obtainable as well. Additionally, you can choose the exact music quality you want because each song is uploaded by different providers, offering various bitrate samples from 128kpbs to 320 kbps. Saving an audio file from MP3skull is quite simple, all you need to do is to search the keyword, right click the link and hit "save target as". You have an option to rename the file or save it to other audio formats if mp3 extension is not available. Best of all, MP3skull gives you an easy-to-use interface with no memberships or sign-ups required, just to use their 100% free services.

Still, bear in mind that using the search function of MP3skull does not always give relevant results. Moreover, there are too many advertisements and play/pause/stop buttons are not working at times. You can even find mismatched songs with correctly labeled titles but under a different audio file. For enthusiasts looking for real high quality music, there has alternative to MP3skull that functions the same if not better than the former.
Free MP3skull Alternatives
Apowersoft Free Video to MP3
If you don't want to install anything on your desktop but still yearn for a powerful audio listening or downloading tool, check out Free Video to MP3. This web-based music library houses millions of songs from popular soundtracks to top chart singles. You can download any songs you want absolutely free of charge, there are no limits or memberships required. All you need to do is to search the exact song you want by entering correct keywords, hit the "Search" button and you will find different versions of the audio track below. Select the quality you want and click the "Download" button to save it on your hard drive.

Free Video to MP3 is a great MP3skull alternative because it has a built-in audio converter that lets you modify file formats online. It is free to use and you can adjust the bitrate, channels and sample rate according to your desires. For extracting music from video sites such as YouTube, Veoh, Vimeo and more, hit the "Convert from Web" tab for capturing of music from videos effortlessly.
Beemp3s.org
Another popular MP3skull replacement is the Beemp3s.org. Again you don't need to download tools or pay premium just to stream or download music contents – everything is free and cloud based. With this site, you have different options to search for music; it can be according from song title, artist, album or all. If you want to avoid hoax results, poor quality audios and low bitrate sounds, just filter search options to narrow down results. Also, Beemp3s.org offers a mobile version for direct downloads of songs on your portable device.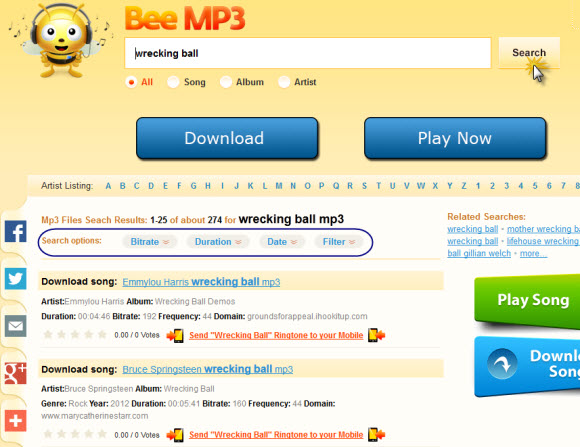 Best MP3skull Similar Software
This desktop application is more than just a premium audio recorder that has the ability to capture anything from voice conversations to online contents. It equally stores millions of songs from latest singles to top grossing albums. Searching the right music you want is easy with Streaming Audio Recorder, just launch the app and switch to "Search" interface. Enter keywords on the search bar to locate the songs you want. You can similarly browse music contents according to top songs, artist and even albums.
To save both time and energy, Streaming Audio Recorder can download songs in batch which is a very unique feature not available on other MP3skull alternatives. Correspondingly, you can edit music contents you've just downloaded by using its built-in audio editor. On the other hand, users of iPhone, iPad, iTouch and Mac on the other hand can import songs very easy – a simple click of "Add to iTunes" is all it takes to transfer contents.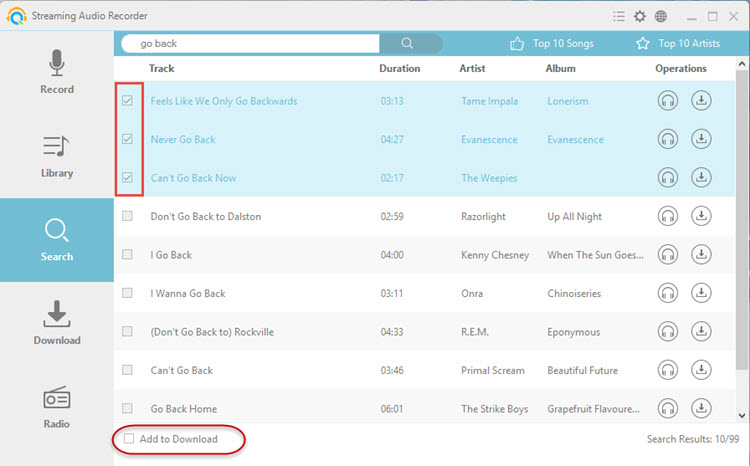 On top of all these things, Streaming Audio Recorder is a top notch audio recorder that can capture just about anything from video streaming sites, voice chats, audio webinars, online radio stations, external sources such as microphone and all others. Additionally, this wonderful desktop software can edit audio inputs, ID3 tags, convert files to different formats, and burn music contents to CDs.
Indeed, whether you want to use free cloud based services or premium desktop tools, enjoying the music you always want is just few clicks away. With sites like MP3skull, you don't need to hoard audio CDs or buy contents from different websites, everything is free, practical and easy.