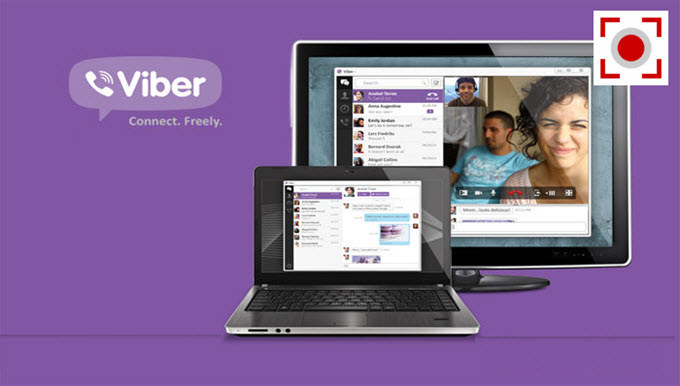 Viber is a messaging app for mobile phones and computers running Windows, Linux and Mac operating system. This actually is what people believe to be top competitor of Skype. Viber requires a phone number because it started as a phone app and eventually becomes a computer app. Viber cannot make calls on landlines and mobile phones. On the other hand, just like Skype, Viber can send text chats, make voice and video call, but it cannot record a video call. People record Viber calls because usually need recorded video calls for training, presentation, conference and more. With this, a screen recorder is suggested to use.
Tools to use to record Viber Calls on Computer
1. Apowersoft Screen Recorder Pro
This one is a quite useful screen recorder that can capture everything on screen as HD video. Also, it allows you to record system sound, microphone or both along with screen recording. Beyond that, it's equipped with some practical tools, such as real time editor, video uploader, task scheduler and screenshot tool. And it's very simple to use this wonderful application, you can follow the steps below to record Viber video calls.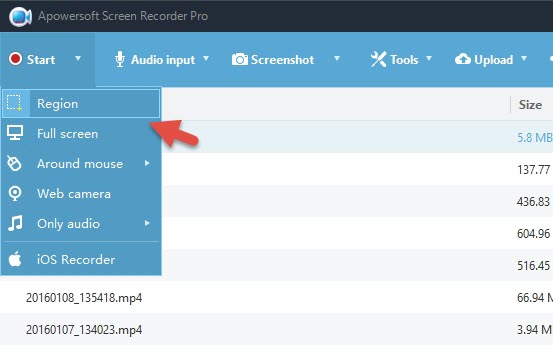 Click the button below to download Apowersoft Screen Recorder Pro and then install it on your computer.
Launch it and configure recording settings in "Tools" > "Options". (You can customize hotkeys and choose desired video output format).
Click "Audio input" and choose an audio source that you want to record.
Drop down "Record" menu then select a recording mode. (You can choose "Region" then drag recording area on Viber interface and next press "OK" to get start).
Start your Viber video call.
Press F10 (default) or directly press stop button on control bar to finish recording and save the video in your hard drive.
You can also click "Upload" button on main interface to upload your video to YouTube and FTP server.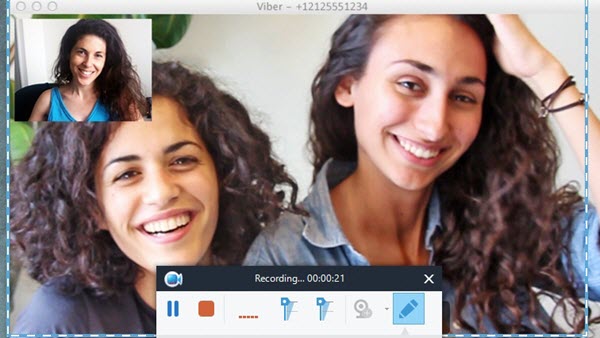 Tips: It comes with a task scheduler that allows you to plan recording task. This tool will make the program to record screen automatically based on your settings. If you have an online date with others, you will find this tool convenient. To do this job, you can drop down "Tools" menu then choose "Task Scheduler". An interface will pop up where you can set recording time, duration and region. When you have configured settings, press "Create" button to enable the task, and then you will see the countdown time displayed on the bottom of the main interface.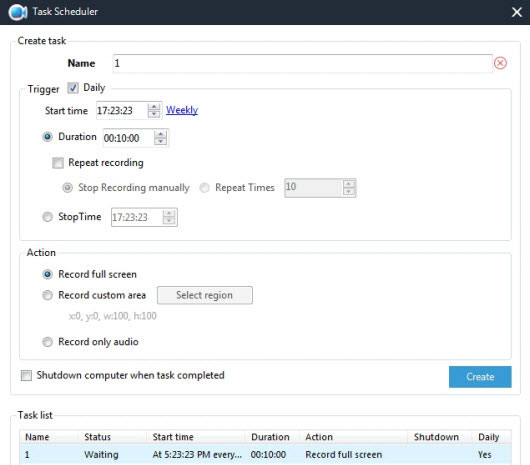 This application also has an online version that is called as Apowersoft Free Online Screen Recorder. You can go to its main page then click "Start Recording" to activate the web-based program. With this tool, you are allowed to make Viber call video easily without any fees or limits.
2. Jing
Jing is a screen recorder which requires installation but you can utilize this program for totally free. You can use it in recording Viber video calls but you need to have a Screencast account first (signing up is for free). On the other hand, once signing up is done, the tool is easy to use. Just click on the record button and you may then start recording the video call. Moreover, it can only record a maximum time of five minutes. If you use this to record a video call, you will need to reset the recording every 5 minutes.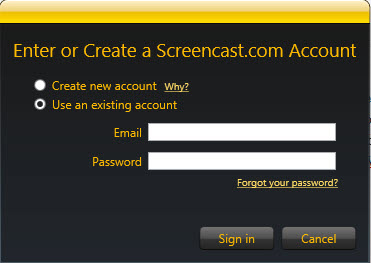 Screencast Viber Calls on iPhone/iPad

If you want to record Viber video calls on iPhone/iPad, then, you can use Apowersoft iPhone/iPad Recorder. This is actually a desktop application that allows you to record anything on your iOS devices along with audio. It offers HD resolutions (720p and 1028p) and a variety of video formats for your recordings, including MP4, WMV, AVI, FLV, GIF and so on. By the way, you can also use it to record games, demos, how-to tutorials, etc.
For recording Viber video calls with this tool, here are the steps to follow.
First of all, download, install and launch this application on your PC.
Then, on your iPhone, slide up from the bottom to open Control Center and tap the "AirPlay" tab.
Then you'll see a PC-shaped icon with your PC name besides it. Tap your PC name and turn on the "Mirroring" option. After that, your iPhone screen will immediately mirrored on your PC screen.
You can now make a Viber call. And in the meanwhile, click the recording icon at top left of the recording interface on your PC. Then the recording starts.

To end recording, just tap on the stop button on the top left of the recording interface. Then, a folder will pop up with the recorded Viber call in it.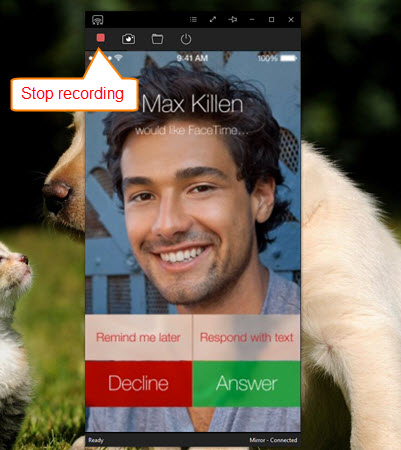 Those are the recommended tools to use to record video calls on Viber. Recording a video call is now so easy with the help of the right tool. People can now keep a video of their love ones and video for business meetings for documentation and other business related purposes.