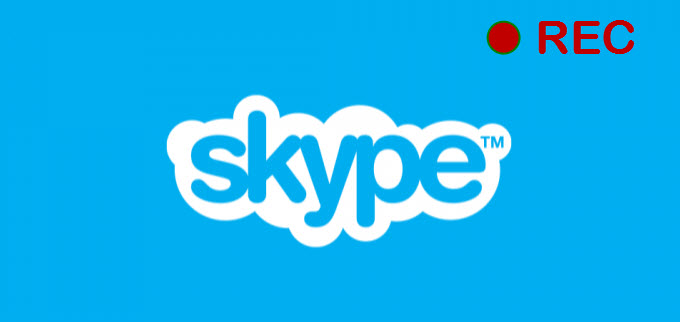 Skype, the world-wide secure instant messaging client, allows people to communicate with peers by voice and video call, which brings great convenience to people all around the world. No matter you are entrepreneurs, retailers, journalists, job hunters or students, you can make full use of it for your own need. Nowadays, with the rapid development of world economy, many companies are fully utilizing the benefits of internet and remote – control has become an important part of the business. Always, they need to record Skype interview for later carefully investigation.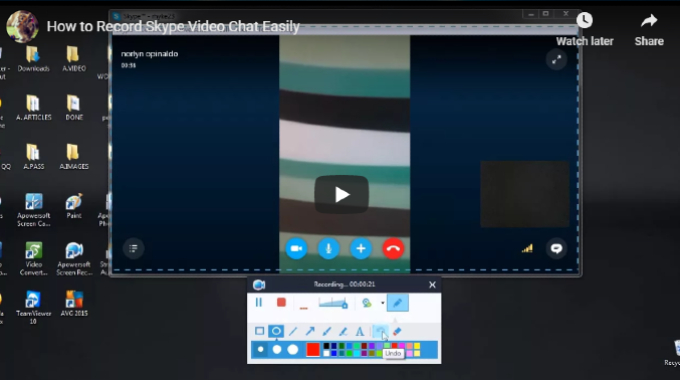 How to record Skype interview or chat
There are many tools that can record computer screen activities but only a few of them perform well on recording audio in synchronization. You may choose Jing, a free call recorder for skype as well, to record a Skype video chat. However, it has time limits that you are only allowed to record your interview in 15 minutes. In this case, you can try Apowersoft Screen Recorder to record interview conversations on Skype. This excellent screen video recording tool enables you to record your video interview along with audio in high quality, what's the best, it has no time limits at all.
Following suggestions below, I bet you will learn how to record an interview with Skype soon.
Firstly, let's configure the Output Speakers in Skype:
Under Tools drop-down button, choose Options
Click General, Select Audio settings
Adjust the Volume of Speakers
Tips: Make sure your computer connected with a web camera, or you will not record your face on the screen.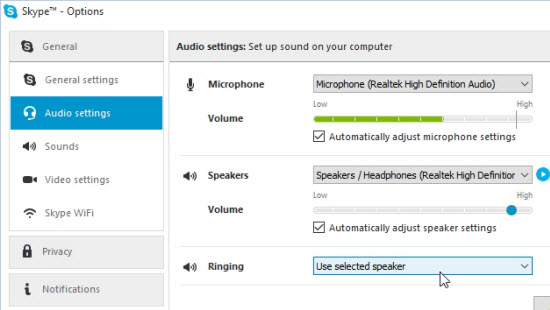 Secondly, do some setting on Apowersoft Screen Recorder:
Click the button above to download then launch it.
Preset your Audio Input according to your requirements.
If you want to record your Skype interview with audio simultaneously, select System sound and Microphone. Whereas, if you only want to record his/her voice, please select System sound.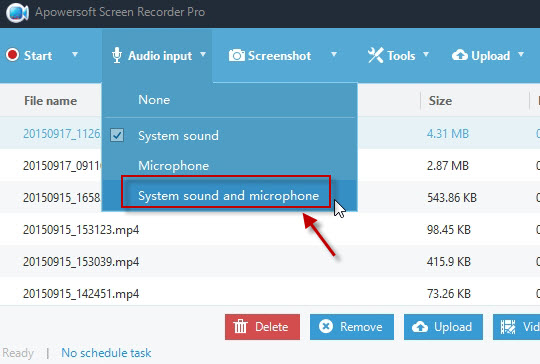 Now, start to record Skype conversations and click Record button to start recording. There are five recording modes under Record drop-down menu, choose one to your favor.
Region: Enable you to record any area you want to record.
Full screen: record anything you can see on your desktop in full size.
Around mouse: record a fixed area around your mouse.
Web Camera: record your web camera, and you can add many effects (add text, image, etc)
Apowersoft Screen Recorder Pro will automatically save video files to WMV format and you are allowed to make screen video in other formats by configuring settings in "Tools" > "Options", such as AVI, MP4, MOV, MKV, FLV, etc. This feature is extremely convenient to export videos to other devices with no need to perform format conversion.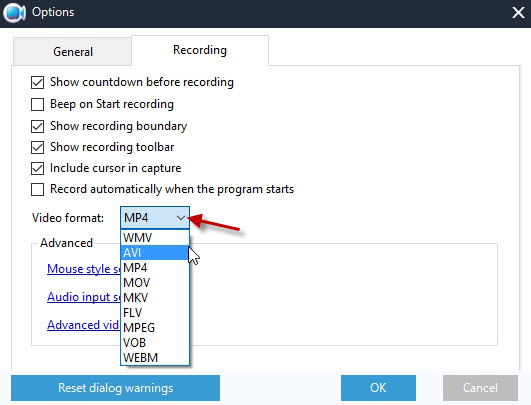 Tricks and Tips:
Don't speak at the same time. When one finishes his/her words, start speaking after several seconds.
Before Skype interview recording, do some tests of your Skype to make sure it works normally.
Keep your room quiet to ensure no interruption for your voice.
Adjust the web camera to make yourself in the center of screen.
The recording process needs much CPU resources, so I would suggest you to close all unused programs to make your PC run faster.
If you want to record both system and microphone sound, you may hear your own voice while recording, which cannot be resolved currently. However, you can follow the suggestions below to reduce the echo:
Lower your speaker volume.
You need to move your microphone further away from the speaker.
Use a pair of headset with microphone, rather than microphone built in laptop, for laptop microphone and speakers are fixed too close, which usually cause echo and feedback.
Don't you think it is easy to record Skype video interview by taking advantage of Apowersoft Screen Recorder?
If you have any questions, please feel free to ask or you can find your answers in FAQ.