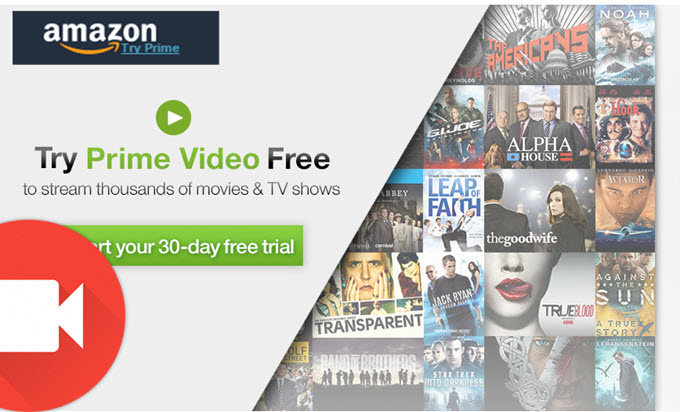 Amazon Instant Video, which is now available on Windows, Mac, Android, iOS, PlayStation 3/4, Xbox 360, Wii and more, provides a great selection of movies and TV shows for renting or purchasing. Users with Amazon Prime membership are allowed to stream more than 40000 movies and TV episodes for free. Though, streaming Instant Video online is quite fantastic, however some Amazon users prefer to save Amazon Instant Video to their local disk for viewing offline. In this case, you can check the following solutions to save Instant Video in computers and mobile devices by recording.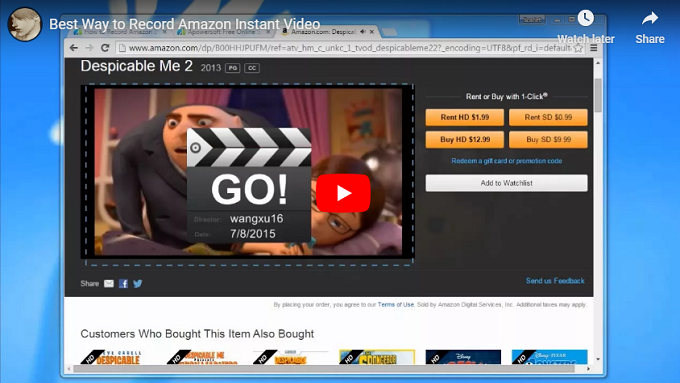 Capture Amazon Instant Video on Different Platforms
1. Save Instant Video on Windows and Mac
2. Record Instant Video on iOS
Apowersoft Free Online Screen Recorder
When it comes to recording streaming Instant videos in high quality, Apowersoft Free Online Screen Recorder is highly recommended for its simplicity and functionality. It's a free web-based screen recording program that requires no installation and can be used on both Windows and Mac. It allows for recording screen with audio in different modes and provides as many as 7 common output video formats. To know how to use this program to record Amazon Prime streaming video, you can follow the guide below.
1
Go to the webpage of this Amazon Video recorder and click "Start Recording" button to launch it. If this is your first visit, you will need to download a simple launcher so that you can launch it normally.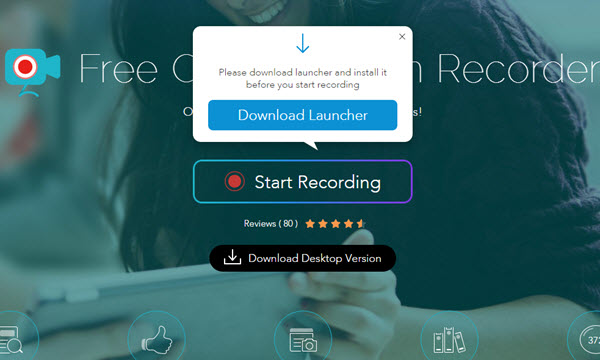 2
Before recording, you can configure some necessary settings in options, for example, you can set your desirable output video format, directory, hotkeys and others.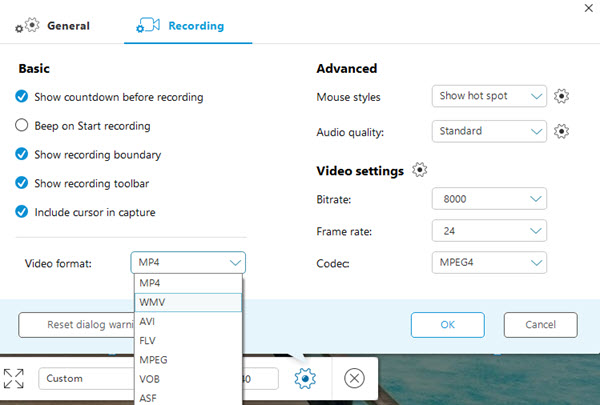 3
Choose "System sound" as the input source from the "Audio Input" menu so that you can capture the sound of the movie, then navigate to the Amazon Instant Video that you want to record.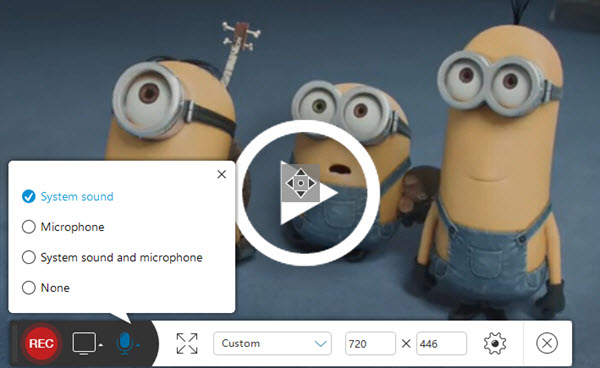 4
Drag the recording window to customize the area that you want to record. Once done, click "REC" to start recording. At the same time, back to the Amazon Instant Video and play the video.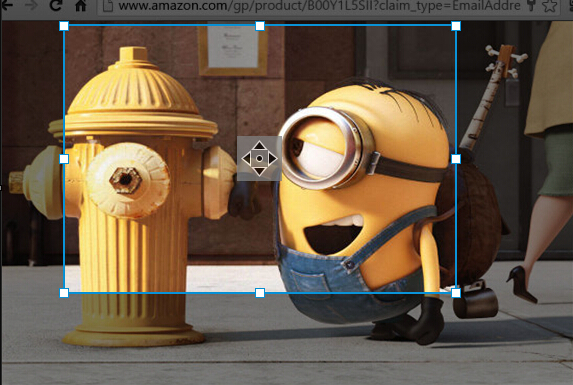 5
When you want to finish recording, simply click pause button and choose to save video or start over.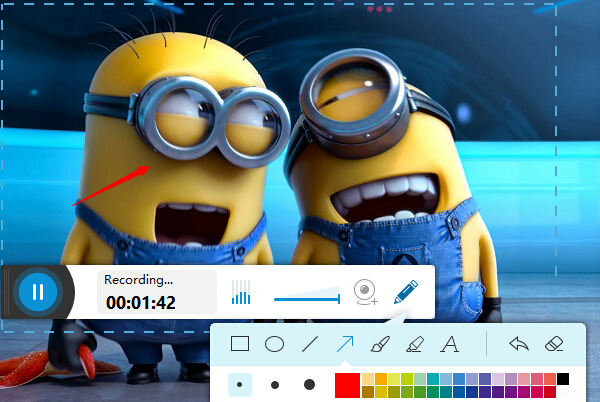 For those who want to use this screen recording program offline, you can download and use its pro version from below which is more powerful and stable than the online version. Aside from recording streaming videos manually, this recording program also enables you to record Amazon Instant Video automatically. To do that, just go to "Tools" -> "Task Scheduler" and set the start time, duration, region of the recording as you wish, then click "Create" button to set conditions to trigger this recording task. With all these steps finished, it will automatically record your computer screen at the time point as scheduled.
How to Record Amazon Instant Video on iOS Devices
If you are watching Amazon Instant Video on iOS devices and want to save the videos to them, then you can make use of the Pro version mentioned above to do this trick.
Aside from recording computer screen activity, it can also server as an iOS screen recorder. By using it, you can display your iPhone or iPad screen on PC and then make the recording. This is great when you want to capture Amazon Instant Video on iOS devices without jailbreak. To know how to do that, you can check out the steps below.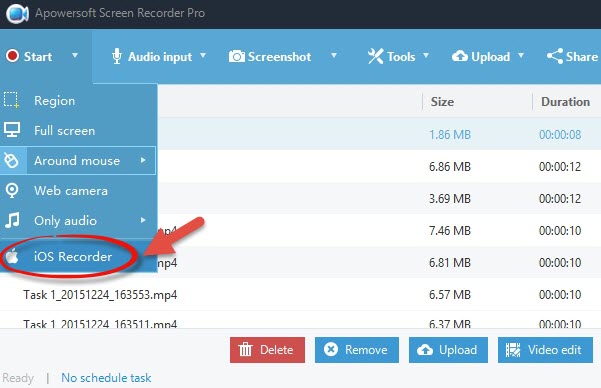 Download this program from below, launch it and then drop down "Record"/ "Start" menu to select "iOS Recorder" from the menu. If it's the first time using iOS Recorder, then you need to wait a few seconds to download and install this plugin.
Set up your iPhone and PC in the same Wi-Fi network to make your iOS device connect to the computer.
Next, the "Windows Security Alert" window will pop up on your computer, simply hit "Allow access" to continue.
Switch to your iOS device and swipe from the bottom of the screen to access Control Center. From there, you can see the "Airplay" icon, just tab it and then turn on "Mirroring".
Now your mobile screen is successfully displayed on PC and you can then play the Instant Video on your device, then press the red start recording button on computer.
Simply press the stop button when you want to finish recording and save the video.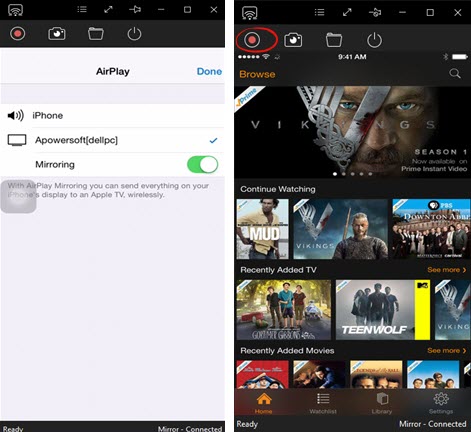 Conclusion
Above are the easy ways to record Amazon Instant Video, all of them can help you to record live streaming video you like and enjoy watching it anytime at anywhere. However, please keep in mind that you can only keep the recorded videos yourself for offline viewing, and you are not allowed to distribute or sell any recorded videos.