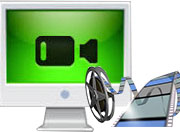 Many people, especially those who are not so good in terms of technology, have been wondering how other people make a recording of their computer screens in making a video tutorial, recording webinar, and any other things that can be recorded on the screen of a computer. It may probably appear to be challenging on their part, and seems to be very difficult to make. On the other hand, this thing is just too simple by using particular software. Let me give you quick tips on how is recording of a PC's screen is done.
How to Record Computer's Screen with Good Quality
There are two options on how to record a computer screen- online and offline (download software depending on what operating system your PC has).
Method 1. Apowersoft Online Screen Recorder
This is where I record my computer screen free online. Apowersoft Online Screen Recorder is a tool used in recording both video and audio from your computer screen using different modes like Full-Screen mode, Custom-Screen mode and Webcam Capture mode. Moreover, it also allows users to record both video and audio directly  from live chat applications  like Skype, MSN and Gchat. Recording is just a button away with unlimited amounts of video and audio. Furthermore, video editing is also possible in this tool because it has an "Easy Edit function". If you want to deliver recorded videos to friends or watch it on your gadgets, there's a built-in convert letting you convert resulted files to compatible formats for any cases . In addition, you can also take screenshots anywhere in your computer screen. Furthermore, this tool allows users to record videos from webcam. It can also be used in scheduling tasks.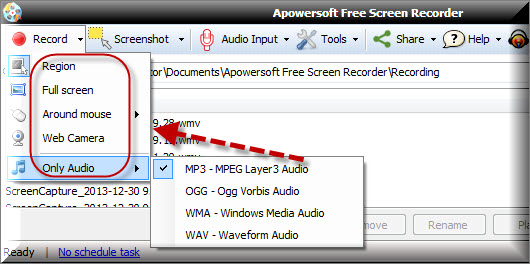 Steps on How to Record Computer Screen
1
To start recording, key in your computer and go to Apowersoft Online Screen Recorder page. Here you can see some other screenshots of the tool for you to fully understand it.
2
Once you are able to enter the page, click on the "Start recording" tab so that the tool will appear. Just make sure that you have a Java plug-in installed in your computer.
3
Run the application (a pop-up will appear asking you to run Apowersoft Limited). Note that this step is really important as it will allow changes in your computer.
4
The tool will appear and you may start recording by clicking on the "Record" button and choose which mode you want to use.
Note: When you want to record the full computer screen, no space will be available for the recording toolbar. You can use the following keys if you want to pause, resume, stop , show or hide the control bar. Press:
F10 to pause or resume recording
F7 to stop recording
Ctrl+Alt+E to show or hide control bar.At the bottom part of the tool, you can see tabs where you can delete, rename, play, convert or edit the video.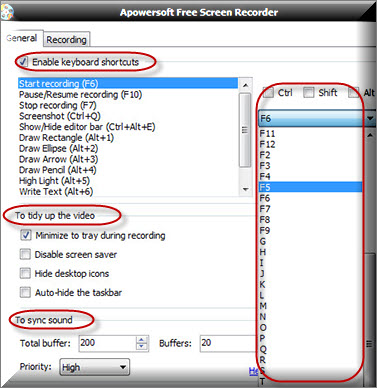 Method 2. Apowersoft Screen Recorder Pro
When I use my Windows desktop, I use Apowersoft Screen Recorder Pro to record my screen offline. Moreover, aside from having all the features of the online screen recorder, this tool is way better than the free one. It has features that the online recorder does not possess.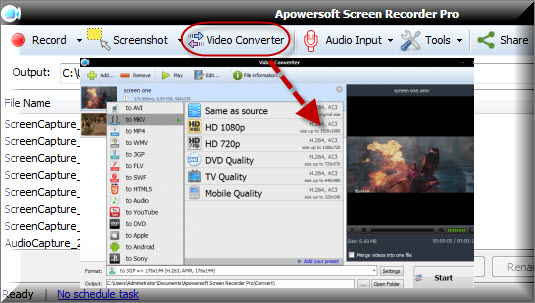 This tool allows users to convert videos at high speed without using the internet. You can convert videos in AVI, MP4, FLV, SWF, 3GP, MKV, and MPEG. Moreover, screen recorder Pro has advanced editing features allowing users to trim, crop, add effects and subtitle, and merge videos. Additionally, it can be used in recording live streaming videos from other websites.
Method 3. Apowersoft Mac Screen Recorder
When I record my mac screen (of course using mac pc), I am using Apowersoft Mac Screen Recorder. This is the Mac version of Screen Recorder Pro. This award winning software possesses everything that users need in recording mac screen. It allows users to record screen and audio synchronously from system and microphone. It actually can record audio separately. Moreover, this tool can convert videos in different format while maintaining the quality of the videos and it has an advanced editing tool allowing users to add effects, trim, crop and merge videos.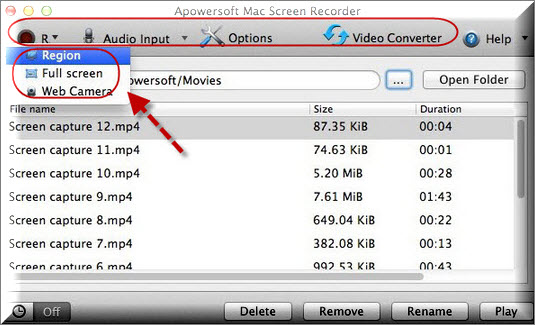 Additionally, it can also record video from webcam and it can create screenshots. What's more exciting about this is that it is useful in scheduling tasks, and just like the two other products, it enables the use of shortcut keys (F10, F7, Ctrl+Alt+E).
All these tools are useful and can help people in recording their screens for different purposes just like for making tutorials. The online screen recorder is very useful yet it is recommended to make use of the Apowersoft Screen Recorder Pro Win/Mac since they possess more advanced functions giving users a very satisfying output.