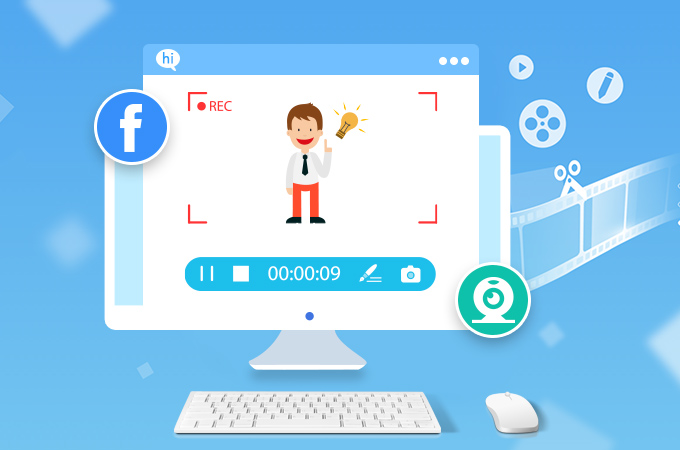 Video calling feature may not be the new fancy technology for Skype. However, it's a compelling feature in Facebook, a social network service that mainly designed for people to connect with their friends and other who live or work around them by sharing stories, videos and images. Ever since Facebook had announced the additional feature of video calling, users on Facebook tend to have video calls as their commonly-used method for keeping in touch. Sometimes, they are also looking for programs to record Facebook video calls just like the other messenger tools which they often used before. But how can they achieve it? Just check the solutions below.
I. Record Video Call on Windows and Mac
Apowersoft Free Online Screen Recorder (Windows & Mac)
Perhaps the most convenient way on how to record Facebook video call is by using Apowersoft Free Online Screen Recorder. It is a web-based free application which you can utilize from website directly. Unlike other video recording programs, it can save you time of account registration. When using it, you can record what displays on webcam and the conversation at the same time. Also you can record the whole screen while having video calls and share your operation to screen with others.
Besides, it doesn't have any recording time limitation and video will be published without any watermark. The very first step to activate it normally is to download a simple launcher and install it on your PC. Anyway, it's a feature-filled tool for recording Facebook video call. As on how to use it in details, just follow the steps below:
Press the "Start Recording" button on the webpage of this Facebook video call recorder to launch it.
After its window opens up, find "Options" menu and configure the settings like recording hotkeys as well as output formats. Then choose one kind of audio input such as system sound (system sound and microphone both optional).
Start your video call on Facebook. Next, click and drag the window to select the area you want to record, or you can choose to record full screen as well.
Once on a call, you can click "REC" button to start recording. Then when it's done, just click "Pause" button on the toolbar to stop recording. Choose to continue by checking the tick icon.
Then you can preview your recorded video and check the effect. After that, choose to save file into video formats or GIF format. There are 7 video formats for your options like MP4, WMV, AVI, etc.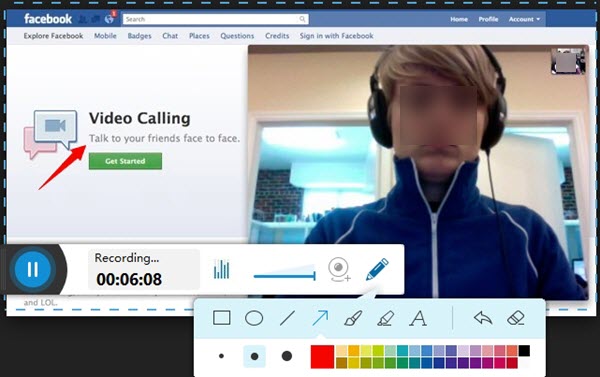 Furthermore, it also has a professional version called ApowerREC that works wonderfully in making screencast videos. With this program, you're allowed to record high quality video. Plus, it enables you to upload your work to ShowMore and YouTube instantly after recording. It will come into handy when you want to share your videos with friends and other people. To download this program, just click the button below.
For those who are looking for more advanced recording features, ApowerREC is indeed an optimal solution as it also allows you to record a video when you are out as long as you create a recording task. Moreover, it supports Auto-stop Recording, Follow Recording and others.

Video Call Recorder for Facebook (Windows)
Video Call Recorder for Facebook, just as its name implies, is a recording program that specially designed for users on Facebook. The second feasible solution to record Facebook chat is by utilizing Video Call Recorder for Facebook. Compared with the former solution, you need to pre-install it in your computer before using it. It enables you to record the video call on Facebook and directly save as MP4 and AVI files on your computer, audio recording also works with this application. Before recoding, you can feel free to customize settings such as video resolution, frame rate, aspect ratio and others by selecting "Setting" from the "Tools" menu. However, it's not a free program and costs $19.95 to remove the trial limitation.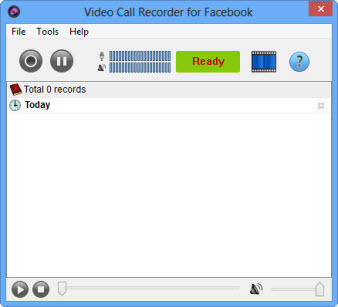 Using it is very simple, just run this program on your computer and then start the video conversation on your Facebook. After that, you can click the "Start Recording" button to begin your recording.
II. Record Video Chat on iPhone/iPad

If you want to record Facebook video call on your iOS devices, Apowersoft iPhone/iPad Recorder will be the best choice. Since Apple forbids any screen recorder app in Apple Store, then, this application acts as a great workaround to record iOS devices' screen. It's compatible on both Windows and Mac. It's able to mirror your iPhone/iPad to computer and offers options to record screen and take screenshot. Apart from that, this tool also provides various settings for the video. You can customize the recording resolution (720P and 1080P), video format (MP4, AVI, WMV, FLV, GIF, etc.), audio input (system sound, microphone or both of them) and many more.
Follow the steps below to record a Facebook video call with this tool.
Download, install and open this application on your computer.
Set your iOS device and the computer in the same WiFi network.
Swipe up from the bottom of the iOS device's screen to bring up the Control Center. Tap on the "AirPlay" icon, choose your computer name on the "AirPlay" list and turn on the "Mirroring" option. After that, your iOS device's screen will be immediately projected to the computer and the audio will also be synced.

Then, make a video call in Facebook on your iOS device.
To record the video call, just click the red record button on the top of the projected screen.
Hit the red stop button to finish recording. And a window will pop up with the recorded video in it.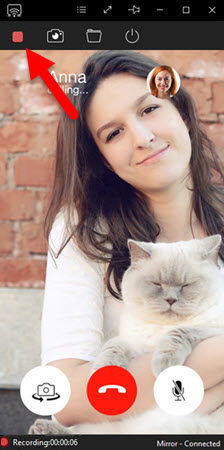 III. Android Solution to Capture Facebook Video Chat
There are many Android screen recording apps available in Google Play Store that can help to record video chat from Facebook. However, they often fail to capture video with audio from both parties. In this case, one way out is to stream video chat to computer using Apowersoft Android Recorder and then record it. This program can cast and record Android screen with audio from both system sound and microphone. You can download it to your computer from below, install and launch it.
By connecting your Android devices to computer wirelessly via Chromecast, you can stream Facebook video chat to computer in real time. This can be done by sliding down the notification shade in your phone, and hit "Cast". Then your phone screen will be mirrored, just start video chat and hit the red record button upon the top of the projected screen to record Facebook video calls.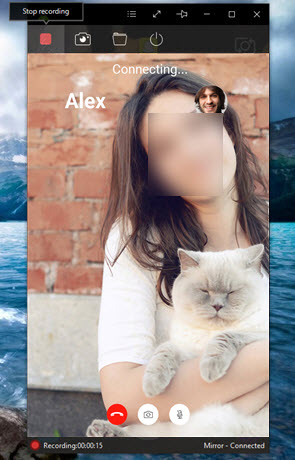 IV. Tips for Recording Facebook Video Chat on Android and iOS
Android or iOS users who choose to utilize screen mirroring apps to stream Facebook video chat to computer for recording should bear in mind the following suggestions. If you desire to capture video chat along with sound from both parties (you and your friends), then you need to plug in microphone to both your computer and your mobile device before you start recording. When recording, you'd better speak via computer microphone for recording your voice normally. Meanwhile, you are also required to talk through your Android/iPhone microphone to make your partner to hear your speaking successfully.
Above are the efficient solutions for you to have a comprehensive understanding on how to record Facebook video calls. With these methods, recording video calls is just as easy as clicking mouse. You can choose any one depending on your needs.