Unlike other complicated video editing software, this smart video editor is designed for beginners to make magic video clips in just a few minutes. Videos created with this tool can be used for teaching, presentation, sharing and just plain fun. You can import any videos shot by all types of digital cameras, camcorders, mobile devices, etc., video recorded by other screen recorders and webcams, or video you downloaded from internet. Then combine these video clips with your own music, pictures and audio for fantastic results!

Create your own pro video - Easy and simple to use
Don't suffer with complicated video editing software! With this video editor, you can easily create enjoyable and professional videos, movies, slideshows, demos and presentations. Everything operates from one window, and allows you to access all functions with one-click. Drag and drop files from your desktop to easily add media, video, audio and music, as well as the transitions, effects, text, etc.
Totally customize the frame rates while overlapping video/audio/text by scrolling to stretch/shrink each file.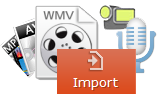 Import video from various devices and formats
Capture video from DV cameras, vidicons, webcams, cell phones, or import any video file format like AVI, MP4, WMV, MKV, and others from your PC disk. You can even record and add audio directly through your microphone with this video editing app.

Numerous effects help you make stunning video
There are 250+ fantastic audio/visual effects, including filters, improved text effects, transitions and classic sound effects to help you add special features to your movie or slideshow. Combine images, music, and video clips with all kinds of captions and transitions.
Choose from 60 classic and creative visual effects to apply color and motion filters to your video.
This video editor also includes 50 special dynamic transitions like blind, cross shutter, cross merge, round zoom, roll, etc.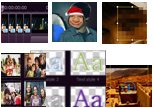 Special editing features for your video
Speed up or slow down video playback with 0.5, 1.5 or 2x compared to your original video. This will make your video easy to understand and add funny effects.
Create Picture-in-Picture video and play several video clips in one video. You can put many movies into one frame to tell different stories.
Mute video or extract audio from your video and adjust it separately in the same workspace. You can edit the audio for speed, volume and more.
Mosaic part of your video to hide important information, or details you don't want viewers to see. You can even hide your face and replace it with a funny mask.

Create and share video with anyone
After you finish editing videos, you can create and share your video masterpieces with all your family and friends.
Burn videos to DVD as a gift and send to your family member, or watch videos later on your DVD player.
Convert video to standard or HD video. There are many output formats and profiles from which to choose.
Video you create will be compatible with iOS & Android and many others like iPhone, iPad, Samsung and HTC.
Directly upload your video to YouTube and other video sharing sites.