With the wide availability of devices and applications for creating videos, it is now easier for everyone to make their own tutorials, presentations, music videos, etc. Most of these video recording programs let you record video with audio. But if you are using one that does not or you prefer to add an narration to recorded video with convenience, there are various tools that you can use to add voice to video.
Methods on How to Add Voice to Video
In this article, we will discuss two ways on how you can add voice to your recorded videos. One is by using Apowersoft Video Converter Studio and the other one is using Video Editor. Aside from adding voice, these programs also offer other features. Read on to get to know them more and determine which option is best for you.
Method 1: Apowersoft Video Converter Studio
First on our list of applications to add audio or make a voice over demo is Apowersoft Video Converter Studio. This is a lite program that you can get from below. You have the option to use the free trial first or proceed to getting the full version.
This software is mainly used as a converter. You can convert media files to a wide selection of video and audio formats. It also allows video editing.
But these are not its only functions as it can also be conveniently used for adding voiceover to various videos. Its user interface is simple and the process for adding audio is very quick to understand. This is perfect for everyone whether they have previous experience of tweaking with audio or not. It can be done with just a few clicks of the mouse. Just launch the application, click "Add" and select the video that you wish to add audio to. The video will display in the central interface within a thumbnail view attached with media info. Click the said link and select the audio you wish to add on the video. After that, click "Convert" to save the video together with the audio.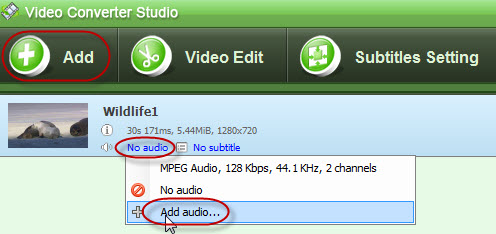 Method 2: Video Editor
The next method that we will tackle is the use of Video Editor. As its name suggests, it is used for editing various video, photo and audio files. This includes cutting, cropping, adding texts and effects, inserting images, as well as adding audio. There are two options on how to add audio to your videos using this program. You may add a recorded audio that is already saved on your computer or record your sound track immediately using this application. I will guide you through the steps on how to create a voice over demo or add an audio using the said options.
Adding a Recorded Audio
Step 1: Open Video Editor.
Step 2: Click "Import" and choose your saved video and audio.
Step 3: Drag the video to the video timeline in the main interface and the audio to the music timeline at the bottom of the window.
Step 4: Click "Create" to save or share your video.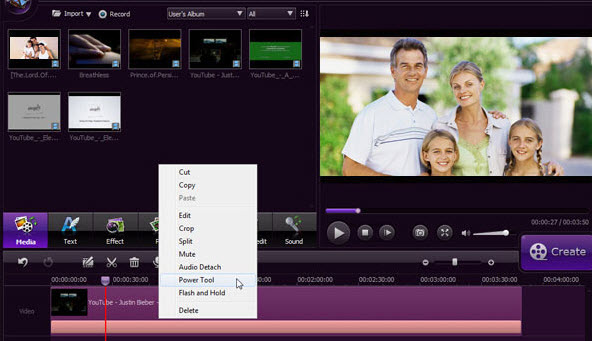 Recording a Voice Over
Step 1: Launch Video Editor.
Step 2: Select "Import" and click your saved video.
Step 3: Drag your video to the video timeline.
Step 4: Click the "Microphone" icon just above the timeline to add voiceover to video through recording directly. You should have a microphone connected on your computer for this.
Step 5: Select "Create" to save or share the video.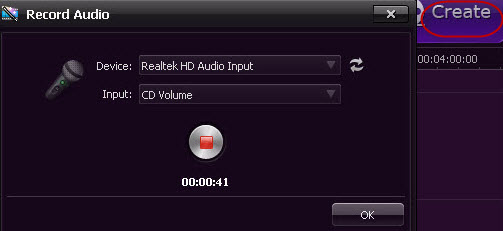 Now that we have discussed about the two methods of adding audio files to your various videos, it would be easier for you to determine which program to use. If you are looking for a convenient way to do the process, Apowersoft Video Converter Studio is the way to go. This is because it is straightforward and it's not difficult to use. Video Editor also lets you add audio but it's not the most convenient application to use as it's a bit complicated.