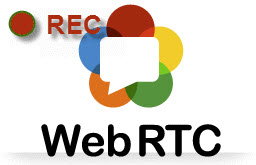 Presently, cyber video chats has become the hottest way for interpersonal communication, because it provides timely communication with no limits. People can take instant messaging or video calls with anyone. As the abbreviation of Real Time Communication, WebRTC is a nice tool for cyber video chat. When having the online chats with this tool, especially for the video calls, some people may wonder an approach to record memorable moments for reviewing later. The best way to do this task is to take WebRTC video recording. To know how to do it exactly, you may follow the instructions below.
Recommended Solution for Recording WebRTC
Apowersoft Screen Recorder Pro
This tool is quite amazing in making screencasts with wonderful quality. Also, it is capable of recording sound (System sound, Microphone or both) along with screen activity. Therefore, it will be an optimal solution for WebRTC recording. While you're recording, it also empowers you to edit the screen with given editing options in real time. Moreover, this application is equipped with a video uploader that can upload the video to YouTube and FTP server immediately. You may do as follows to utilize this program.
Download and install Apowersoft Screen Recorder Pro on your computer then launch it.
Configure recording settings in "Options" under the menu of "Tools" (You can customize hotkeys, video format, frame rate and so on).
Click "Audio input" then choose "System sound and microphone", so that you can capture your voice and the sound from the people in the other side.
Resume to WebRTC and start your video call.
Press "Record" button on the interface of the program then choose a recording mode you prefer (If you want to record certain portion on WebRTC, just choose "Region" and drag for a recording region on current screen).
Press stop icon on the control bar to end recording, the video will be saved in your local drive.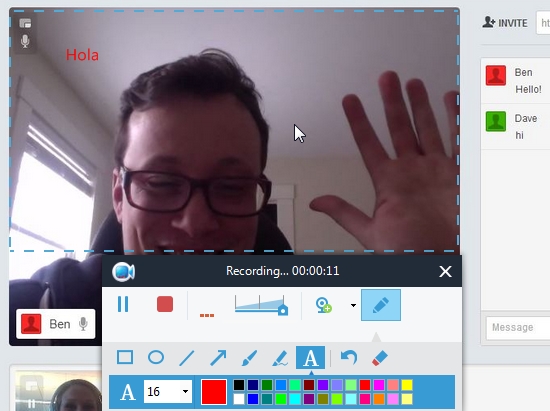 Plus, when you have done with WebRTC video recording, you can upload the video to YouTube and FTP server with the built-in video uploader. To do this job, simply choose the video you want to upload in the task list, then press "Upload" button on the top of the application.
Extra tips: Scheduling recording task for WebRTC
Apowersoft Screen Recorder Pro is also equipped with a smart tool named task scheduler that allows you to record screen at your absence automatically. You will find it come into handy to record WebRTC video that you have appointed with your friends. To create a task, you need to go to "Tools" > "Task Scheduler", then a window will pop up where you can set recording time, duration and region. Next, press "OK" to enable the task. It will begin to work according to your schedule.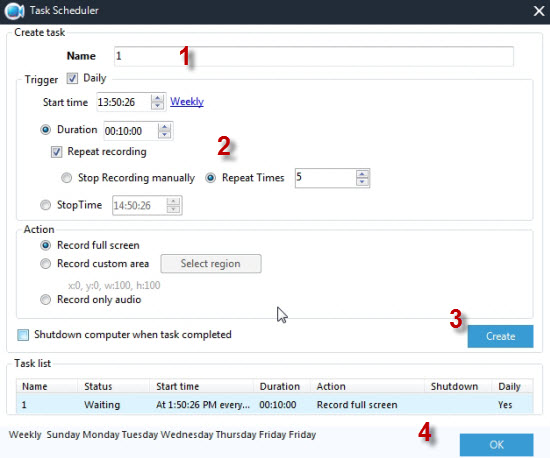 Furthermore, it has an online version called Apowersoft Free Online Screen Recorder that could be used on webpage directly. It's extremely convenient to use this web-based tool.
Other Efficient Tools to Record WebRTC Video
Aside from the former one, there're some other useful applications that can be used to make screen video for WebRTC. You can check the following parts to learn more info about them.
Icecream screen recorder
This program is also capable of taking screencast with nice quality. With it, you can finely record WebRTC chats, both of the screen and multiple sound sources. Besides, it lets you to record videos in the formats MKV, MP4 and AVI. Also, it features nice looking interface while it also provides task scheduler and screen editor as additional tools. During recording, its built-in screen editor allows you to mark screen with the editing options like rectangle, circle, arrow, etc. Once done, you will get the video in the list and also locate the files easily.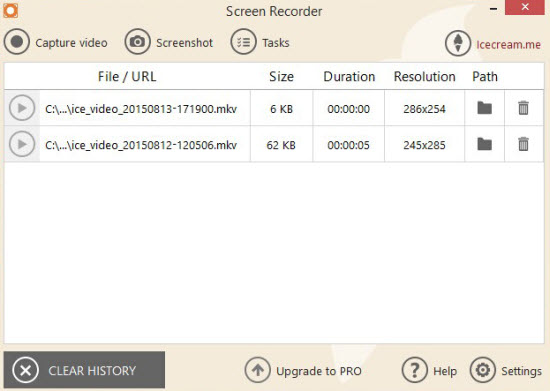 Pros: Supports additional tools – screen editor and task scheduler.
Cons: Sometimes, the editing function may not work during recording.
oCam
oCam is a 100% free recording program which works smoothly on computer. It allows users to record screen activity along with desired audio input. In the meanwhile, it supports many popular formats for the output video like AVI, MP4, WMV, etc. This amazing feature enables you to record WebRTC in the desired format, so that you can easily export the WebRTC video to other devices without conversion.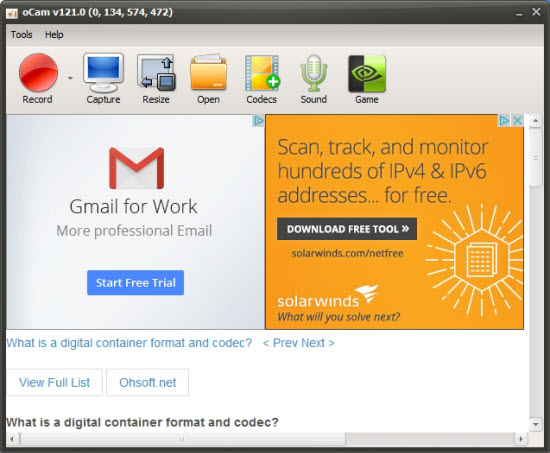 Pros: Totally free and supports multiple video formats for recording.
Cons: Contains internal ads that may be a little annoying.
Conclusion:
All of these recording solutions are quite effective to capture chatting videos on WebRTC. However, viewing those applications generally, the Apowersoft Screen Recorder Pro is the best one, for its comprehensive functionality and additional features.