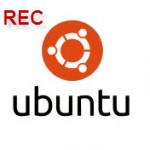 Apart from Windows and iOS, Ubuntu is another leading operating system for PC. Its extraordinary features like easy using operation and smart searching engine attract a large number of users. When using an Ubuntu PC, some people may need to capture screen as a video to express operating or software problems. Absolutely, Ubuntu gamers also want to record their excellent skills and amazing score in games as videos. Though the needs vary from person to person, users share the same setback that is they have no idea to choose an efficient Ubuntu screen recorder. Therefore, five tools would be recommended with pros and cons for you to choose.
Top 5 Ubuntu screen recorders
I. Simple Screen Recorder
Simple screen recorder is a Linux program could be run on Ubuntu OS. Just as its name indicates, Simple Screen Recorder has a straightforward user interface. Upon its interface, you can customize recording settings based on your preference. In the aspect of functionality, this tool runs smoothly and allows you to record audio along with video when making Ubuntu screen recording videos. In the meanwhile, you can define any size on your screen for recording. Even the track of your cursor can also be recorded if you want.
Pros: Easy operating. Shows statistics (file size, recording duration and actual frame rate) when recording.
Cons: No built-in webcam recording function.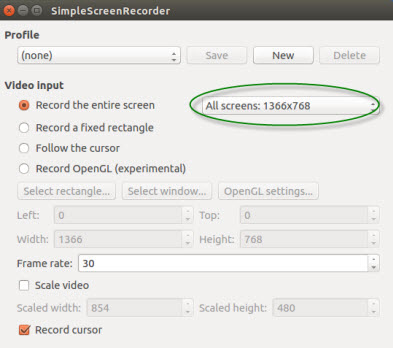 II. Kazam Screencaster
Kazam is another screen recorder for Ubuntu which provides a nice-designed interface and easy operations as well. Nevertheless, it's competent in recording Ubuntu screen perfectly. In the meanwhile, Kazam allows you to record desktop video and multiple audio sources simultaneously. The built-in countdown timer for recording allows you to do some preparation in case something unwanted being captured. Besides, this application supports taking screenshot. It is a very handy tool indeed.
Pros: Easy to use. Multiple output formats. Screenshot utility is available.
Cons: Shortcut keys not working in Gnome 3.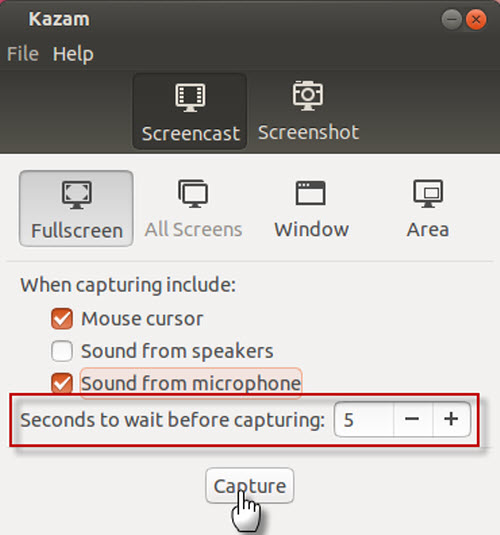 III. Vokoscreen
Vokoscreen is a powerful screencasting tool for Linux, which provides multiple recording modes (full screen, Windows, certain area and webcam) and audio source inputs. Meanwhile, the hotkeys can perform recording commands to record screen in Ubuntu, which makes recording easier and more convenient. You can also choose AVI or MKV file as default format for recorded video. Plus, 25 languages are available in this tool, from which we can infer its ambition to conquest the global market. And that is also their best eloquent declaration for ever-increasing progress.
Pros: Multilingual versions are available. Capable of recording webcam. Provides controllable hotkeys.
Cons: Could only be installed via PPA currently. Audio may go out of sync sometimes.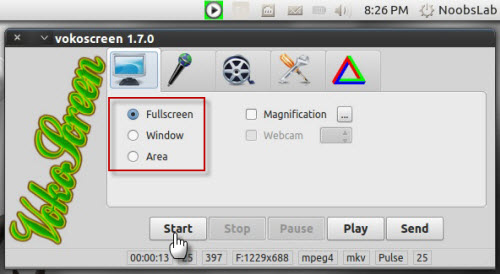 IV. VLC Media player
Famous as VLC is, this media player enjoys a large number of users all over the world. It features playing video and audio in most of formats. Besides, it can also help you to play and download videos from YouTube, which only requires the URL being pasted on its address bar. However, a considerable part of users only take this application as movie or music player. Actually, it can also serve as an Ubuntu screen recorder. It contains a Capture Device in Advanced Controls, this tool enables you to record desktop as a video. Note that, VLC cannot record your voice when recording the screen. You have to record your voice then merge the audio file along with the video if you need to add voice annotations.
Pros: Supports various formats video and audio files.
Cons: Cannot record audio and video simultaneously.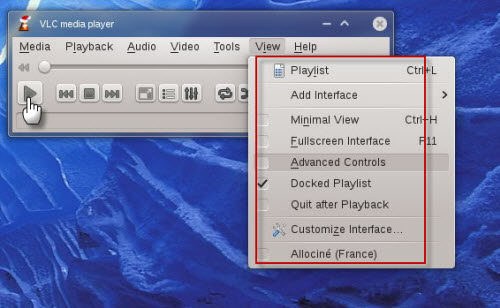 V. Krut Computer Recorder
Krut Computer Recorder is a simple screencast tool which is compatible with multiple platforms like Windows, iOS and Linux. Upon its intuitive interface, you will learn how to use this handy tool at first sight. Since Krut is capable of recording video and audio simultaneously, it's often been used to record tutorial video and gameplay video. Therefore, you can make use of this tool to do Ubuntu screen recording. The video would be saved in your local drive as MOV file. Furthermore, the audio file would be saved separately as WAV file which could be encoded to any movie format with an external encoding application.
Pros: Record at 2 different frame rates. Moveable recording region during recording.
Cons: Single format is available, MOV for video and WAV for audio.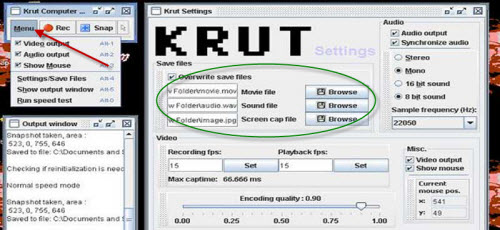 Conclusion:
Each of the screen recorders suggested above features amazing functionality and performs great on Ubuntu OS. You can compare the features and pros to choose an ideal screen recorder for Ubuntu based on your needs.