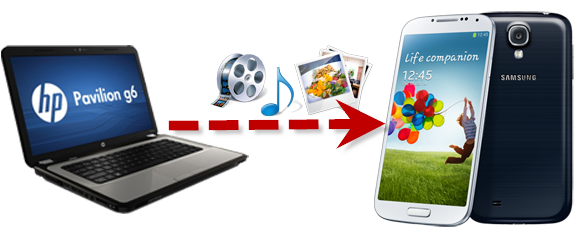 Samsung Galaxy S4 is the latest released model of Galaxy series of phones. If you have this cutting-edge phone, you may want to learn how to transfer files from PC to Samsung Galaxy S4 like music, images and videos so you'll have access to them anytime, anywhere even when not at home. This is specially useful regarding the case that your phone has been formatted. But even if your device is not new or was not reformatted, there may still be some important files that you wish to transfer to computer for backups and this can be done using various methods.
Two Ways to Transfer Files from PC to Galaxy S4
For this article, we will talk about two ways on how you can transfer files from your computer to your Galaxy phone. One is by using the USB cable that came with your phone and the other is by using an Android manager tool.
Method 1: Using USB Cable
The first method that we will tackle is transferring files using your phone's USB cable. If you do not have a USB cable for some reasons, you can get one from the shop where you purchased it or acquire one from any nearby stores which provide Android phone accessories. You would need this to connect your device to your computer to allow to transfer files. But before you transfer files from PC to Galaxy S4, make sure that the memory card is in your device, for it's where your files are saved.
When you connect your phone to the PC, you will get a notification on your S4. Touch the screen and choose "Mount". Go to "My Computer" on your PC and you will see a list of accessible drives. Double click on the removable storage. Here you can move files between computer and mobile via drag & drop or copy & paste.
Warm Prompt: Don't forget to turn off your USB storage by going to the notifications on your Android mobile phone or tablet after transferring.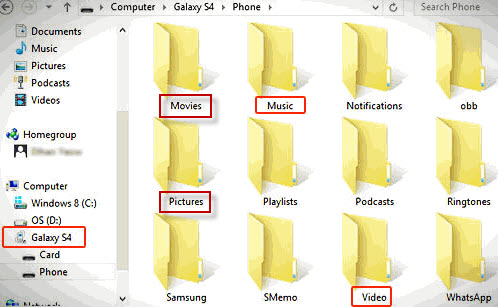 Method 2: Using Apowersoft Phone Manager
Next on the list is Apowersoft Phone Manager. This is not just a Galaxy S4 file transfer application as it also lets you easily manage all your files on your Android phone or tablet PC, bringing huge convenience to users. You can download it by going to this link.
Once you have the software installed on your computer, you can start transferring files with these quick to follow steps.
Open the application. Connect your Android device to your computer using its USB cable.
If you want to transfer songs, go to "Music" tab and click "Import". Choose the songs stored in the computer and start the transfer process. The same steps go for other files including pictures, videos, contacts, messages and more.
You can also use it to backup and restore all the phone data with one click by going to "Tools" tab.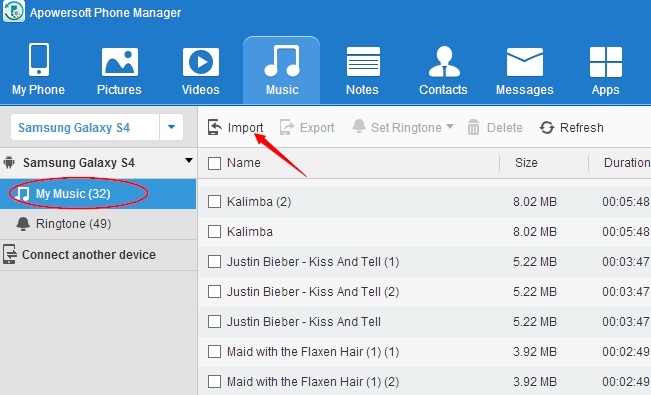 Besides transferring a variety of files from PC to Galaxy S4, you can use this Android manager to transfer songs from computer to your Galaxy Note 2 easily.
After going over the two methods of transferring files, we could say that this Android Management software is a better option as it offers a more convenient way to transfer files to Galaxy S4 from computer and it also comes with more features that you would find helpful. The first method also lets you copy files to your device. However, Android Manager is more organized and it has the "Export" and "Import" options that lets you quickly move files, in case you are not comfortable with dragging & dropping or copying & pasting of files.