Samsung Galaxy Note is a smartphone with large screen, which is also regarded as a tablet PC by many people. If you have one, you can not only use it as a phone to call somebody, but enjoy the entertainment brought by its abundent media content including playing music, taking photos, etc. Especially, it is wonderful for you to watch video clips with your large screen Galaxy Note 2. However, you may want to transfer music to Galaxy Note 2 if your favorite songs are only in your desktop or previous mobile phone.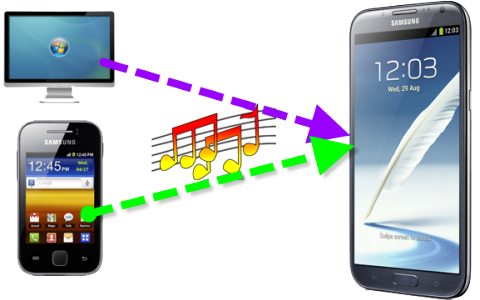 Under the situation, what should you complete your Note 2 music transfer mission? In this article, I will show you some tips on how to transfer songs to Galaxy Note 2. This topic has been divided into two parts below.
Part A: Transfer music from PC to Galaxy Note 2
Part B: Transfer music from a phone to Samsung Galaxy Note 2
Part A: Transfer music from PC to Galaxy Note 2
Method 1: USB cable
If you get a USB cable, it is easy for you to complete the job. Few clicks and drags will help you out. If you need to know the detailed steps, please refer to the first method in the post – how to transfer files from computer to galaxy S4.
Method 2: A Galaxy Note 2 Music Transfer – Apowersoft Android Manager
As I mentioned above, if you have a Samsung USB cable, transferring music files from computer to Samsung mobile devices is oversimplified. But what should you do if your USB cable isn't available? In this occasion, you need to have the aid of a Samsung Galaxy Note music transfer program. Here Apowersoft Android Manager is recommended, which has the ability to add music to Samsung Galaxy Note 2 from computer.
The Apowersoft Android Manager can not only transfer media files to Galaxy Note 2, but also manage your Galaxy Note 2 SMS, contacts, apps, etc. from your Windows or Mac PC.
The process of transferring songs to Note 2 with Android Manager:
1
Download and install this Android Manager app on your Galaxy Note 2 firstly when you are going to connect your Samsung Galaxy Note 2 to your computer via WiFi.
2
Launch the desktop Android Manager. The main window will appear after your Galaxy Note 2 is detected by this desktop program.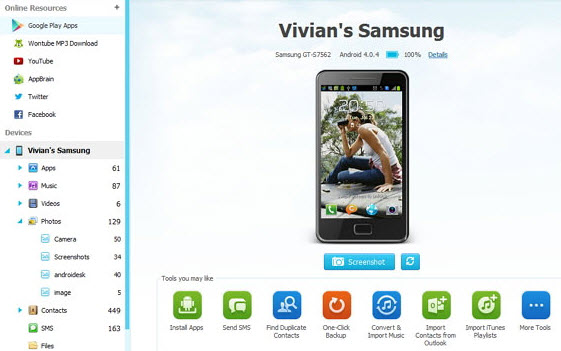 3
Click "Music" icon in the left sidebar under "Devices" and then press "Add" button to transfer your favorite songs to Note 2 in its music window as shown in the figure below.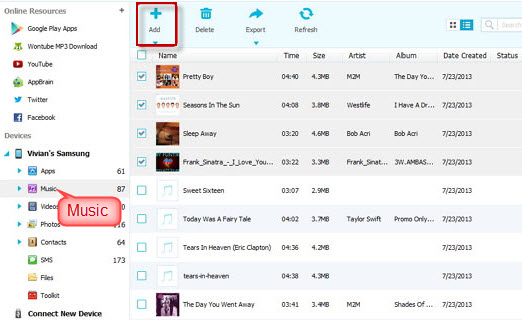 Note: If you have the demand of transferring iTunes music to your new Note 2, click "Import iTunes Playlists" icon as the following picture.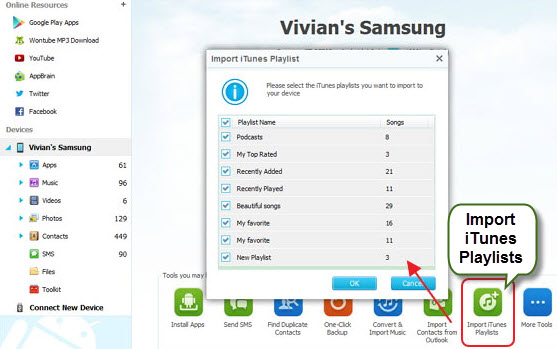 Method 3: Use Samsung Kies
Samsung Kies is similar to Apple iTunes, which is used for managing files and apps. It allows you to automatically receive Firmware updates and install them for your Samsung smartphone or tablet PC. It also helps you transfer various files, including videos, photos, songs, contacts, text messages between Samsung devices and PC. But honestly speaking, Samsung Kies has some drawbacks. For example, sometimes the Samsung Note 2 can't be detected by it, and it is difficult for you to sync music to your Samsung products.
Part B: Transfer music from a phone to Samsung Galaxy Note 2
If you just upgraded your phone from HTC to Samsung Galaxy Note 2 but all your favorite songs are in your old HTC, you may want to send them from your old phone to new Note 2. In the second part, I will go on sharing three effective ways.
Method 1: Transfer music files via Bluetooth
Sending your song from a phone to Galaxy Note 2 by using Bluetooth is easy. You will complete your task successfully with four simple steps: Turn Bluetooth on ->Do its settings ->Connect Bluetooth devices ->Transfer songs via Bluetooth.
Method 2: Transfer song from iPhone to Galaxy Note 2
If you want to back up your songs from iPhone to Note 2, you can use an iPhone transfer tool to transfer them to your computer first, and then follow the above-mentioned guidance of transferring with Android manager.
Method 3: Transfer songs to Note 2 from another Android mobile device
If you send music file to Samsung Galaxy Note 2 from a phone that is also running Android OS, Apowersoft Android Manager is your answer. You need to export your songs from previous Android device by using it, and then import them to your Note 2.
These are all the solutions that I share with you! If you have some other easy and effective tips and tricks, please give us a feedback by leaving a comment.