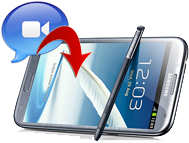 In order to meet the demand of people, there are many new smartphones pop up in the globe. Released on eralier, Note 3 has extended the essential smart functions of previous models and come with more surprises for mobile users. Actually, it is a versatile portable device. It can let you take photo as a camera, enjoy your favorite movie/video as a video player and play game as a game player and so on.
You may love to watch your interesting Friends' episodes on your Galaxy Note 3 everywhere because of its bigger screen. However, you need to figure out how to transfer video files to Galaxy Note 3 before enjoying.
In this post, I will show you the ways to resolve your trouble. You will see how easy it is to transfer videos and enjoy doing this for your portable video entertainment.
Various ways to transfer video to Galaxy Note 3
There are multiple methods that you can transfer your video clips to your new Samsung Note 3. The methods are listed below:
Transfer from a PC via USB data cable
Receive video via Bluetooth
You can transfer and enjoy your favorite videos on Galaxy Note 3 using one of the above-mentioned methods. In the following paragraphs, I will show you three of them and explain in more details.
Transfer videos with Apowersoft Android Manager
When it comes to transferring file, using USB cable is the solution that many people will think about. However, is it possible to transfer files without cable because of some reasons? The answer is yes! You can use a Galaxy Note 3 video transfer tool – Apowersoft Android Manager to complete your mission.
Apowersoft Android Manager is a versatile file management tool for Android phones and tablets. It not only helps you transfer video to your new Galaxy Note 3, but also transfer other files like contacts, text messages, photo, music, apps, etc. What's more, you can use it to restore/backup files, install/uninstall/export/delete apps, and organize personal information on Android devices.
The tutorial of how to transfer video to Note 3 from PC wirelessly
Step 1: Download and install this Android Manager on your computer.
Step 2: Connect your Galaxy Note 3 with PC using the same Wi-Fi. Android manager will detect your device.
Step 3: Select "Videos" below "Devices" and then click "Add" button.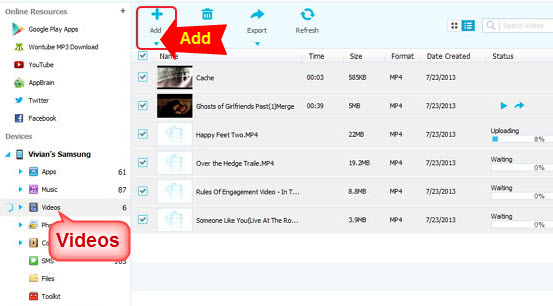 Step 4: There is a window that reminds you to convert video to Galaxy Note 3 compatible format. Please click "OK" to start the process.
Tips: Your videos will be uploaded to the video list on your Note 3 automatically after conversion.
Using Samsung Kies 3
Samsung Kies is helpful for many Samsung users. With it, you are able to transfer various files and download many popular apps. Therefore, you can use it as Samsung Galaxy Note 3 video transfer program to sync video file to your gadget.
Step 1: Run Samsung Kies 3 on your computer.
Step 2: Plug your Note 3 into PC via USB cable.
Step 3: Click "Videos" tab in the left sidebar of the main window.
Step 4: Choose the video files that you want to transfer, and then hit "Transfer to device" button as illustrated in the picture below.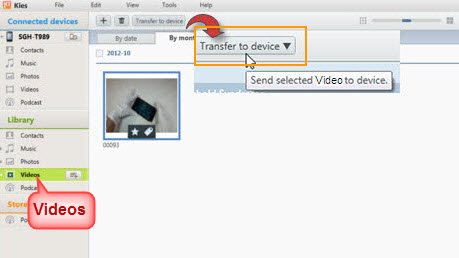 Transfer videos to Samsung Note 3 using Windows Media Player
As we all know that Windows Media Player is a media player and library application. Many people love to use it to play their favorite videos and songs. But, most of them pay much less attention to its function of syncing files.
In the third way, I show you how to sync video file from PC to Samsung Galaxy Note 3 using WMP. However, please make sure all your video files are integrated into the Windows Media Player before starting the process.
Step 1: Connect Galaxy Note 3 to PC using USB data cable.
Step 2: Launch WMP on your desktop and switch to "Sync" tab on the top right corner of WMP.
Step 3: Drag the videos into Sync list. Finally, click "Start Sync" button.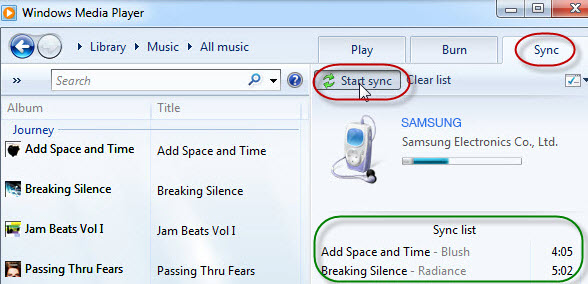 If you have a USB data cable, you can use Samsung Kies 3 and Windows Media Player to transfer video to Note 3 from PC easily. If not, using Apowersoft Android Manager to make all kinds of videos available for Samsung Galaxy Note 3 is a good choice. In addition to transferring files, it allows you to manage SMS, contacts, applications, etc.