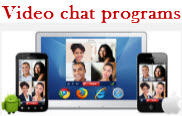 Due to the cutting-edge technology, communication has constantly evolved ever since the beginning of human civilization. In the past, we write letters to distant relatives and friends to express our yearning for them. Now, making phone calls and online video chats are the primary way we communicate. While, in comparison to a simple phone call, making video chat on PC is favorably received. However, the problem is which video chat program to choose. Keep reading for a comprehensive understanding of these applications and pick the one you like.
Introduction to the popular video chat applications
Skype

Start from 2003, Skype is the most widely used Internet phone service with more than 600 million registered users. It's packed with plenty of features like instant messaging, video conferencing, voicemail, call forwarding, SMS text messaging, etc. While the initial Skype-to-Skype call services are free, you will be charged eventually for adding premium options like calls to a mobile or landline phone and other devices.
FaceTime

Developed by Apple, FaceTime is one of the popular video chat programs that available on all Apple devices (iPhone, iPad, iPod, Mac notebooks and desktops). It's totally free to use but requires an Apple ID and Wi-Fi connection. With a push of button, you can easily carry out face-to-face video calling to hang out, joke around, stay in touch with anyone you want. If you desire to record the video chat on it, check out solutions here.
Google Hangouts

As one of the key features of Google+, Google Hangouts is a great communication service that available for one-on-on text/video chat and group chats. The video conference can be up to 10 participants. And the video conference even supports the integration of third-party tools like Slideshare. Besides, this video chat application also comes with features like screen sharing, instant messaging, live broadcast of video conferencing and even more. Check out here to record Hangout video.
GoToMeeting

Created by Citrix, GoToMeeting is a web conferencing software that also features as screen sharing, meeting recording, HD video conferencing and even more. It brings much convenience for businessmen by meeting clients, customers via Internet in real time. It makes team collaboration easier than ever. After free 30 day trial, you need to cost $49 /Per Month to purchase this video chat software.
Yahoo Messager

Yahoo Messager, just as its name suggests, it's designed for communicating through messages via Internet. But later on, it had evolved much. Now it's more than a program that mainly features as text messaging, it also comes with other cutting-edge functions such as sharing photos, making video chat, transferring files, etc. Among them, video calling capability gains great popularity. To know how to record Yahoo Messager video chat, learn more here.
Viber

Initially launched in 2010, Viber is a fully-featured VoIP (voice over Internet Protocol) software that enables you to keep in touch with your contacts by sending them free messages and making free phone calls. Making HD video calls is not an exception. Though, Viber was initially developed for iPhone users. Now, cross-platform compatibility is one of its competitive edges. It's available on Android, BlackBerry OS, Windows, Mac OS, Linux and other devices.
Tango

Similar to other video chat programs, Tango enables you to have 1 to 1 video chat or group chat without any hassle. With it, you can make high quality video or voice call to your friends. While making video calls, you can even personalize the screen with some funny annotations. Sending free text messages is also applicable on this application. As a bonus, it allows for sharing photos and making comments to others' photos. Basically it's available on Windows PC and Mobile devices such as iOS, Android, Blackberry and Kindle.
For those who have video chat with their friends or colleagues, they may desire to record the video chat for later reviewing. To do this trick, the following two methods may come in handy.
How to Record Video Chat Call
PC solution – Using Apowersoft Free Online Screen Recorder
The most desirable way to record video chat is by using Apowersoft Free Online Screen Recorder. With it, you're allowed to record the screen and audio simultaneously in a click. While recording, it supports making annotations to the video by adding arrows, lines, circles, texts, highlight and others. For convenience, it also enables you to upload the recorded video conference on Youtube. In this way, you can share it or use it as training lessons. Another shinning point of this application is that it works perfect on recording video chat automatically by creating schedule task. This is great when you could not attend the online meeting since you can watch the recorded video later.
To know how to make video chat recording with this program, you can download the desktop version or use the online version and then refer to the steps listed below.
Navigate to the webpage of this free online screen recorder and click "Start Recording" to launch it. Remember to run the java applet once it pops up.
Configure recording settings in "Options".
Open the video chat program and then back to the screen recorder.
Click "Record" button and select your desirable recording mode.
Annotate the video if needed and then hit "Stop" to finish recording.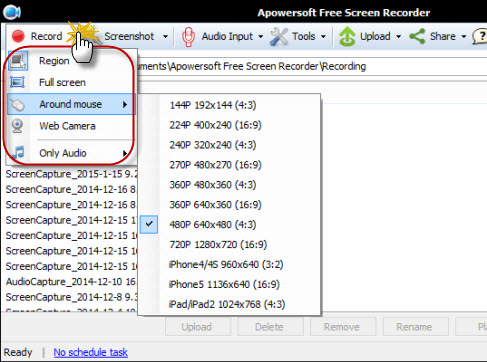 Mobile Solution – Using third-party screen recording app

If you are using FaceTime on iPhone, Android or iPad (which most of us do), then you should try this app called Display Recorder. It is a great app for the purpose of recording screen when you are on Android and iOS devices. Before recording, you are allowed to adjust the frame rate, video quality and other settings. It also supports uploading the recorded video to youtube.com for sharing.