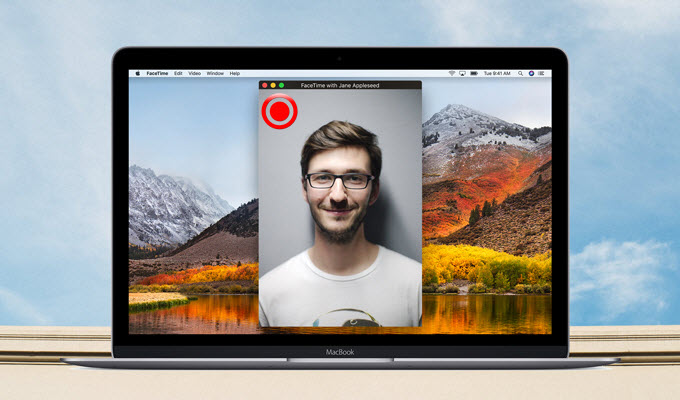 FaceTime is a free video chat application developed by Apple Inc for iPhone, iPod touch, iPad and Mac computers and laptops exclusively. As compared with other messaging applications, this application is easy to use. Unlike any other messaging apps, your contacts can call you even if FaceTime is not running (as long as your computer is on and you have an internet connection).
On the other hand, FaceTime also has its limitations. Aside from the fact that it cannot be used in other operating system, this application is only good for video calling. It cannot be used for text chats. Additionally, just like the other messaging applications, this app does not support the recording of a video call. Since we live in a modern technology nowadays, business people now take their meetings through video calling and recording this video is necessary for documentation and some other purposes. With this, people will need a tool to record such video. A screen recorder can actually help to record FaceTime.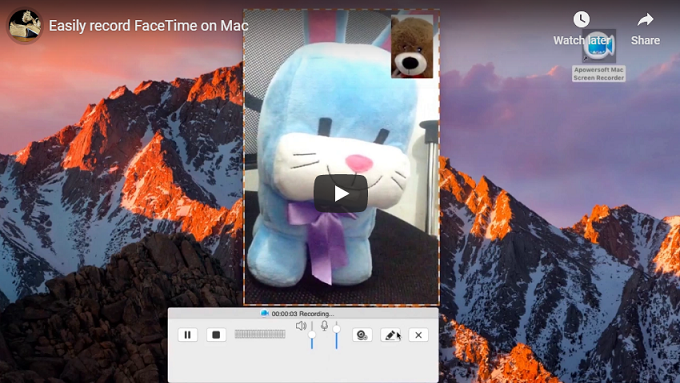 Tools use in recording FaceTime
Solution 1: Apowersoft Mac Screen Recorder – Professional Tool
Solution 2: Online Screen Recorder – Free Tool
Solution 3: Screenflick – Paid Tool
1. Apowersoft Mac Screen Recorder
Apowersoft Mac Screen Recorder is a professional recording application that works extremely well on Mac computer. It's capable of capturing everything happening on screen along with sound (System sound, Microphone or both). Additionally, the recorded video will be saved in the format of MOV which can be easily turned into other popular formats with its powerful built-in converter. Below are the steps on how to record a FaceTime call using this tool.
Download, install and launch the application.
Once the tool is ready, start the video call on FaceTime.
Drop down "Record" and choose the region of the screen to be recorded.
Click on "OK" button to start the recording, and when you're done with the video call, click on "Stop" to stop the recording.
Lastly, click on "Play" button to watch the recorded video.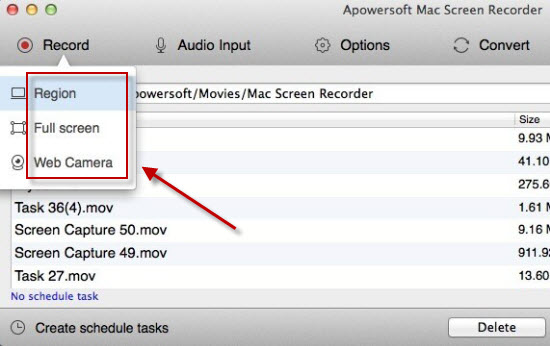 Moreover, this application comes with a smart tool called Task Scheduler that allows you to plan recording task based on your preferences (recording time, duration and region). With this tool, the program is capable of recording screen automatically even at your absence. It's extremely helpful to supervise others' activity on screen and capture some TV programs that are only available at certain time range.
2. Free Online Screen Recorder
This is a free web-based screen recorder. It does not need any registration or installation. You can record a FaceTime video in just a click. Moreover, this tool is compatible on both Windows and Mac operating system. Just like Screenflick, this tool can also record full or a region of the screen and it can record system sound, sound from microphone, or both. To record using this online tool, simply go to Apowersoft Free Online Screen Recorder page and then click on "Start Recording" button. The program will then automatically appear in your Mac computer and you may then start recording by clicking on "Record" button.
3. Screenflick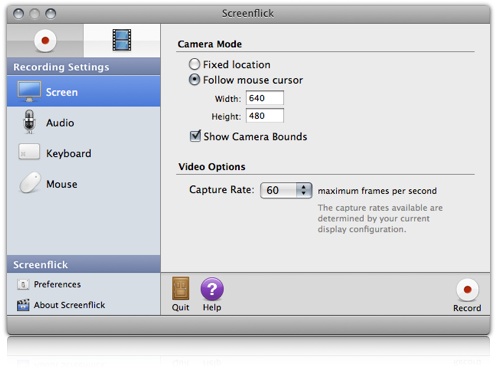 This is a screen recorder for Mac computers. This tool needs installation and it is paid. It can record the entire and part of the Mac screen. Moreover, this tool is capable of recording video chats in high quality. And it can record internal and external sound. This FaceTime recorder has no editing tool, which falls short in enhancing videos. To start recording, you first need to modify the "Recording Settings" (choose the region of the screen and the audio) and then click on "Record" button which can be found at the lower right part of the tool.

Those are some of the recommended screen recorders to use in recording FaceTime. You can now save video conversation in your Mac computer good for both personal and business use. Although FaceTime does not have a recording tool, there are tools which can help in recording video message.