I always see interesting videos playing on most blogs and websites. How can I download them on my PC? I believe they are SWF files. I don't have any downloaders and I would gladly appreciate if you could recommend some programs or tools that can convert SWF files so that I could also load them up on my Android tab.
SWF stands for Small Web Format and from its name. This file format is pretty small in size yet decent enough to display quality. It is a file format owned and further developed by Adobe. It is mainly used for multimedia, graphics and action scripts. Today most SWF files can be seen online such as those on blogspots, websites, and all others.
Being a format exclusively created for using online, most media players do not support SWF files. If you are looking for programs or tools that can download and convert SWF video, discover the best ones after the jump.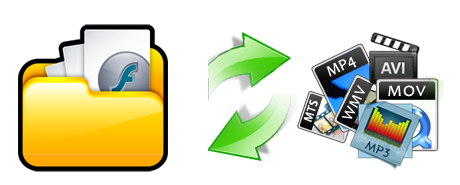 1. Free SWF Converters (Simple way)
2. SWF Converter for Windows (Windows way)
3. SWF Converter for Mac (Mac way)
4. More topics about SWF conversion
1. Free SWF Converter – Convert SWF Files Online
If you are looking for a no installation needed tool that can modify SWF files in an instant, free video downloader and converter granted by Apowersoft. Both are online based apps that do everything in the cloud. They are also 100% free to use with no registration, membership or fees required.
Apowerosft Free Video Downloader
The Apowerosft Free Video Downloader allows you to grab SWF files on more than 10,000 video streaming websites including the ever popular YouTube, Dailymotion, Metacafe, Vimeo, Veoh, Blip and all others. Additionally, the Apowerosft Free Video Downloader comes fully compatible to major web browsers such as Google Chrome, IE, Firefox, Opera, Maxthon and more.
The guide is as below:
Copy the URL of the web containing clip.
Paste it on the blank search bar of the Apowerosft Free Video Downloader.
A java notification will appear and click "Permit".
Hit the "Download" button.
Download and save the SWF video file on your PC.
This online video downloader is applied to this page. Right now you can have an experience of downloading your desired flash video from almost popular sites.
Apowersoft Free Online Converter
On the other hand, the Apowersoft Online Converter is the ultimate tool you need to free convert SWF videos. This web based program supports a wide variety of video outputs like SWF, MP4, WMV, WEBM, ASF, MKV, MPG, 3GP, FLV, MOV and other audio formats. Aside from being free, you can equally use this free application as long as you want. There are no limits and restrictions on this software.
Open Apowersoft Free Online Video Converter and load the SWF video file you've just downloaded.
Select the right output format, resolution, bitrate and adjust other settings.
Hit the "Convert" button and save your modified SWF file in chosen format.

Convert local SWF files: the desktop version of Apowersoft Free Online Video Converter
For users who want a one-stop solution which covers the above two apps and even more, please go for software package – Video Converter Studio. With the desktop app, you don't need to open browsers or allow java pop-ups. All you need to do is to run the program and use the tool as usual.
2. SWF Converter for Windows – Apowersoft Video Download Capture
Windows users can get the accurate solution here – Apowersoft Video Download Capture. Aside from being a smart converter, this program equally functions as a downloader, screen recorder, live streaming capturer, video editor, and media player. It is not your ordinary SWF video converter, it is an all-in-one tool packed with great features.
The step-by-step guide as follows:
Install and run the program on your computer.
Copy the URL of the website containing the SWF file.
Go to "Download" tab and paste the link on the address bar, hit the "Download" button.

When the process completes, right click the file and choose "Start".

Adjust video settings and select the right output format.
3. Convert SWF on Mac using Apowersoft Video Converter for Mac
Apple PC owners can alternatively use the Apowersoft Video Converter for Mac for a fast, efficient and easy downloading/converting of SWF files. This tool can convert videos into popular video formats whilst retaining top quality even on HD clips. It features presets of output profiles for converting web videos to compatible formats for all Apple devices.
For grabbed clips using it, simply search the file on the "Downloaded" tab and click "Convert".
Local SWF files should be first loaded into the library before converting.
After uploading the file, choose your preferred video format and adjust settings according to your desires.
Click the "Convert" button and save your modified SWF file.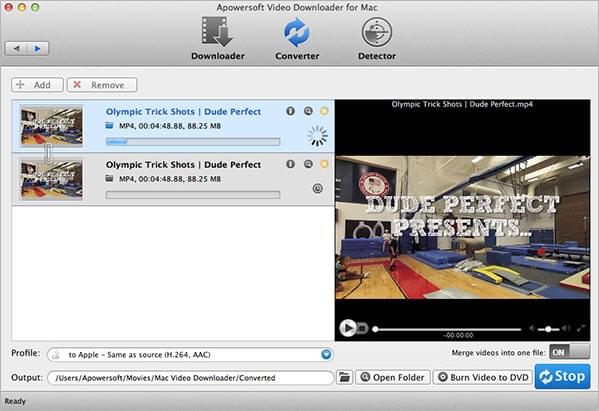 Specific Cases regarding SWF Conversion
So far, we have reviewed online tools and desktop applications both lightweight, comprehensive and accurate solutions for general needs in converting SWF. And we will also put forward the specific solutions for different scenarios, e.g., pull off web videos and play them on Android.
Convert Flash SWF to MP4 – if you want the file to be universally playable on most media gadgets and PC players, choose MP4 as your output format. MP4 or MPEG-4 is a standard video format that yields both quality and playability.
Convert Videos to SWF Format – for easier uploading on the web and for preserving valuable disk space, video files in SWF format is the ultimate answer. SWFs are very small in size making them easier to upload online or save on limited capacity devices.
Convert SWF to AVI – AVI uses less compression amongst other video formats which means they are a bit larger when it comes to file size. Though, AVI videos are widely accepted by PC players, mobile gadgets and portable media players.
Convert SWF File to MP3 – if you want to extract audio files out of SWF videos, saving them to MP3 is the best choice. MP3s are small in size yet packed with great sound quality.