SWF (Small Web Format or Shockwave Flash) is a popular Adobe Flash format commonly used to display animated vector graphics on the web. Additionally, it's an ideal format for programs that use ActionScript, especially browser games.
The main advantage of using this file format is that its size is small enough for publishing various applets or animations on the web. With this format, you can create compact animations that load quickly.
If you're wondering how to convert videos to SWF, this article lists the best solutions for you.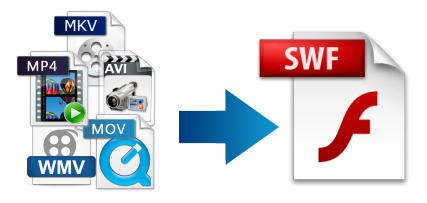 It is an absolutely free application with an incredibly fast conversion speed. It helps you convert your videos into SWF and a large variety of audio and video formats that are compatible with popular media players and mobile devices including iPhone and iPad.
This free online SWF converter allows you to convert an unlimited number of videos. Simply go to the official website, and upload your video file. You'll find a set of output settings as well audio and video settings. Adjust these according to your preferences, and you're ready to convert your video.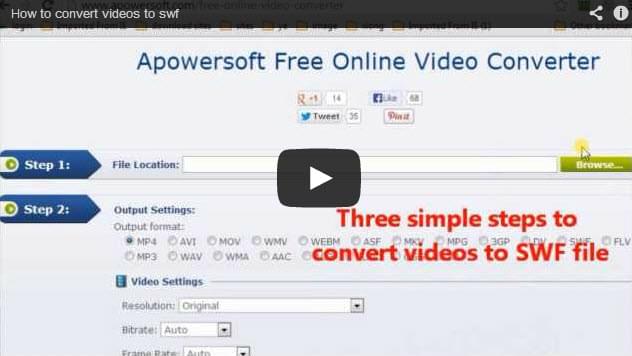 As a web-based solution, there's no need for you to download bulky software that take up computer space. Just visit the website anytime you want to convert video to SWF online, whether it's a small-sized file or a larger one.
Apowersoft free online video converter produces high quality videos with a wide selection of resolutions best suited for your media player.
It is a software that allows you to convert video to SWF for free. It offers comprehensive settings for customizing encoding parameters. The software comes with advanced settings for experienced users.
The interface lets you drag and drop files into the main window. You can then click Convert to start the conversion process.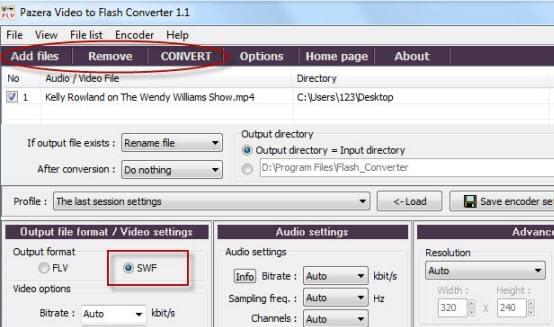 The major disadvantage of this free video to SWF converter is the complex interface that can be confusing for first-time users. If you're not accustomed to the audio and video settings, you'll get an output with poor video quality. And compared to Apowersoft converter, Pazera has a much slower conversion process.
Solution 3: The shareware to convert videos to SWF format
Apowersoft Video Converter Studio is a dedicated movie video converter that produces top-notch quality output. It's specially designed to convert and edit videos into all available formats. Here are the best features of this program:
Preserves 100% quality of video files including HQ movies ranging from 720P to 1080P
Converts all types of audio/video formats including iPhone and HTML5
Has extensive options for editing videos
Lets you merge several files into a single video for easy viewing
Has a built-in subtitle editor
Has a video effect editor for setting saturation, brightness and contrast
With this comprehensive roster of features and functions, you can easily convert videos to SWF and all other types of format for your mobile gadget or media player. More importantly, it's easy to navigate the menu with its simple, straightforward interface that's easy to use even for beginners.
Recommended Video to SWF Converter
If you're looking for an easily accessible free video to SWF converter that's available online, Apowersoft Free Online Video Converter is the best option. Pazera Free Video to Flash Converter is also a free converter, albeit with complicated settings and interface. If you prefer to download a powerful converter that you can use anytime, Apowersoft Video Converter Studio is your ideal choice.