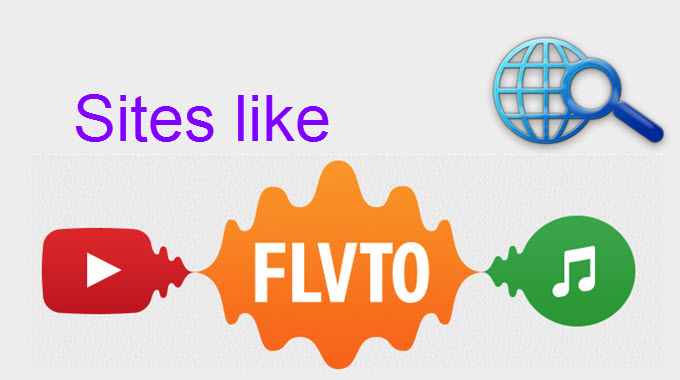 With the sudden outburst of different portable media gadgets such as iPods, smartphones, mp4 players and all others, getting free MP3s online has never been so popular. You can get it from audio search engines or music grabbing websites such as the Flvto. If you're not familiar with this site yet, here is a short Flvto review to help you know more about this website.
Flvto is an online based application that can extract MP3s from YouTube videos. With no need to install on your system, this application is portable, convenient and best of all free to use. It works by letting you copy the YouTube URL and paste it on the site, hit the convert button and in no time you'll have the video converted into MP3. Flvto is really easy to use that even novice ones wouldn't find it hard to convert videos to MP3. Converting clips is also carried out within minutes depending on the file size.
Aside from the distinctive features of this application, Flvto has its own share of disadvantages prompting some users to look for sites like Flvto. Upon using Flvto, you will notice tons of advertisements which are very irritating and not all video streaming websites are supported. The frequent "Conversion Error" is another downside, it eats a lot of time and effort heading back to YouTube and doing the whole process again and again.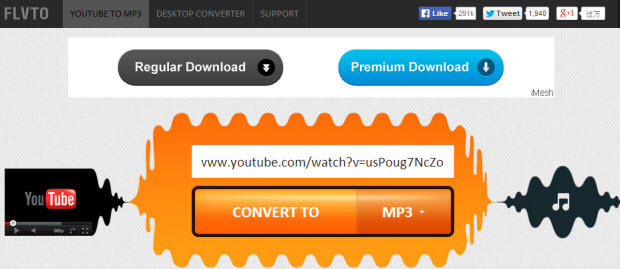 If you are in search for an free and efficient music conversion websites like flvto.com, listed below are wonderful recommendations. From free online video converter to desktop apps, you can discover them all after the jump.
Top 3 Websites Similar to Flvto.com
1. Apowersoft Free Video to MP3
One great alternative to Flvto is the Apowersoft Free Video to MP3. Just like the former, it is a web-based application that needs not to be installed.  It can convert MP3 from videos of YouTube and other video sharing sites in a blazing fast, easy and efficient way. More importantly, it comes 100% free with no registrations, memberships, file size limits and time download restrictions. Using it is equally simple – copy and paste video URL into related field, select the format you need and then choose the format then hit "Convert" button.

What makes this tool more efficient than Flvto is that it supports not just YouTube but thousands of video streaming sites such as Vimeo, Dailymotion, Vevo and many others. Also, you have an option to convert files into different formats range from MP3 to WAV, WMA, FLAC, AAC, OGG and others. Adjusting bitrate, channels and sample rate are also given by this application, letting you customize your audio flexibly.
2. Video2MP3
Another application in the list of websites like Flvto is the Video2MP3. Like the ones mentioned above, it is also a web-based app that needs not to be installed. Unlike the above one, it only supports YouTube. Visiting the site would neither give you much information about other supported video streaming websites but instead an explanation regarding the site's function and instruction. Besides, this online music grabbing site is fast to use and it also comes free with no registrations, memberships and limitations.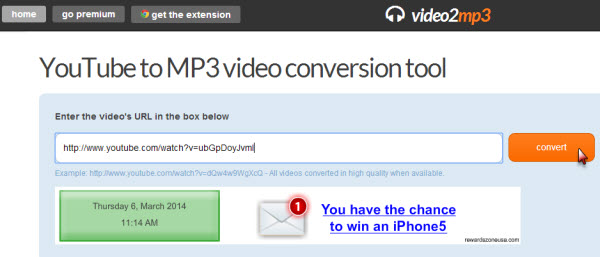 3. Dirpy
Last on the list of websites similar to flvto.com is Dirpy, which is an online web-based converter that caters to users who want to extract MP3 from online video websites like YouTube, Dailymotion, Vimeo and others. Similar to flvto.com, it's packed with a user-friendly interface and remarkably fast conversion speed. You can directly copy the URL of the video you would like to convert and paste it in the convert bar. And then  click "dirpy!" and you can get the audio file you like in this way.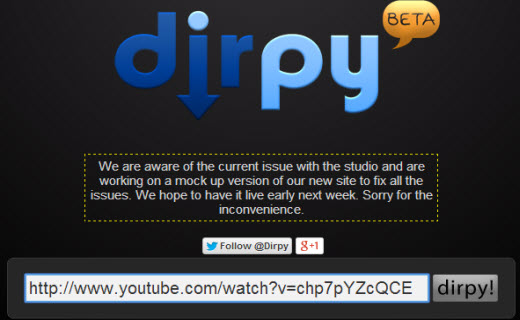 Software Alternative to Flvto
If you are fed up with the usual scenario of Flvto not working, showing tons of ads, giving numerous error messages, it's time to look for a clever music grabbing software. Streaming Audio Recorder is a highly recommended desktop program that can record any sound coming from your computer or microphone in 1:1 quality. You can use it to download MP3s from video streaming websites or online radio stations. Equally, it can record HQ audio files from external sources such as microphones or CD players. Not only does it work similar to Flvto but it performs in even better way with more features packed in it.
Being a dedicated desktop software, using Streaming Audio Recorder wouldn't give you the same potential problems as with Flvto. Using this desktop tool is rightfully simple, not to mention it's also very efficient.
Run Streaming Audio Recorder on your PC.
Customize the audio source and output format via settings.
Click the "Record" button to start recording.
Play the music video online that you want to record.
Hit the "Stop" button when needed.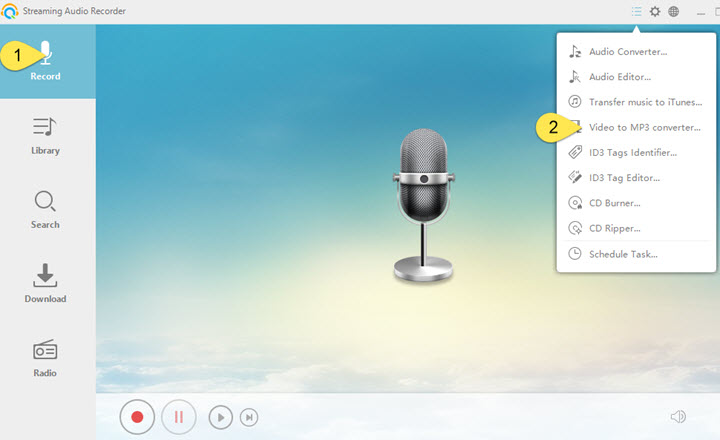 You can equally use the built-in MP3 search engine of the program. Or use the "Video to MP3 Converter" function, enter the video URL and hit "Add to download".
Conclusion
If you are unsatisfied with Flvto review together with its somewhat disappointing loopholes, no need to worry because tons of free as well as premium music grabbing tools are easily obtainable online. Depending on your needs and wants, you can go open source or pick a superior one.
Incomparable to sites similar to Flvto, you can use the Streaming Audio Recorder to edit audio files and ID3 tags all using the same software. Then there's the embedded file converter that supports MP3, WMA, WAV, OGG, AAC. Last but not the least, this desktop program can burn audio CDs as easy as counting 1-2-3.