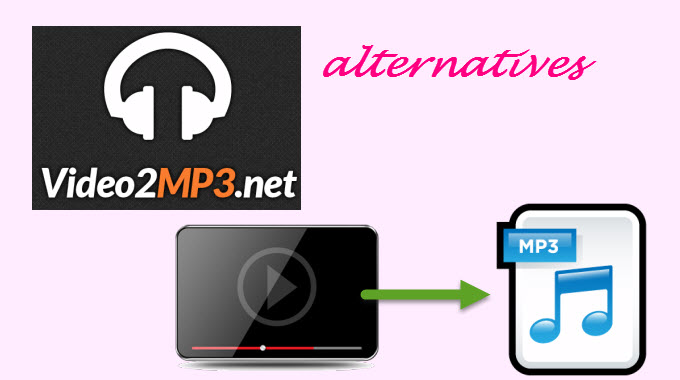 Video2MP3 is a free application that lets you convert video files from YouTube to MP3 format. Whether you're using an iPod, iPhone, smartphone or tablet, you can listen to your favorite songs while on the go. What makes this application one of the most popular conversion tools out there is that it's very convenient to use. Here's a short Video2MP3 review to help you learn more about this tool's pros and cons.
There's an available online converter as well as a desktop converter software that you can download for free. The online tool has a simple interface. Just paste the video's URL, click "Convert" and wait a while to get converted audio file in the download directory of your browser. Video2MP3 works quite effectively when converting YouTube videos to MP3. Plus, the quality is excellent.

However, Video2MP3 sometimes takes a long time to convert files, and it also tends to crash. Although it's good at converting YouTube videos, you may find it ineffective when converting videos from other sites. Also, it can't play converted audio online as you'll need to download the MP3 file so you can listen to it.
If you find that Video2MP3 works slowly, crashes, or doesn't convert a video file perfectly, you can still use several other top-notch alternatives. Here are top sites like Video2MP3.net that convert videos into high quality MP3.
Top 5 Video2MP3 Alternative Apps
1. Apowersoft Free Video to MP3
Apowersoft Free Video to MP3 is a fantastic alternative to Video2MP3 because it can convert any online video or streaming media content from various sites including YouTube, Vevo, Vimeo, Yahoo Music, MySpace, and Dailymotion. You can convert files from the web or from your computer using its online application, or you can also download the desktop version for quick and easy conversion anytime. If you want to convert local video to other audio formats, this tool can also do that. Another advantage of free Video to MP3 is that you can actually audit MP3 online before downloading. What's more, there's a search function that lets you search music videos and download MP3 directly. The website has complete tutorials and how-to guides for beginner users. Without installing anything, you can get things done within a short while.
2. Flvto
Flvto is one of the well-known websites like Video2MP3 that lets you grab MP3 files from YouTube and other video sites by simply typing the URL. You can also convert local audio and video files to MP3 format. It features a search engine used for finding and downloading MP3 music on the web. One of its most interesting features is that it shows "Most wateched" and "100 Most Converted Videos" which allow you to view the most popular and latest MP3 downloaded by other users. After downloading your MP3 file, you can choose to share the link via Facebook, Twitter, and other social bookmarking sites.

3. ListentoYoutube
ListentoYoutube is a Video2MP3 similar site that converts YouTube flash videos to MP3 audio. Like the previously mentioned converters, you just have to paste a YouTube URL. The software will extract the MP3 and provide you with a download link. This online application is easy to use, and it works efficiently and runs well on any browsers. Converting files usually takes from several seconds up to a minute, depending on the length and size of the video. The main downside is that you may encounter various intrusive ads and pop-ups while navigating the site.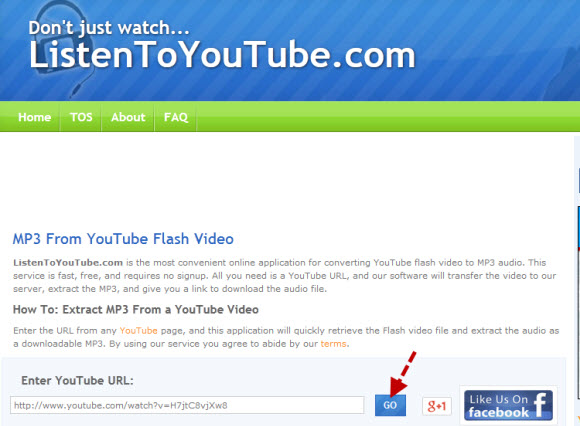 4. YouTube-MP3
This converter has a very straightforward and simple interface that's easy to understand. You'll find the URL box in the middle where you can paste the URL of the YouTube video that you'd like to convert, and below that is a brief description of the software (You can change the language by clicking any of the available languages at the bottom). What's good about this simple application is that it works fine with iPhone and mobile devices. It's a platform-independent software, that's why it works with any operation systems. However, it takes a comparatively longer time to convert files.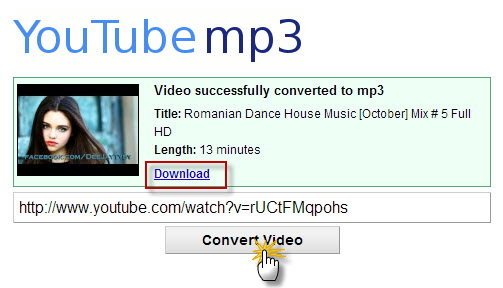 5. Dirpy
Dirpy is an excellent online program like Video2MP3 that allows users to search keywords or type in the video URL to download MP3. When you type keywords, you'll find a thorough list of related videos. Once you click your desired video from the list, you'll be able to record audio with a specific start and end points, and you can also choose the quality from low, high or HD. The software provides high quality MP3 and real-time conversion. However, Dirpy converts free media on the web so the major drawback is that it can't load videos that are affected by restrictions like age, location and content. Nonetheless, it still offers a wide list of videos if you use keywords.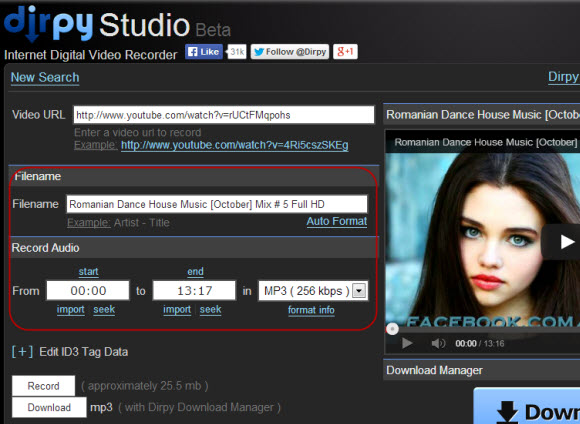 Comparison of Video2MP3 Alternatives
All of these applications are actually great tools to convert video to MP3. If you're looking for the best site that offers an online and desktop tool for downloading MP3 from various media sites and letting you convert local video to other formats. Also, attached with music searching and online MP3 listening functions, then Apowersoft Free Video to MP3 is the complete package. YouTube-MP3 is recommendable if you want a very simple converter that you can use on your mobile devices. Flvto has advantageous features that show the hottest and latest downloads by other users. This is good if you like keeping pace with the most popular trends. ListentoYoutube doesn't have any bells and whistles, and it may have lots of ads, but it's a fast converter. Dirpy is overall a great software because it lets you record a specific time and choose your desired quality.
Overall, these five options are really useful if you're looking for the sites like Video2MP3.