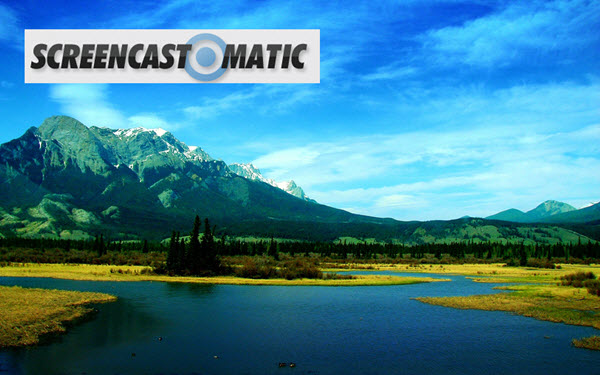 Screencast-O-Matic is a feasible tool for recording screen and sharing videos with friends. It is a web-based application offered by screencast-o-matic.com. Without installation, one can create interesting videos or record tutorial presentation quickly. It also offers a desktop version for offline use. Plus, people are able to take Screencast-O-Matic for recording screen on both Windows and Mac platform. Provided that Java is installed on one's PC, users are allowed to capture a video within 15 minutes. There will be no limitation for recording time in a Pro version.
How to use Screencast-O-Matic for capturing a video?
To make your own fancy videos, the very first step is to navigate to its official website and then choose to use an online application or download the desktop version on your PC. With an intuitive interface, one can start recording immediately. Screencast-O-Matic allows you to choose different sizes such as 480p, 720p, full screen or customize a specific region. And it supports recording sound from microphone and users are free to adjust the volume. But system sound is not available unless you purchase a Pro version. Just follow the guidance, and you will know how to use it.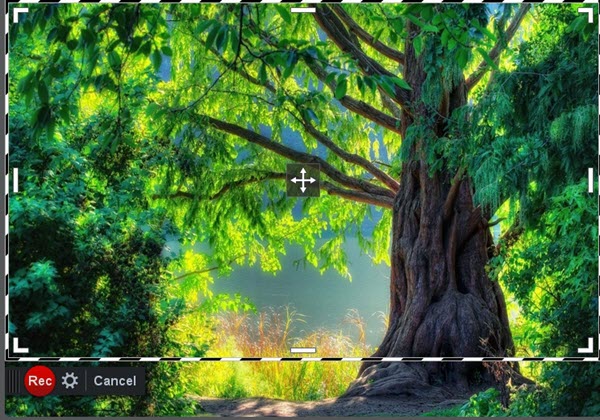 Click the "Preferences" first to configure the settings like hotkeys.
Choose the screen size before recording. After that, just find the "Record" button on the lower tool bar and click on it. It will start the process soon.
When you finish recording, click "Done" to save the file or you can upload to YouTube or Screencast-O-Matic site. And one can keep the file in selected folder and choose to save it in MP4, AVI, FLV format.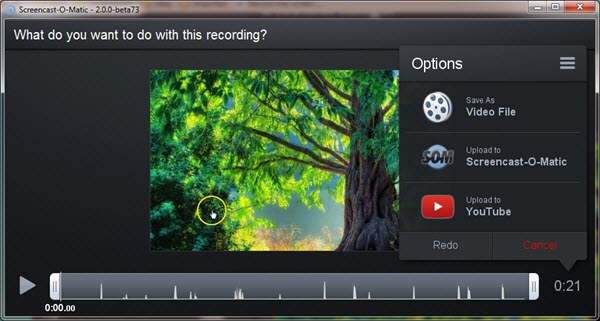 Although it is easy to record screen with Screencast-O-Matic, there are also some defects which can influence user experience. Probably, the most troublesome thing is that a yellow circle will appear around the mouse at all times during recording. This can be also quite annoying for users who don't need close attention to the cursor. Though the free online version works pretty simple, it also comes with limits that all the recorded videos will be added watermark, which can be quite frustrating.
Better Alternative To Screencast-o-Matic
Instead of taking Screencast-O-Matic for recording, it is advisable to utilize Apowersoft Free Screen Recorder for a better experience. Likewise, it is an online application so that one can directly record screen without installation. You could learn all the options upon having a glance at the interface. There are many kinds of modes for you to choose. For example, one can select a specific region, take full screen, choose the area around the mouse or record web camera. Moreover, it also serves as an audio recorder for recording audio track in MP3, WAV, AAC, FLAC, OGG, and WMA format. And it allows recording from system or microphone or both, so users can choose according to their own needs. Here is how it works.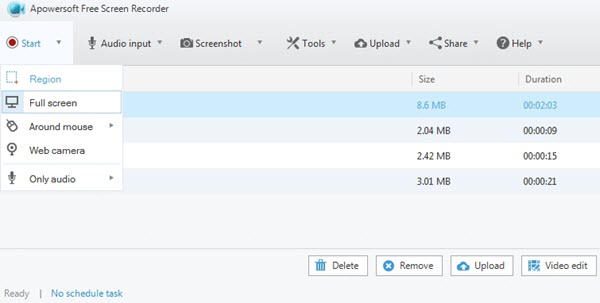 Go to the Apowersoft official website and hit on "Start Recording" button, allow the Java to run and you will launch it successfully.
Open the "Tools">"Options", configure the animation settings and output format. Select the sound source such as system, microphone or both in the "Audio Input" list.
Drop down the down arrow icon beside "Start" button and choose the mode to record.
Then click the "Start" button, and the process will start instantly.
Once done, press the "Stop" button and video will be stored in the selected folder automatically.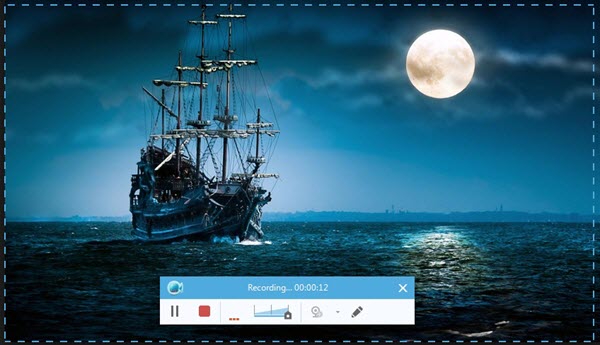 Just like using Screencast-O-Matic for recording, you are also free to adjust the volume. Plus, you are able to add various marks on the screen in real time. The recorded file will be saved in a high definition for enjoying with nice quality. And it allows user to upload video to YouTube so that you can share with your friends promptly.
And for those people who are seeking for a professional tool with more extra functions like creating a recording task, Apowersoft Screen Recorder Pro is a wise choice. With this tool, you can record video during absence. Just click the "Download" button below and you can experience more functions.
Comparison
After reading the Screencast-O-Matic review, users can be more familiar with this application. And you may also learn more info about the Apowersoft Free Screen Recorder. Below is a comparision chart for your reference, you can then determine which tool suits you most.
| | Screencast-O-Matic | Apowersoft Free Screen Recorder |
| --- | --- | --- |
| Record Time | no more than 15 minutes | no limits |
| Record Screen and Webcam | | |
| Record Audio Only | | |
| Set Mouse Animation | | |
| Editing Tools | | |
| Upload To YouTube | | |
| Watermark After Publishing | | |