Samsung GALAXY is a series of Android based mobile devices exclusively designed, manufactured and marketed by Korea's giant Samsung. It includes high-end smartphones, stylus equipped phablets, and Android tablet computers. The first version of Samsung GALAXY was released June of 2009 and at the time of writing, they are currently tagged as the ultimate iPhone killer making billions of sales worldwide.
With these smartphones reaching the hands of consumers all across the globe, there have also been lots of needs on efficient Samsung Galaxy file transfer methods. Given the big internal memory and expandable SD cards in their mobiles, users are pumping their Galaxy devices with movies, HD films, music files, games, photos, documents and all others. If you're one of those who regularly transfer files from PC to phone, below are efficient Samsung transferring tricks that can change the way you usually transfer files and turn out to be more efficient than ever.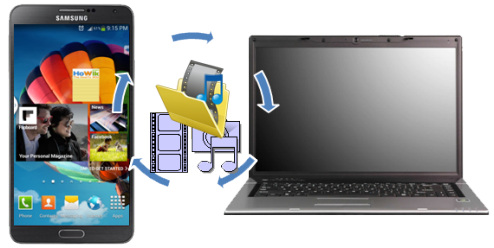 1. Use USB to transfer files (Default Method)
2. Use Samsung Kie App to transfer files (Accurate Method)
3. Using Apowersoft Android Manager (Shareware Method)
4. More tips
Method 1: Using USB Cable to Transfer Files to Samsung Galaxy
One of the greatest things about Samsung Galaxy devices is that transferring files between PC and phone is very easy using the manufacturer supplied USB cable. This method does not need any additional software or program because you can set your Samsung Galaxy phone as an external mass storage.
Connect your Samsung Galaxy device to your computer using the USB cable.
For first time users, it may take a while for your device to be automatically recognized.
Once recognized, go to notifications and select "USB Mass Storage".
A new drive on your "My Computer" should appear.
Explore into the drive to find common files in categories with their default names (as shown in the screenshot)
Copy and move files by simply dragging and dropping.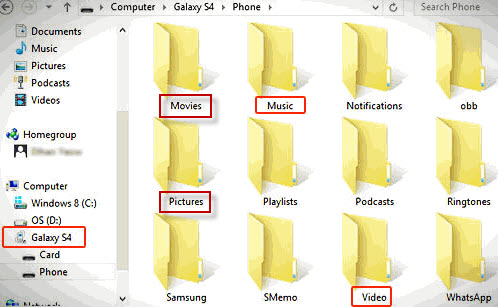 Method 2: Using Samsung Kies 3
Another way to transfer files from computer to Galaxy series is through Samsung's Kies 3. For the most recent and 100% legal Kies 3, make sure to download this free software straight from Samsung's website. To transfer files, do the following:
Using the USB cable, connect your Galaxy on your PC.
Open Samsung Kies 3 and wait until it recognizes your phone.
Head on to the left pane and select the right category for file transfer.
Click the "+" sign and choose from internal or external memory.
Copy and move files from PC to Phone or Phone to PC.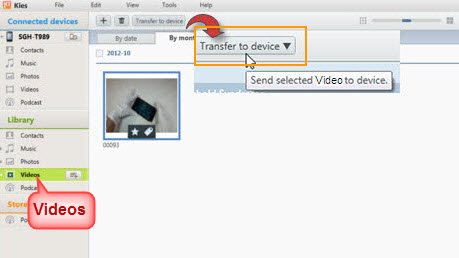 Method 3: Apowersoft Android Manager
How to transfer files from PC to Samsung Galaxy phones is undeniably simple with the help of USB cable and Kies 3. But what if you also need to back up all your mobile contents, manage media files, export SMS and control installed android applications? With Apowersoft Android Manager, all these things are possible plus more.
The Android managing software is an all-in-one and powerful mobile tool. It can sync contents from phone to PC with just few clicks, restore android files and create backups, organize contacts and text messages. Also it provides an easy file transfer protocol for all Samsung Galaxy devices and other android models. This well capable Samsung Galaxy file transfer tool is easy and straightforward to use, just check the steps below:
Download and install this tool on your PC.
Using the USB cable, connect your Galaxy Phone and wait until it recognizes your device showing phone's name and model number.
The main interface will appear and you can select appropriate action whether to transfer files, backup files, manage your audio/video, etc.
Explore the content of your phone by checking out categories on the left pane.
Right click on the file that needs to be transferred and select "Export to My Computer".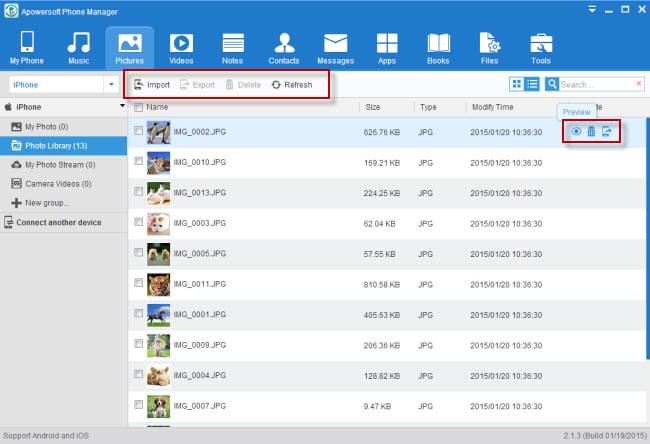 With its sleek, cleanly categorized and user-friendly interface, the Apowersoft Android Manager is one of the best tools you could ever use to efficiently transfer files to Samsung Galaxy. From the fact that is can copy files in a blazing fast speed, it also has additional features are likewise present from creating backups to direct access on your SMS and contacts. Lastly, the application control function of the Apowersoft Android Manager is so fun to use that you could play games directly on your PC by simply utilizing the apps installed on your Samsung Galaxy smartphone.
How to Transfer Media Files from Computer to Galaxy Series on specific models
Transfer Files from PC to Galaxy S4
You can transfer files using the USB mode mentioned above. But the most efficient way to transfer file is using Apowersoft Android Manager.
Connect your device using USB and launch the application.
Head on to the left pane and select the right category.
Click the "Add" icon to add additional files to your Galaxy S4.
Learn more about how to transfer files to Galaxy S4 from PC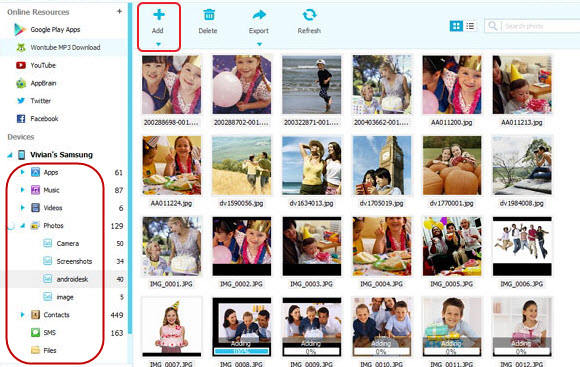 Transfer Video to Galaxy Note 3
Being the latest Samsung Phablet, it is easier to organize and transfer files using it. Everything can be done in four steps:
Connect Samsung Galaxy Note 3 to your PC using the USB cable.
Open the tool and wait until it recognizes your device.
Add or transfer files by clicking the right category on the left pane.
Hit "Add" button to add videos to Galaxy Note 3.
Learn more about how to transfer Video to Galaxy Note 3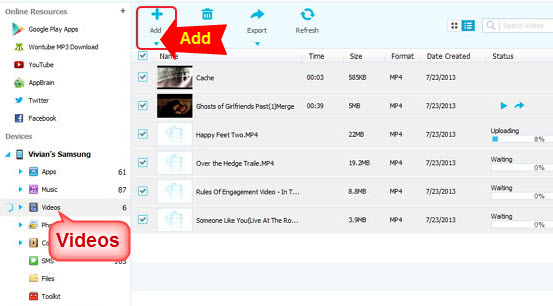 Transfer Music to Galaxy Note 2
The older brother of Note 3 which is the Note 2 is similarly supported by Apowersoft Android Manager. To transfer files both from phone to PC or PC to phone, just:
Connect Note 2 using USB cable and run the program.
Select appropriate category on the left pane.
To add songs to Note 2, hit the "Add" icon to transfer your songs to Samsung Galaxy Note 2.
Learn more about How to transfer Music to Galaxy Note 2