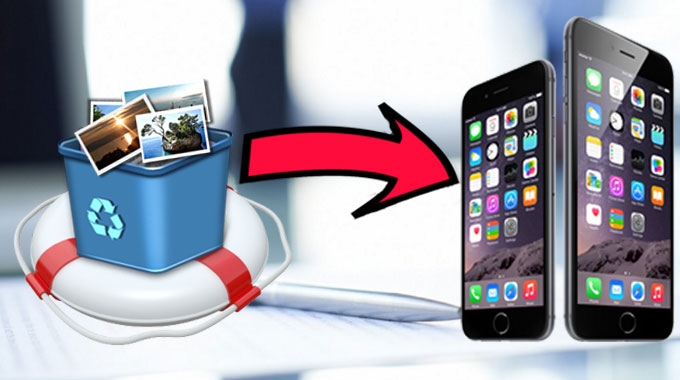 There's nothing more frustrating than taking precious pics or videos but accidentally deleting them. For example, you may have deleted multiple photos on your iPhone while viewing your gallery. Sometimes, mobile devices also tend to malfunction which results in the loss of your important data. Also, when you reformat your device without saving backup completely, there's also a high chance that files disappear.
If you've deleted pictures on your phone, there's no need to fret as you can actually retrieve deleted photos from iPhone. This article will help you find out exactly how you can do that.
1. Retrieve photos without iTunes backup
2. Get back photos from iTunes backup
3. Restore iPhone pictures via iCloud
First Solution: how to retrieve deleted photos on iPhone without iTunes backup
1. PhotoRec (Free)
Don't have iTunes backup file? You can still recover your pictures with the use of PhotoRec. It's free, open-source data recovery software. However, it only works on jailbroken phones, and the recovery process can be complex for beginners. Also, it doesn't offer preview function and selective recovery.
2. iPhone Data Recovery (Paid)
This is another tool for retrieving deleted pictures from iPhone. Compared to PhotoRec, it's easier to use and great for novice users. It offers preview and selective recovery. The only disadvantage though is that the app isn't available for free. But we are more willingly to pay for a certain amount in exchange for saving our precious photos.
iPhone Data Recovery is specially designed software for recovering lost iPhone data and media files. You can use this well-rounded tool to recover all of your lost iPhone pictures. What's great about this software is that the restoration process is easy, risk-free, and secure. With the intuitive interface empowered by this tool, you can recover deleted files and lost data on iPhone, iPod Touch, and iPad. Also, it's compatible with both Mac OS and Windows.
Keep in mind that you shouldn't use your device after losing your photos so that data won't be overwritten. It's best to use the program as soon as possible for fast and complete recovery.
How to retrieve deleted pics from iPhone using iPhone Data Recovery:
Step 1: Connect your iPhone with your PC.
Step 2: Run the software, and "scan" your iPhone.
Step 3: After scanning the lost file in your iPhone, you can "Preview" all recoverable files, and choose which ones to restore. Save them to your PC.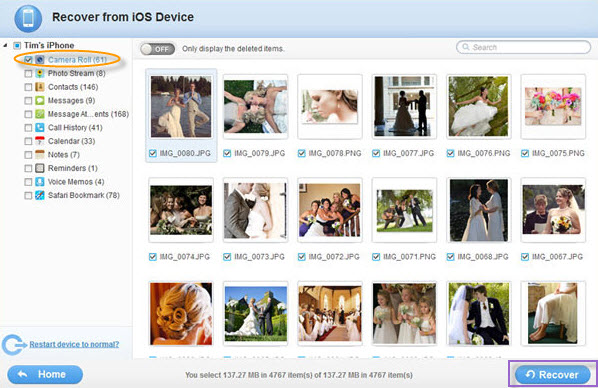 Second Solution: How to retrieve lost photos from iPhone from backup
1. Restore from iTunes backup
If you have iTunes backup, then you can restore deleted files for free. However, you can't preview files that you'd like to restore, and there's also no selective restore option available. It means that you will probably get all raw data including unwanted ones. Before getting back your lost files, make sure that you don't sync your phone with iTunes after losing the pictures because the backup will get updated, and you may not find the old files anymore.
Here's how you can restore pictures using iTunes backup:
Step 1: Open iTunes and disable auto sync.
For Windows system: Click "Edit" > "Preferences" > "Devices".
For Mac OS: Click "Preferences" > "Devices".
Step 2: Check the box "Prevent iPod, iPhones and iPads from syncing automatically".
Step 3: After connecting your device, click "Restore Backup" and then click the "restore" icon. Just give it a short while and you will get missing files from the latest backup. But if you failed to sync them with iTunes before, you may still turn to iPhone Data Recovery for the only solution.
2. Use iPhone Data Recovery
Aside from restoring files without backup, iPhone Data Recovery can also retrieve lost photos from iPhone with iTunes backup. Better than directly recovering from iTunes, it enables you to preview and choose the exact files for recovery. Also, there's no risk of losing data. Here's how to get your photos back:
Step 1: Run the program.
Step 2: Click "Recover from iTunes Backup File" > "Choose your phone's backup" > "Start Scan". Preview your pictures one by one, and choose which ones to restore.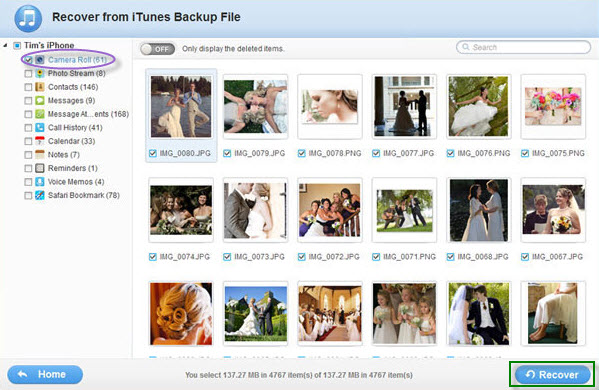 Third Solution: recover from iCloud
You can backup files with iTunes, Photo Stream or iCloud. This is a free option, although there are no previews and selective backup features. The same as iTunes which lets you backup files in case of losing them someday, iCloud is another storage system. Another storage system is iCloud, which gives you 5GB free storage. It also features Photo Stream, which sends copies of your newly taken media files to all of your Apple devices. When you take pictures and videos, they will be uploaded automatically to your iCloud account that's why you can restore deleted pictures using your iCloud backup. It's best that you backup your device with both iTunes and iCloud regularly.
These are the most effective methods to retrieve deleted photos from iPhone. By following the tips and steps listed above, you can surely get back your precious photos in no time.