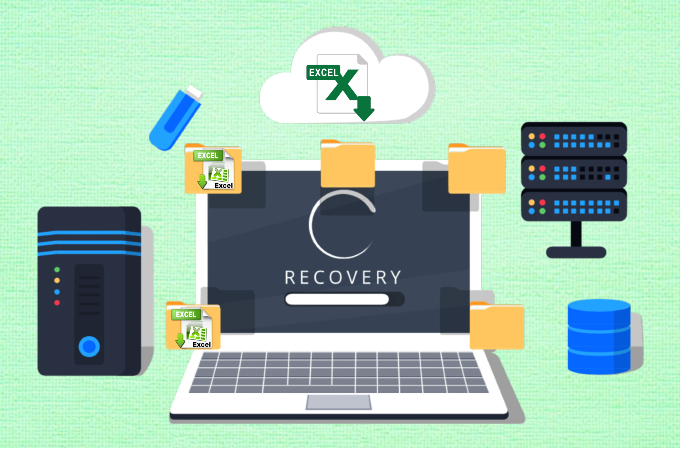 It's always depressing when we lose important documents on our PC. Excel spreadsheets, for example, contain various data and information that are most of the time important. That is why when you accidentally delete or lose excel files, you'll do anything to get it back. On that note, you'll probably want to learn how to recover excel file easily since you are reading this. Here are some of the best ways that you can do to get back your excel spreadsheet.
Recover files with Excel
Use Third Party Tools to Recover Excel Files
Recover files from within Excel
Before panicking after losing a file, you should first check Excel itself if the file is recoverable. Remember that the developers of Excel have anticipated such instances where a file got deleted so they included a contingency plan. Here are the steps to recover deleted excel file using the default feature of Microsoft Excel.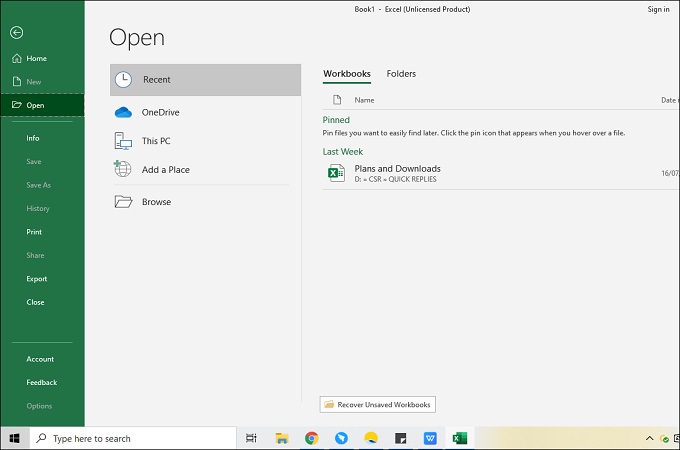 This method is for a document that was never saved in the first place. This commonly happens while working on a new spreadsheet and you accidentally closed Excel.

1. Open Microsoft Excel, and from the home screen, click "File." From there, select "Open" and then click "Recent."
2. Next, click the "Recover Unsaved Workbook" button located at the bottom of the window. A file explorer window will now appear, and you need to open the file that is in thefolder.
3. The unsaved document will open in Excel, and this time you need to click the "Save as" button to recover it completely.
Recover Previous Versions of the Document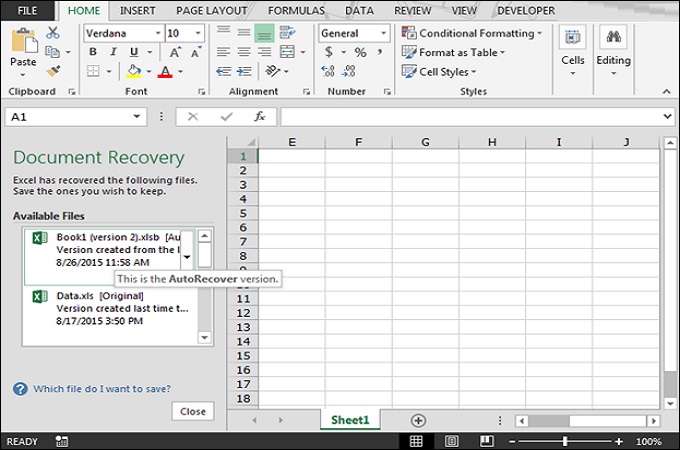 This method lets you recover a version of the excel document that you have overwritten. This means that you can revert the file back to its previous form before you made changes.
1. Open an existing Excel spreadsheet, and then from "Document Recovery" panel, select the version of the file that you want to recover.
2. You can also recover lost excel file version by clicking the "Show Recovered Files" button.
ApowerRecover
While using the built-in recovery feature of Excel is a great idea, you may still not get your files back. It's these situations where you'll need the help of a professional recovery tool. ApowerRecover is a powerful tool that lets you recover any file from your PC. It's a great way to recover excel file because it scans the entire PC thoroughly to make sure you get what you want. Here are the steps that you can take to use ApowerRecover.
Download and install ApowerRecover on your PC. After that, launch the tool and from the home screen, choose the location where the file was lost. Hit the "Scan" button to search for the lost excel file.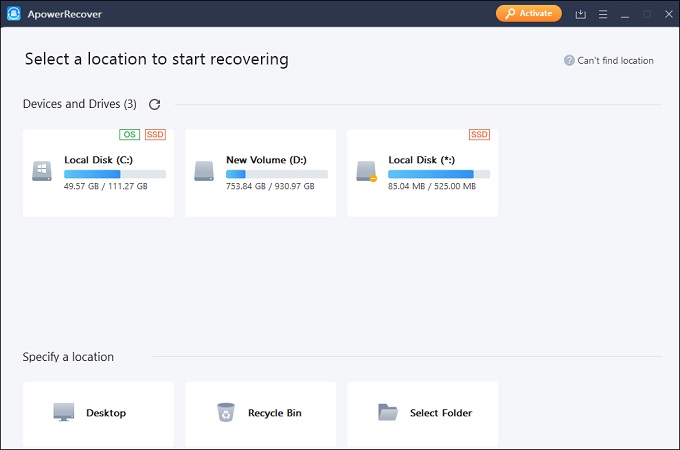 After the scan, see if the excel file is among the retrieved files from the preview panel. If so, tick the checkbox and then hit the "Recover" button to begin the recovery process.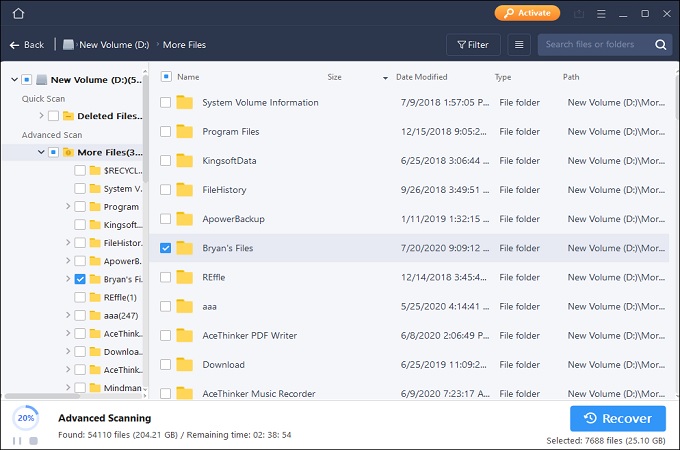 Open the file location of the newly recovered file, and then transfer it to a more secure folder. You can also open it immediately after recovery.
iCare Data Recovery
iCare Data Recovery is a freeware that supports excel file recovery. Being a freeware, it requires no purchase of any kind. However, it has a Pro version with more features that just simple excel recovery. On the other hand, it can recover deleted excel file within seconds. It's fast scan and retrieval process is what sets it apart from others. Here are the steps that you can follow to use iCare Data Recovery.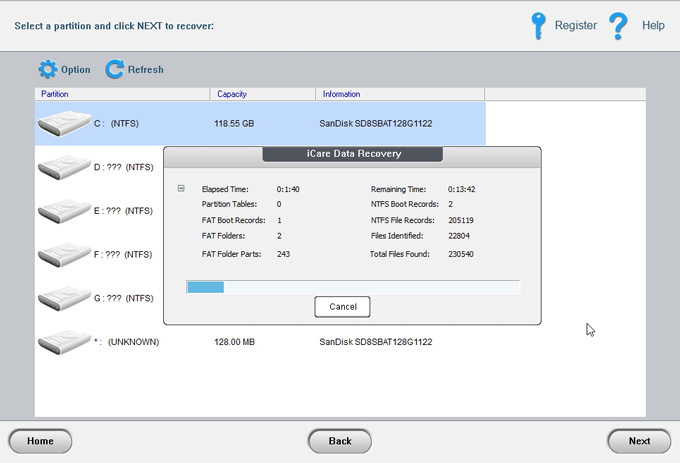 1. Install the tool on your PC.
2. Select the drive that you want to scan, and start the scanning process.
3. From the list of deleted files that will appear, look for the excel file. Select it and then click the "Next" button to start the recovery.
OfficeRecovery for Excel
Lastly, we have OfficeRecovery for Excel. This tool specializes in recovering corrupted Excel files and is very useful at that part. The tool, as the name suggests is built for excel documents. Aside from recovery, it also repairs any issues that the file will have upon recovery. Fix formulas with links, filter settings, and even the structure of multi-sheets using this tool. In general, if you want to recover lost excel file without sacrificing the contents, then OfficeRecovery for Excel is one of your top choices.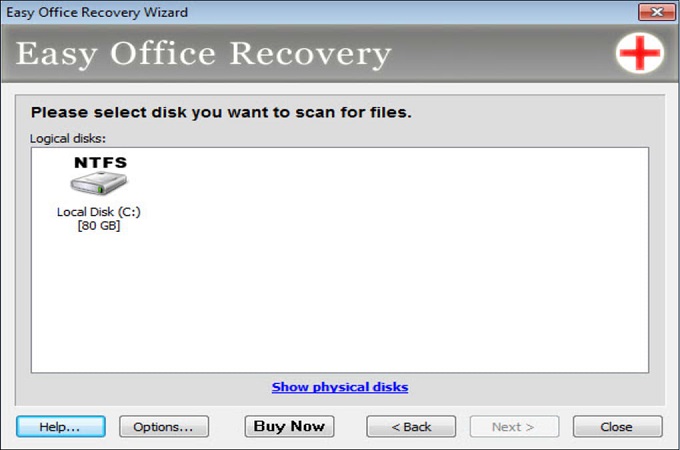 1. Install the OfficeRecovery of your PC.
2. Launch the tool, and then click the "Recover…item" button from the "File" tab.
3. From the file explorer window that will appear, choose which excel file to retrieve and then hit the "Recover" button. After that, rename the file and transfer it to a different folder.
Conclusion
File recovery is still a technology in progress. Although there are a lot of tools out there that promise to recover the file you need, only a few will actually work. That is why you need to check if the tool that you use supports its claims. The tools mentioned above, for example, may have their flaws. However, they stay true to their promise that they will recover excel files for you.