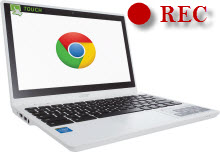 Aside from Windows PC and Mac, Chromebook is also popular laptop for its affordable price and simple using operation. The lightweight and long last battery enable people to use Chromebook at any place they like, such as working at home or in Starbuck or even watching YouTube videos in resort. As the name implies, Chromebook runs on Chrome OS which is totally different from Windows or Mac. So users may meet some problems in using it. When users are having distance communication with someone on their Chromebook, they will find it hard to record or capture the things happening on their screen for sharing. In order to help those users who don't know how to record video on Chromebook, the following part will provide three helpful solutions.
Effective solutions for Chromebook
The solutions suggested below can record everything happening on your Chromebook screen delicately. You can search and add them on your Chrome browser from Chrome web store.
Method 1: Screencastify
Screencastify is a very simple using application for Chrome. It's capable of recording all the activity on tab and desktop along with audio (Microphone or Tab audio). It lets you customize the capture frame in recording video on Chromebook, you can choose preferable recording tab size and resolution. The video will be saved as WEBM or VP8 file in Google Drive. Plus, this tool allows you to upload the video to YouTube immediately when you're done with recording. You can follow the instructions below.
Navigate to site of Chrome web store then search Screencastify.
Add it on Chrome browser by clicking the button of "Add to Chrome". After that, its icon will emerge on tool bar.
Click the icon then a dialogue will pop up where you can customize recording settings (Recording area, Resolution, Audio, etc.).
Hit on "Start Recording" button to get start. During recording, you can pause at any time you want by clicking the button on control panel.
Press "Stop Recording" when you want to finish recording task.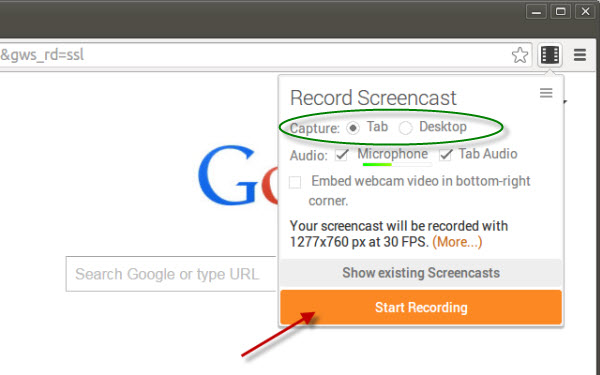 Tips: When recording is over, you can rename the video on the panel, and some other options are also available like saving video to local drive and uploading video to YouTube. Note that, this extension requires you to upgrade to paid version, otherwise, you are allowed to record video for only 10 minutes.
Method 2: Skiblz Cam
Skiblz Cam is also a screen recorder for Chromebook, which can help you to record your screen delicately in fine quality. You will find this tool handy to make video tutorial, presentation and also reports of bugs happens on your computer. The videos recorded with this tool will be saved in the formats of WEBM and VP8 which can be played on various browsers. The operations are very simple, you can do as follow.
Add Skiblz Cam to Chrome through Chrome web store.
Click the extension icon to start recording.
Click the icon again when you want to end recording. Once recording is finished, a new tab will be opened where you can preview and save your video.
You can save video to desktop by clicking "Save this video" at right bottom of dialogue.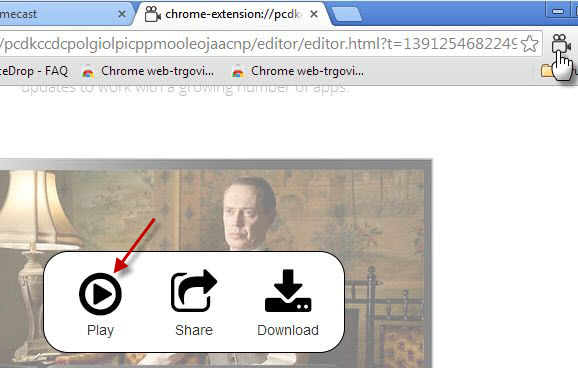 Method 3: Snagit for Chrome
Snagit is a professional application for taking screenshot and recording screen. The Chrome extension is also available on Chromebook. This screen recorder for Chromebook can capture whatever you see on screen as well as the sound from system and microphone. The video can be saved as AVI file in your Google drive. In addition, you are also allowed to share your video to friends and all over the web if you want.
Install Snagit on your Chrome browser then click its icon on the tool bar.
Click "Screen" mode on the pop up dialogue then choose recording area (Customized region or Whole screen).
Click "Stop Recording" to finish recording and save the video to your desktop.
Click the blue share button at right bottom to share your video to YouTube.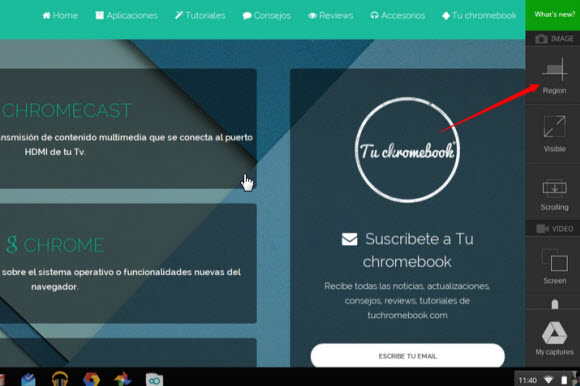 All of those three solutions can do excellent job in recording video on Chromebook. You can compare their features to choose one that suits you best.