PowerPoint is indeed the most popular presentation software that we have these days. That is why many individuals from different sectors often use this program in creating their presentation, either to propose something or to impart knowledge to the listener. However, many users like to convert their PowerPoint presentation to video. This is for them to quickly get access to their presentations, and play them without a need of a computer program. It is also beneficial in case there are no Windows operated computers available during the presentation, since the presenter can play the video presentation on other computer with different operating system. But is there a way on how to record a powerpoint presentation? The answer to this question will be shown as we continue with the post.
To get an outstanding recording tool simply hit this button
Recording through PowerPoint App
The easiest way to record powerpoint presentation is by using PowerPoint app itself. Many people may not know this, but Microsoft already added a feature to this tool that allows the users to turn their presentation into a video. It is a good way to utilized, however, this function is only applicable to users with MS PowerPoint of 2010 and above. So if you have a lower Windows OS then you need to get an upgrade. To use this program all you need to do is to open your PPT presentation then click "File", then hit "Save and Send". The user can select the size of the video that they need, after that click "Create Video" to start with the process.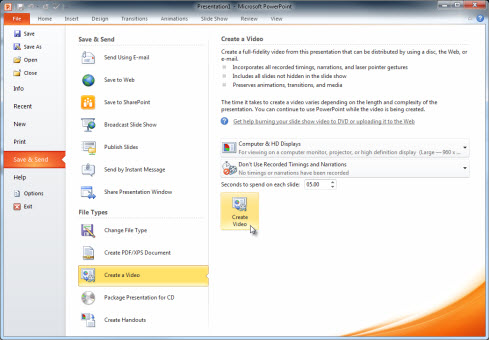 Using a screen recorder program
RecCloud
The more advance way to record powerpoint is with the use of a robust screen recorder named RecCloud. By using this tool, you can easily record any PowerPoint presentations without wasting your time setting the transitions all over again. And the good thing about this program is it also records any audio and video clip that is included in the presentation. Moreover, this screen recorder also provides a high quality recording output, so there's no need to worry about losing the quality of your PowerPoint presentation. In case you missed a text or markings into your presentation, then this program has a built-in annotating tool that you can utilize while you do your PowerPoint recording.
To use this application:
Go and visit RecCloud's official page.
Next is to click "Start Recording" to launch the screen recorder. (For first time users installing the launcher is needed to use the tool properly.)
Now open your PowerPoint presentation and the recording frame along the area to be captured. Now to record PPT simply hit the red "Recording button" to start the recording.
After that, start playing the slide presentation that you have.
When the slideshow is over, just click the "Stop" and a preview of the video will appear. The preview window also comes with a video trimmer in even that you want to get rid of some portions before saving it.
To finally save the recording, click "Save" from the bottom right area of the tool. There's also an option to save it directly on RecCloud's online storage and you can do it by clicking the cloud-like icon.
Alternatives for recording PowerPoint
Leawo Powerpoint to Video
This program is an efficient PPT to video converter that can convert numerous presentations including PPT, POT, PPTX, PPS, and the like. It also preserves all of the transitions and animations available on every slide. Plus it allows the user to add music to the output video. However, this program does not retain the video clips and audio file that is inserted on the original presentation with its free version. It's a good app, if you don't have any media files inserted on your PPT presentation. To utilize this tool, just open it, and when you reach its interface, click "Add" button, make some necessary settings and hit" Start".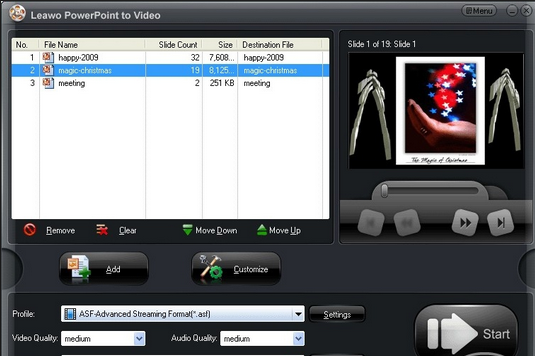 PowerDVDPoint Lite
Like the above program, PowerDVDPoint Lite serves as a PPT to video tool to DVD converter. This application allows its user to convert PPT, PPTX, and PPS into a video format such as MOV, WMV, M4V, and ASF. By using this app, user can modify the video and audio bitrate for the entire presentation, including the desired timing for its slides. It also enables batch conversion which saves time. On the other hand, if you hand a specific timing for each slide transition, then you need to set it manually, if not the tool will use its default timing which can ruin your presentation. To convert a PPT file, open PowerDVDPoint Lite, and add a presentation, after that make some necessary settings then start with the conversion.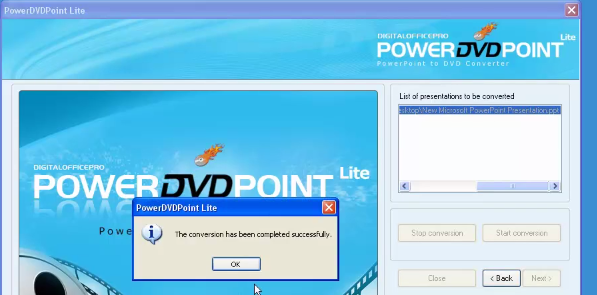 Conclusion
On how to record on powerpoint brings concern to some individuals, but by utilizing the proper tool this can be easily done. In recording PowerPoint presentation, the user must be aware of the video format that they must have for the video output, to avoid any delay and trouble with incompatibility. When it comes with converting PPT to video, the user must be sure that the proper timing for each slide is set. On the other hand, if you need to take snapshot of your PPT presentation then make use an application called Free Screen Capture.