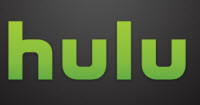 Hulu is one of the favorite sites for the fans of TV shows, which comprises numerous programs like TV series, video clips and movies, etc. Since Hulu provides fabulous TV series and movies but most of them are not downloadable even by using third-party tools, this article shows you how to grab them with recorder solutions. With these recorders, people can save those Hulu videos for offline playing, so that they can enjoy their favorite programs at anytime and anyplace. For this case, three solutions are listed as below aiming to teach you how to record Hulu TV programs.
Optimal Solution – Apowersoft Free Online Screen Recorder
Apowersoft Free Online Screen Recorder is a web-based tool that can run on webpage directly. Its recording functions are powerful enough to record all the activity on screen. And the recorded videos can be saved in HD quality to your hard drive, which just likes original streaming. Absolutely, this tool also allows you to choose preferable video format like AVI, MP4, WMV, MKV, etc. so that you can play Hulu videos on most portable devices smoothly. You can follow the steps below to record Hulu videos.
Step 1: Visit the site of Apowersoft Free Online Screen Recorder then click "Start Recording".
Step 2: Go to "Tools" > "Options" where you can customize recording preferences, such as video format, hotkeys, Bitrate, Frame rate, etc.
Step 3: (Significant) Choose desired audio source in the menu of "Audio input". (It's advisable to choose system sound to record live streaming).
Step 4: Play a video on Hulu you would like to record.
Step 5: Resume to console and drag down "Record" then select a recording mode for recording Hulu videos. (For the best visual effect, you'd better play Hulu video in full screen and choose full screen recording).
Step 6: Press "Stop" button or the F10 (default hotkey) to end recording once the video is over.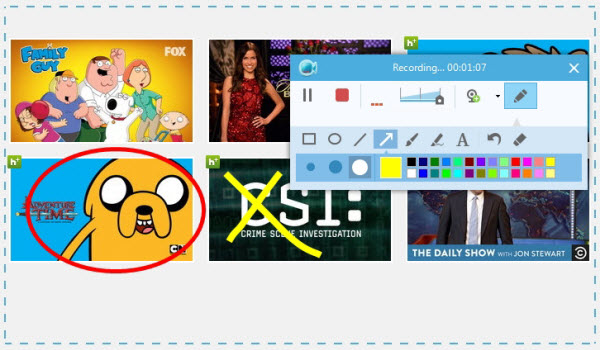 The video will be saved in your local drive after above procedures. You can then export the video to your portable devices. If you do not want to run the online program on webpage every time, the desktop version is also available. It's very convenient to use. Click the button to download it.
Other efficient tools
Aside from the former application, some other apps are also available for making screen videos. You can check the following part to learn more details about them.
Bandicam
Generally, Bandicam is being used as gameplay video recorder for recording high quality videos. With this feature, we can also use it to record Hulu video in great definition. What's more, the audio and video recorded by this tool are in high synchronization. Also, it supports AVI and MP4 for output videos. The exact operation steps are extremely simple as follow.
Launch Bandicam then customize audio and video settings in program settings.
Adjust recording frame and make sure it covers the region of Hulu video.
Press "Record" button to start recording.
Press stop icon to finish recording and save the video.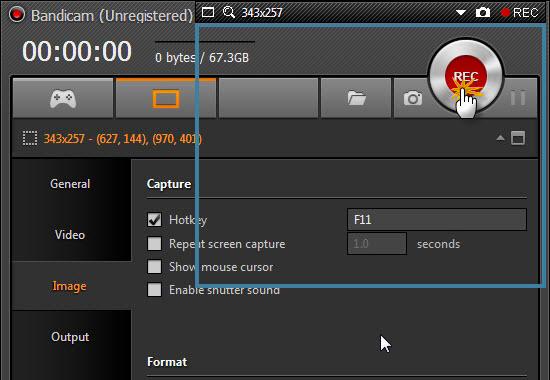 Notes: Bandicam is not an absolutely free application. In trial version, you're allowed to record for no more than 10 minutes with a watermark attached. All the restrictions can be removed once you have purchased it.
Icecream Recorder
Icecream Recorder is another free application for making screen videos. This tool features a pretty interface and performs wonderfully in recording HD quality videos. In the meanwhile, it allows you to change recording settings according to your preference like changing file directory, audio input and hotkeys. To know how to capture Hulu video with this application, just do as the following instructions.
Open Icecream Recorder, and click "Settings" on main interface. Upon the pop-up window, choose desired audio source (choose system sound for recording Hulu videos) and customize some other preferable recording settings. When you have done with these steps, press the button of "Capture video" then drag a region on Hulu videos. Click "Rec" on control bar to start recording. When the Hulu video is over, you can press "Stop" button to finish recording. The video will be saved in your local drive in the format of MKV.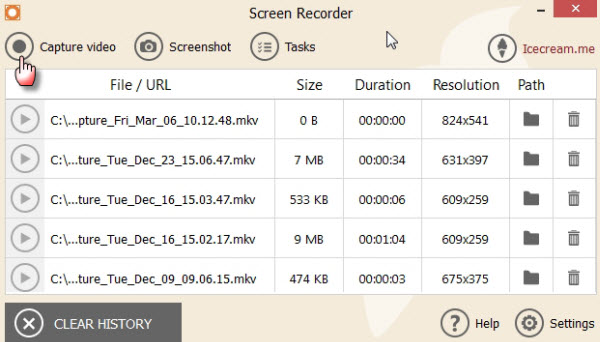 For essential need of making high quality videos, all of these three tools have extraordinary performances. However, Bandicam needs users to pay to unblock the entire functions. That's a little discouraging. As for the last solution, it offers no choices but MKV format for the output videos. Generally viewing them, Apowersoft Free Online Screen Recorder is the best one to record Hulu video for free.