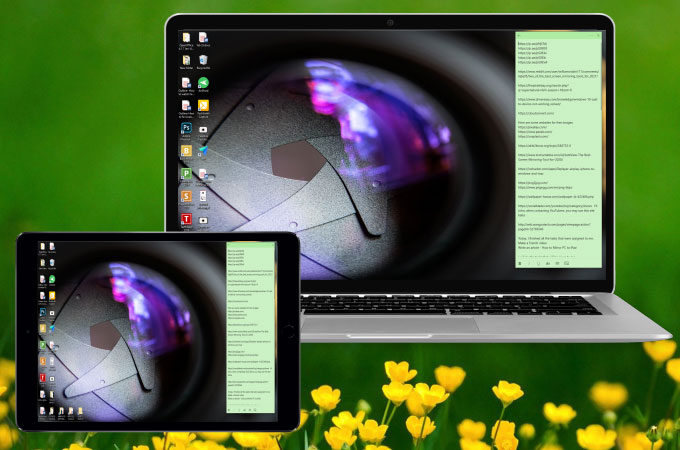 Your computer's screen is a very suitable screen size for your work online. But there are times that you need to go to a certain spot, whether in your home or in your office, when you want to take your PC with you and work more comfortably. As we know, computers are fixed to a certain spot and require a lot of effort to move from one place to another. The good thing is that you can now cast your computer's screen to another external screen of adequate size for work– your iPad. You can now mirror PC to iPad with the help of the following best screen mirroring tools listed in this article. Check them out below.
Top 3 Ways to cast PC to iPad
ApowerMirror
To stream PC to iPad, the first tool that you can rely on is ApowerMirror. This amazing tool is considered one of the best and easiest screen mirroring tools that you can use across different platforms and devices such as your computer, mobile devices, and iPads or tablets. Moreover, it offers additional features that can help you enjoy the screen mirroring process more. These features are video screen recording, capturing screenshot, and a whiteboard marker. All these are applicable even when the mirroring process is ongoing. To start using this amazing tool, just follow the simple steps we listed for you below.
Get the app and have it installed on your PC and iPad.
On your iPad, tap the Mirror button > Name of your PC then choose Mirror PC to Phone.

Your computer's screen will eventually be mirrored and cast on your iPad.
LetsView
Another top screen mirroring tool that you should include on your list of how to mirror PC to iPad for free is LetsView. Just like ApowerMirror, LetsView surpasses lots of screen mirroring tools when it comes to the quality of the screen being mirrored. It offers high definition resolution even when casting to larger screens, which is why a lot of users are very satisfied with this tool. Also, features like screen recording, whiteboard marker, and taking screenshots are available. Get started using this app with the help of the procedures listed here.
To start, install the app on your PC and iPad. Don't forget to link them to the same WiFi server.
On your PC, launch the app then go to the Computer Screen Mirroring. Just enter the PIN code provided on the app's interface on your iPad.

Your PC is now finally mirrored to your iPad's screen.
TeamViewer
The last tool that can also help you seamlessly cast PC to iPad is called TeamViewer. This tool allows you to access your PC remotely either from PC to iPad or vice-versa. Aside from being a cross-platform tool for screen mirroring and screen sharing purposes, it can also help you save and transfer files from one PC to the other. So if you are looking for a tool that you can use aside from mirroring your PC to your iPad, this is the best tool for you. Here are the steps that you use as your guide to connect both devices.
Download the app on your iPad and the TeamViewer quick support app on your PC.
On your iPad, just input your computer's ID and password to connect.

Once connected, you can now see your computer's screen on your iPad.
Conclusion
All tools listed above are great options that you can use to mirror and cast your computer's screen to your iPad. All tools offer a seamless screen mirroring experience with easy steps to follow. If you want to enjoy other features aside from just mirroring and screencasting, use Apowermirror. If you want to use a tool with the same features for free, use LetsView. And if you are looking for a screen mirroring tool that can also help you save and transfer files, use TeamViewer.