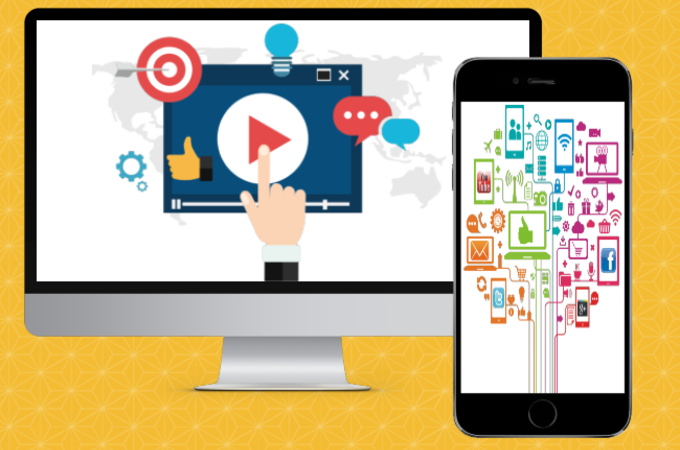 An advertisement is used to introduce products and services provided by a company. A successful advertisement tells the consumers information about the variety, brands, and types of functions available. Advertisements are one of the most efficient ways to communicate with the target market of the company. However, it may take you too much time to find the right program that you can use to make an attractive advertisement video. Luckily, we gathered the best ad video makers available for multiple devices and browsers. Dig deep into this article to check out the fantastic tools we recommend below.
Best Online Video AD Maker
LightMV
First on the list is LightMV. This is an online tool that you can access using multiple browsers, including Mozilla Firefox, Google Chrome, and Safari. In addition, it has both mobile and desktop versions available for Windows, iOS, and Android devices. Furthermore, this offers highly-customizable video templates for multiple purposes that enable you to upload multimedia files in one-click. Also, it has a new feature that lets you insert your personalized company logo to the video. Moreover, this tool can help you to endorse video ads on different social media platforms directly. Here are the steps on how to create a video advertisement using this online video ad maker.
First and foremost, go to the official website of the tool using any web browser.
Second, choose your desired video templates on its webpage to proceed with its editing functions.
Tips: Click the picture below to watch this eye catching video advertisement template.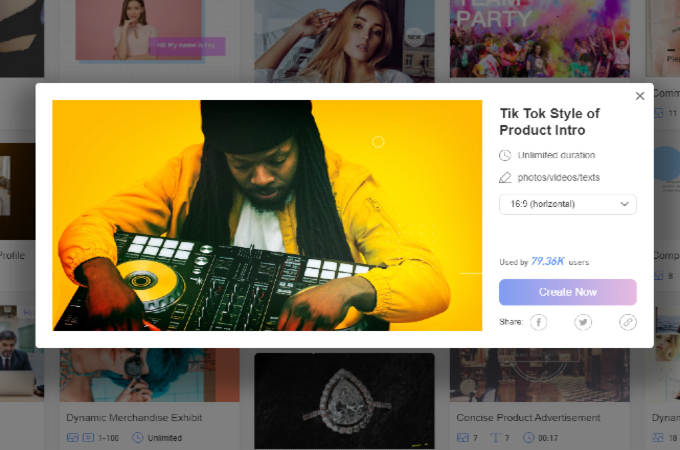 Third, click the "+" icon to upload the photos of the products you want to include in the video. Then, click the "T" icon to add text on the uploaded file.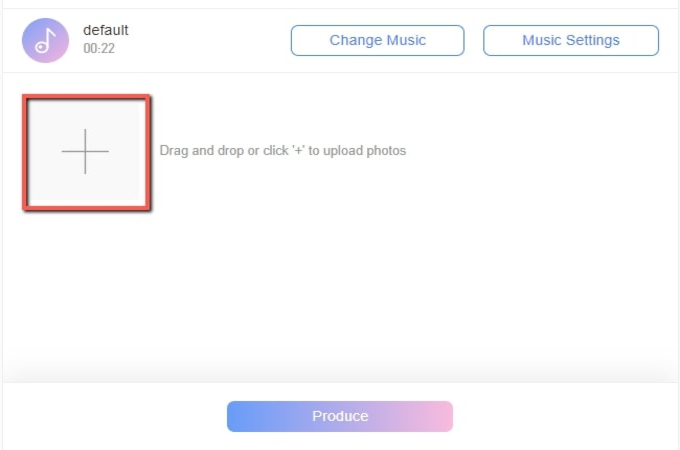 Fourth, go to the "Change Music" option on the upper right part of the tool. From here, click the "Add Music" button to upload the audio clips you want to use as background music.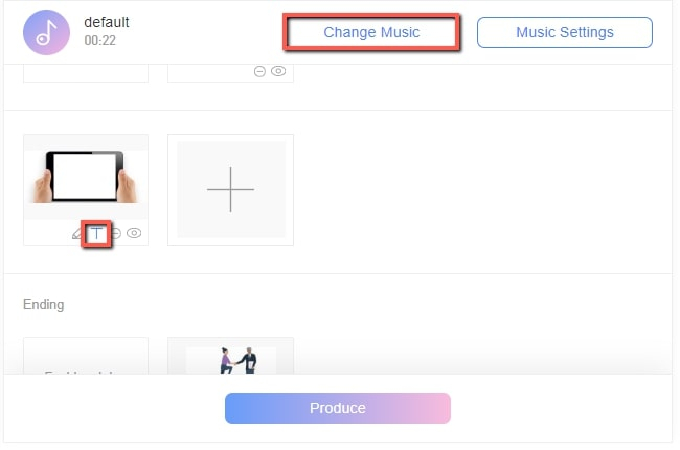 Finally, click the "Produce" button and click the "Download" button once render to save the video on your computer.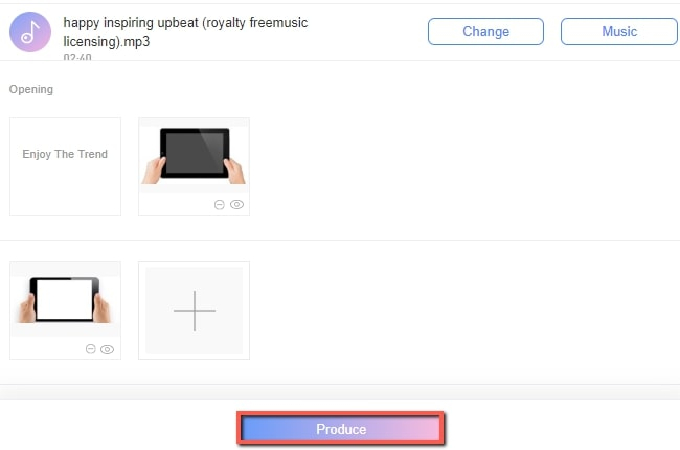 Vyond
Second, we have Vyond. This is another online tool that can help you to produce animated video advertisements for your business. You can create videos in different styles like contemporary, business-friendly, and whiteboard animation. In fact, this online tool has a high-end editing function that you can utilize to enhance the video. Furthermore, this advertisement video maker has a cool feature that enable you to insert webcam overlay in the video.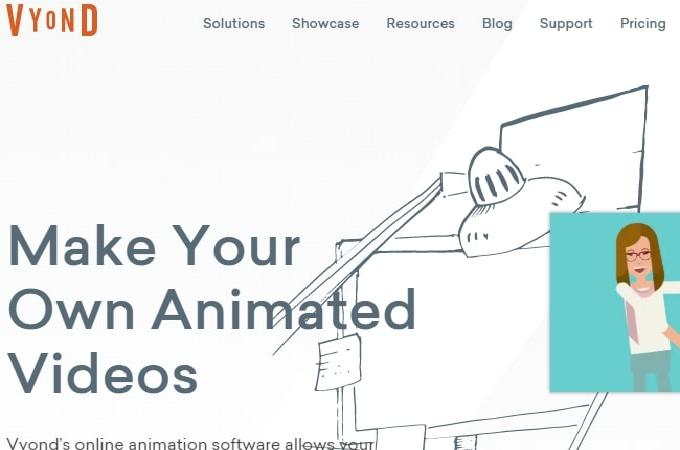 Pros:
It has rich collections of charts, props, text, and audio clips.
Provides animated characters from different profession.
Capable of editing the video with your colleagues at the same time.
Cons:
You need to pay to access all of its features.
It doesn't have a mobile and desktop version.
Magisto
Third, we have Magisto. This is a video editing tool that you can use to boost your business's popularity by creating video advertisements. In addition, it can create video ads for multiple purposes like real estate, fitness, and many more. This online tool allows you to save the videos in different aspect ratios. Moreover, using this tool will enable you to save the video in high-definition quality.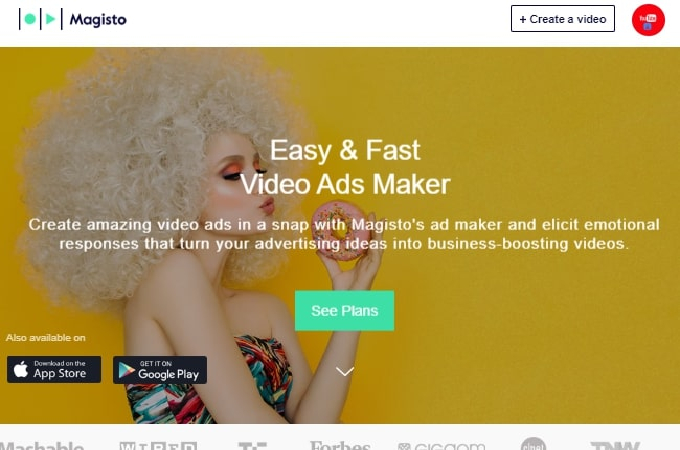 Pros:
It offers royalty-free stock photos and videos.
You can upload images from Google Photos directly.
It has a mobile app for both iOS and Android devices.
Cons:
Limited video editing functions.
It can't produce videos longer than 10 minutes.
Product Marketing Ad Maker
Fourth, we have Product Marketing Ad Maker. It's great when you want to know how to make an advertisement video using Android smartphones. Furthermore, it has an extensive collection of templates for grocery stores, kitchen products, appliances, shoes, and more. Not to mention, it has other features like background remover, compress, adjust, and filter image. Make your video more interactive by adding text with multiple fonts.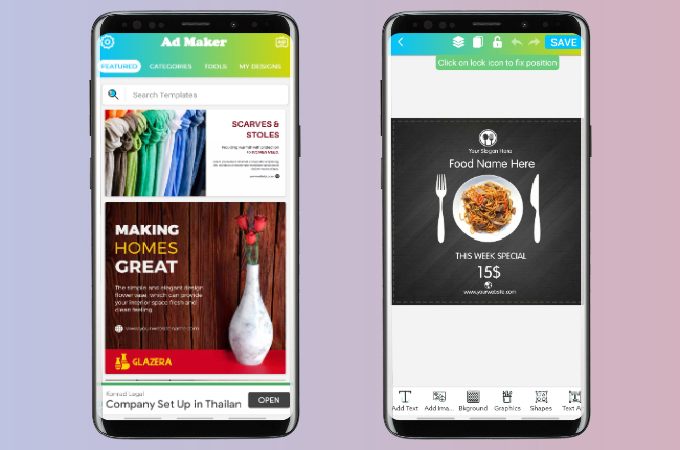 Pros:
It has professional video editing functions.
Capable of sharing videos on social media platforms.
Save the output in MP4 and GIF format.
Cons:
It is only available on Android devices.
Advertisements on its main interface.
KineMaster
Last on the list is KineMaster. This is a full-featured video editing app for both iOS and Android devices that you can rely on for making ads. You can improve the advertisements by adding multiple layers, including images, videos, text, effects, and more. Also, its color adjustment tool allows you to customize and improve the quality of the photos and videos.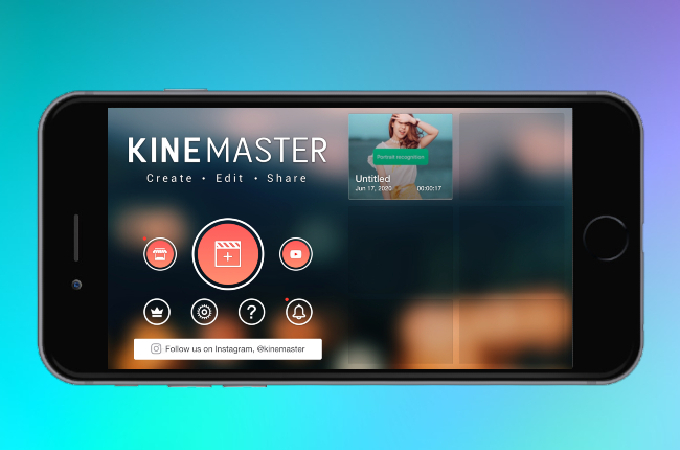 Pros:
It can add voiceovers, sound effects, and voice changers.
It enables you to insert a green screen effect.
Capable of real-time recording.
Cons:
It doesn't provide video templates.
KineMaster doesn't support WAV and AAC formats.
Conclusion
As we mentioned above, these are the best programs available for multiple browsers and devices when it comes to creating video advertisements. However, we personally recommend LightMV because of its smart and intuitive interface and its accessibility to different platforms and devices. Also, this tool provides video templates that can help you on how to make video ads with great ease. For more suggestions, feel free to comment down below.