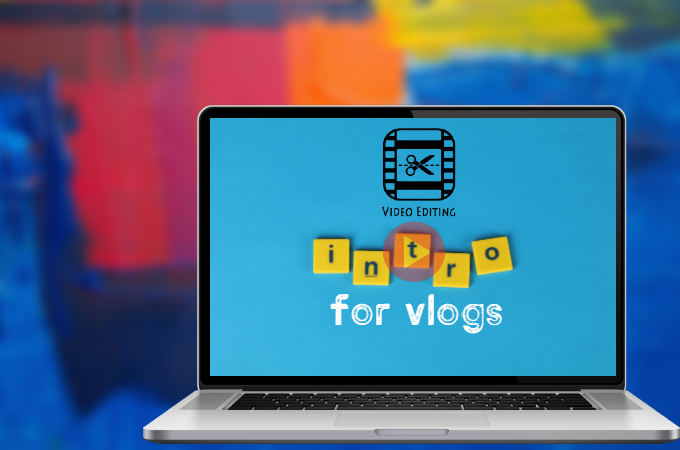 Intro videos for your vlogs are important because this gives brief information about the content creator or product. Also, intro videos are useful for branding purposes because they can establish the viewers' interest. When you look at successful vloggers, they usually have a notable intro video. So it's a good idea for you to create an intro video for your vlog. Although there are only limited online tools you can use, luckily for you we gathered the most reliable vlog intro makers that you can utilize to produce an awesome intro video with ease.
Best Intro Vlog Maker
LightMV
LightMV is a great online tool that you can access from any web browser. Furthermore, this online tool also offers mobile and desktop versions. You can use its wide range of pre-made templates that enable you to produce intro videos for multiple purposes. With that, it allows you to enhance the intro video by inserting text, photos, videos, and background music. Moreover, this tool has a cool feature that will enable you to upload files from your phone via QR code. So if you're wondering how to make vlog intro using LightMV, check the listed steps below.
First and foremost, go to the official website of the tool to access its main interface.
Second, select your preferred video templates for your intro video.
Tips: Click the picture below to watch this attractive intro video template.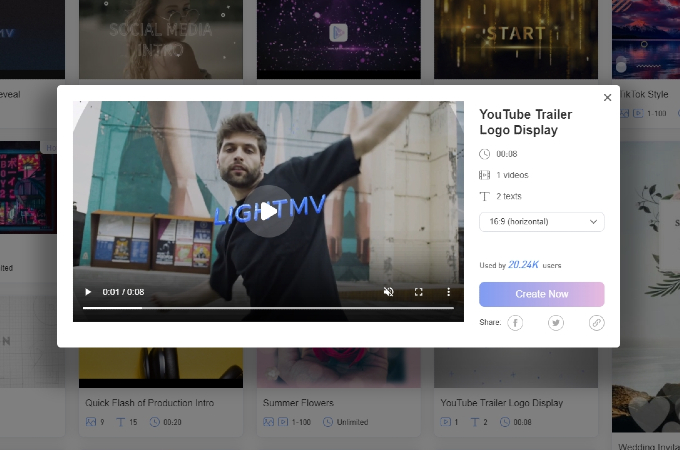 Third, click the "+" icon to upload the video files you want to use. Then, click the "Text" box to add the text you want to include in the video.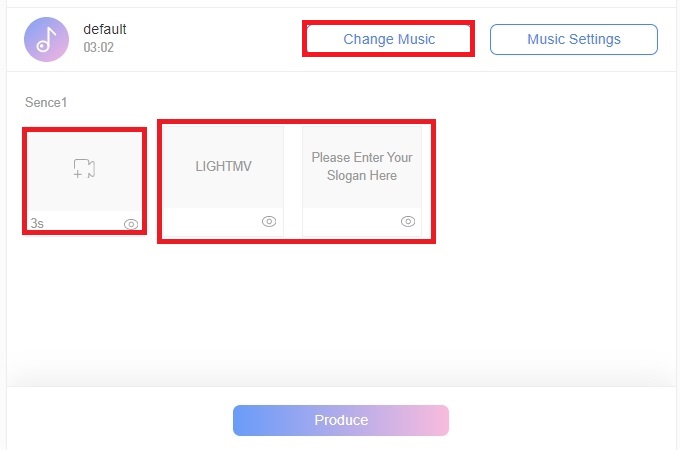 Fourth, go to the "Change Music" option and click the "Add music" button to upload the audio files you want to use as background music.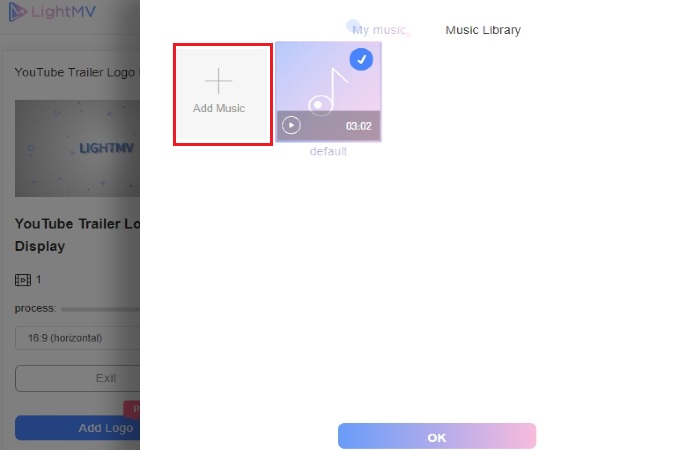 Finally, click the "Produce" button below to render the video. Once done rendering the video, click the "Download" button to save the intro video on your computer.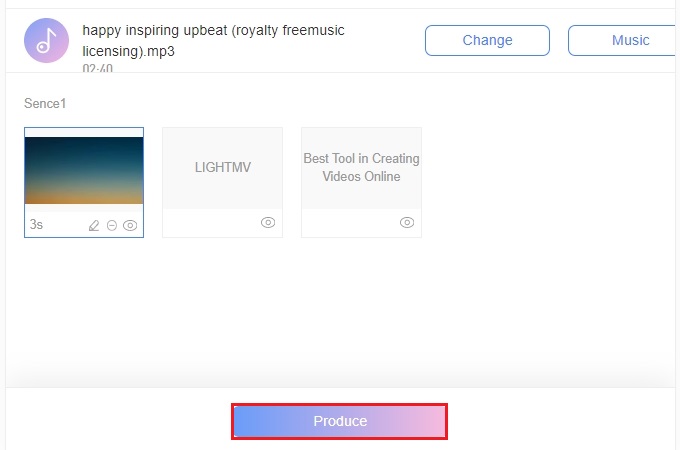 Adobe Spark
Second, we have Adobe Spark. This is another great tool that you can utilize when learning how to make a vlog intro video online. You can create an amazing intro video using its well-designed video template or you can start from scratch. Moreover, you can improve the intro video content using its rich collection of stickers, font, and text styles. This tool has a music library that provides audio clips for different moods like uplifting, warm, happy, etc.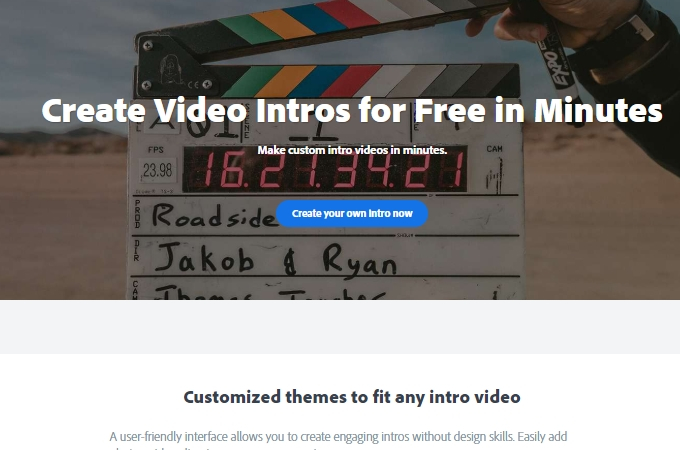 Features:
Can edit the videos together with colleagues in real-time.
Capable of adding voice-overs to the video.
Upload photos from different cloud storage services directly.
It offers free royalty stock photos.
Motionden
Third, we have Motionden. This is an exceptional online video maker that provides a free vlog intro template to promote your business. Aside from that, you can create great intro videos for gaming, business, fitness, corporate intros, and many other projects. Also, it lets you upload photos from the popular stock sites like Pixabay, Unsplash, and Pexels directly. Moreover, this tool can produce good looking content like animated videos, commercials, logo animations, and birthday slideshows.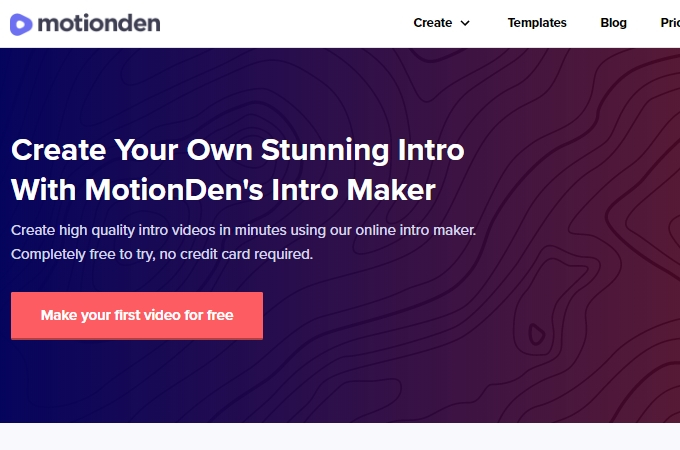 Features:
It has a user-friendly interface.
Can upload the video to YouTube directly.
Save the video in HD resolution.
It provides a media library.
Panzoid
Fourth, we have Panzoid. This is another powerful online intro vlog maker that enables you to produce 2D and 3D intro videos. What's special is that it has professional editing functions that you can use to produce a stunning intro video for vlogs. In addition to that, you can insert multiple overlays, including objects, scenes, effects, and more. Unlike other online tools, this enables you to customize graphic designs, thumbnail, and art for your YouTube channel.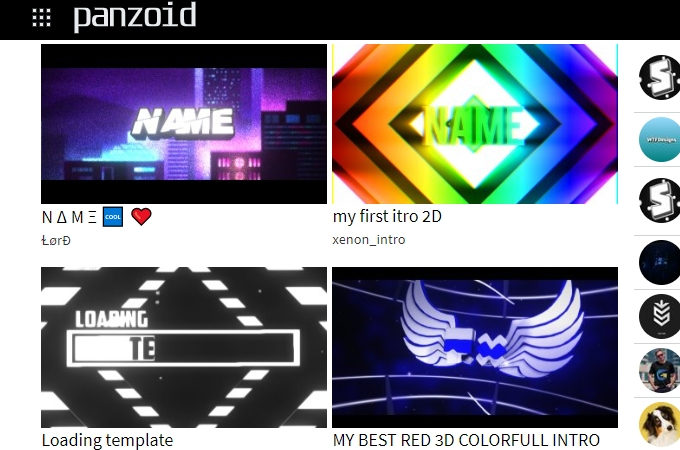 Features:
It provides 2D and 3D video templates.
Available for multiple web browsers.
High-end editing functions.
Capable of saving the video in 4K resolution.
Crello
Last but not least, we have Crello. It's great to create customized intro and outro videos for YouTube. It has a smart and intuitive interface that lets first-time users produce intro videos easily. Also, this tool has editing functions that will enable you to create an engaging intro video for your YouTube channel. Aside from that, it has large collections of animations and objects from different categories.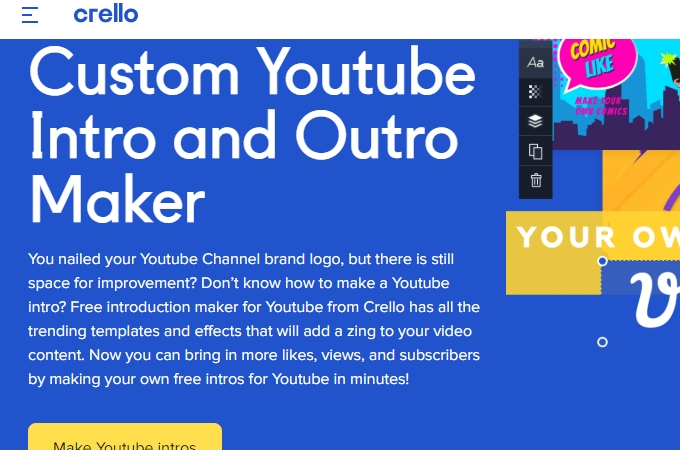 Features:
Create teams to collaborate on designs.
It provides free backgrounds from different categories.
It supports the most popular file formats.
Post videos on social media platforms directly.
Conclusion
To sum it up, the tools mentioned above are the leading web-based programs that can help you with how to make intro for vlog. However, LightMV is the most highly recommended because of its user-friendly interface and its wide compatibility with multiple platforms. Also, its extensive collection of highly-customizable templates enables you to produce an intro video in Full HD quality. For more suggestions, feel free to comment down below.