Greeting cards are simple but great ways of showing someone you care. They are usually sent on special occasions like weddings, birthdays, anniversaries and Christmas.
With the popularity of Internet, e-greeting cards became popular. They are easy to use and there are several themes to choose from. You may find several free e-cards online, so you don't have to spend a dollar on them. Plus, they can be sent instantly through e-mail so the recipients will get them immediately. If you want to make it more personalized and fun, you can also make a video card. This will make the recipient happier since you can include yourself in the video. There are various tools that you can use to do this.
Methods to Make Video Cards For Free
If this is your first time to create a video card, you don't have to worry since there are tools that you can use that come with simple user interface.
Method1: Apowersoft Free Online Screen Recorder + Windows Live Movie Maker
1. Prepare materials that you will use on your video theme
Apowersoft Free Online Screen Recorder is a great application for recording video, audio and capturing screenshots on your computer. It can be used with Windows Live Movie Maker to make Christmas cards.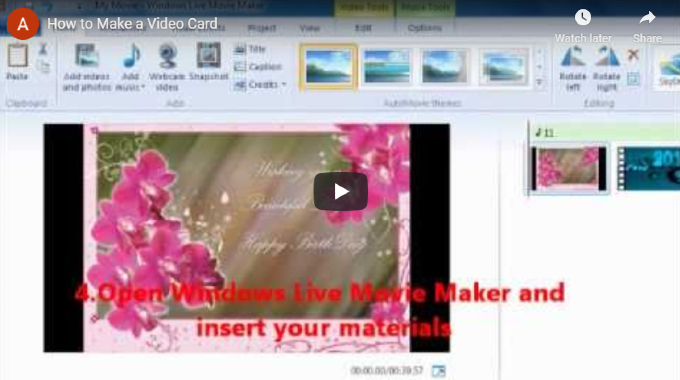 Maybe you need put some funny or special video clips into your video card, then click the "Record" button and select full screen, region, around mouse or webcam to get what you want.
Capture images. Beautiful images can make your video cards more vivid. Browse for your favorite images and click "Screenshot" to take it. Of course, you can use your photos that are memorable.
Proper music is a good ingredient of a video card. To record music on your computer or from an outside source to be added when you create a video card, simply click "Only Audio".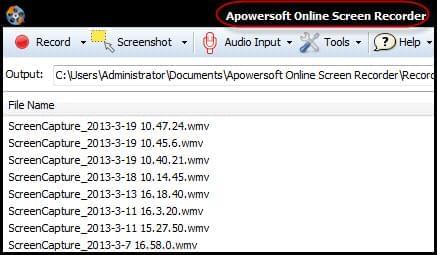 2. Add Your Materials Into Windows Live Movie Maker
This is a free video editing software from Microsoft. Download and install it on your computer to start using. Edited videos can be published instantly on Facebook, YouTube, SkyDrive and Flickr.
To make video cards, launch Windows Live Movie Maker.
Select the videos, photos and music you wish to include.
Add caption by clicking "Caption" under the "Home" tab.
Click "Share" to upload on a site or "Save Movie" to burn on a DVD.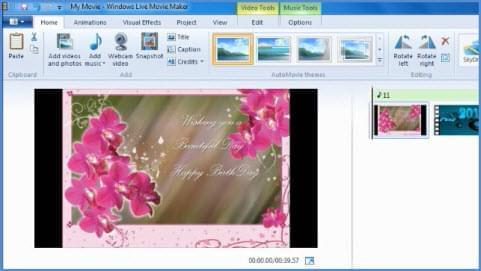 Method 2: Apowersoft Free Online Screen Recorder + PowerPoint 2010
1.Prepare materials related to your video theme
This free application is the perfect tool for capturing videos, images and music that you can use on your video card. It is easy and convenient to use that even beginners will not have difficulties utilizing it. The steps on how to record videos, photos and audio were discussed on the first section. Follow the same instructions to prepare your materials.
2.Make a video by PowerPoint 2010
Unlike previous versions, PowerPoint 2010 offers the option to save your presentation into a video format (.wmv) instead of a slideshow presentation. You need to have this installed on your computer to use. Here's how to make a video card using this application.
Launch PowerPoint 2010 and create a new slide.
Click the "Insert" tab to insert the video or images you wish to add.
A good animation is preferred. Under "Transition" tab, choose your preference.
Once done, click the "File" tab, choose "Share" then click on "Create a Video".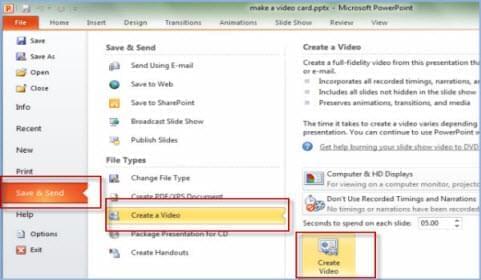 Method 3: Apowersoft Free Online Screen Recorder + PowerPoint 2013
People are excited about PowerPoint 2010 new function to save PowerPoint as WMV video directly, but some people need MP4 video format instead of WMV video for their portable devices like iPad, iPhone or Android,so they wonder if PowerPoint can be saved as MP4 without third-party application to convert. Great news is that PowerPoint 2013 can make your slideshow as Mp4 format video.
Open your PowerPoint 2013 presentation, and click "File" tab.
Choose "Export", and click Create a Video.
When saving the video, choose "MPEG-4 video". It's done.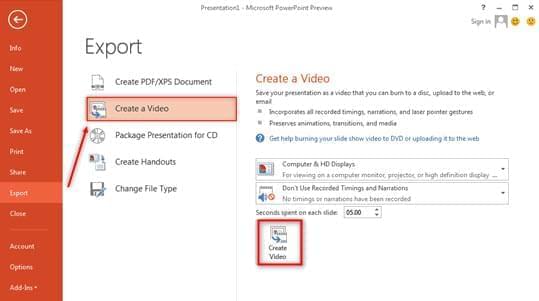 All of these applications are free, you can make as many video cards as you want to send to your friends and loved ones. Since Christmas's Day is coming, why not make your own Christmas cards as a Christmas's Day gift ?